| | | | | | | |
| --- | --- | --- | --- | --- | --- | --- |
| | | || | | || | | |
ALUMNI PROFILE
Recent Alumna Helps Young Kenyan Women
After graduation, Karen Austrian '02 traveled to Kenya and developed a pioneering women's health program for teenagers living in the populous Kibera slum near Nairobi.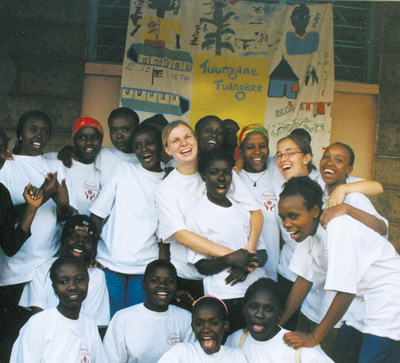 Karen Austrian '02 (second from right in back) and Emily Verellen (center) are joined by the 12 Binti Pamoja girls and the two Kenyan women who helped run the program.

The women's and gender studies major had spent the spring and summer of her junior year in Kenya working with a family planning clinic. "One of the things I realized in my work is that people are warming up to contraception, but it's targeted toward married women," Austrian says. "I was drawn to the youth population."
Specifically, Austrian was interested in empowering young women; the existing youth programs in Kibera tend to target men. Austrian, who studied Swahili during her senior year, won the Henry Evans Travelling Fellowship and worked under the auspices of a group called Carolina for Kibera, which was founded by a University of North Carolina student. She and a friend, Emily Verellen, from American University, conceived of a program that aimed to open communication on women's rights and reproductive health issues with a group of teens.
Austrian and Verellen interviewed 35 girls who applied for the program and chose 12. The group met three to five times per week for two months, using writing, discussion, photography and role playing to explore women's rights and reproductive health issues.
"We didn't have a curriculum," Austrian says. "I didn't want to come in as a Westerner and say, 'This is what a liberated woman is — these are your rights.' It was never my place to tell them what choices to make. I wanted to create a safe and comfortable space for them to think about the choices available to them and to help them feel empowered to make those choices."
Contrary to what Austrian assumed, the participants' families were not against the girls attending the group, and many were thankful. "It's not that they didn't want their daughters to know about sex and sexually transmitted diseases, it's that they didn't know how to talk to them," she notes, describing the strong cultural taboos against talking about young, unmarried women having sex.
The girls were given journals and disposable cameras and asked to document a day in the life of a young girl in Kibera. Their entries and photos were used as a basis for discussion. "The detachment it provided was critical to getting them to discuss sensitive issues," Austrian says. "It proved to be really effective."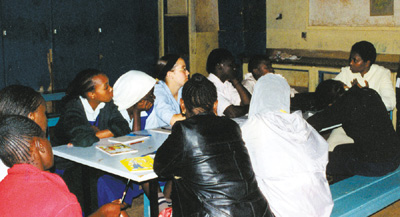 Austrian (center, back row) joins the group at a talk about contraception and sexually transmitted diseases given by Cecelia, a reproductive health nurse with the Family Planning Association of Kenya.

At the end of the program, a photo exhibition was held in a Kiberan school. The girls each displayed four of their photos with an accompanying essay. About 300 people attended, including representatives from the media and non-governmental organizations. "They were so proud of themselves," Austrian says of the participants. "It was amazing to see so many people looking at their work and interested in what they had to say. I thought they each looked a foot taller than they were before."
In January, the exhibition was brought to the U.S., where it will travel. The opening was held in Lerner Hall on January 30, where Nane Annan, a lawyer and artist, as well as the wife of UN National Secretary General Kofi Annan, was a guest speaker. The photos later were exhibited in the School of International and Public Affairs Building.
Before leaving Kenya last July, Austrian and Verellen trained two Kenyan women to take over the Binti Pamoja (Daughters United) Center in Kibera. Austrian and Verellen are now working to raise funds to expand the program by increasing the number of participants, adding a community newsletter that would teach the girls computer skills and forming a dramatic group that would present educational performances.
S.J.B.
Further Information
| | | | | | | |
| --- | --- | --- | --- | --- | --- | --- |
| | | || | | || | | |