| | | | | | | |
| --- | --- | --- | --- | --- | --- | --- |
| | | || | | || | | |
ALUMNI PROFILE
Alumni Help Allocate Funds for HIV Services in San Francisco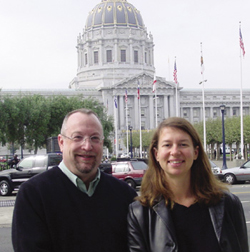 Jim Mitulski '86 and Catherine Geanuracos '91 stand before City Hall in San Francisco, where their council meetings are held.

Jim Mitulski '86 and Catherine Geanuracos '91 serve as co-chairs of a 40-member community planning council in San Francisco that allocates federal funding for HIV services. The two were appointed by the mayor for a two-year term to head up the city's Ryan White HIV Health Service Planning Council, which allocates $35 million to programs serving the most needy people with HIV in San Francisco, San Mateo and Marin counties. One of their supervisors is Matt Gonzalez '87.
"The whole idea of community-based health planning is that the people who are affected by the disease are the people who know best where the resources need to be," says Mitulski, who has HIV. Mitulski and Geanuracos, who serve on a voluntary basis, were chosen for their experiences serving HIV-affected and homeless communities.
Mitulski, who entered with the Class of 1980, attended divinity school at the Pacific School of Religion in Berkley and is a Protestant minister. For 14 years, until 2000, he served as pastor of Metropolitan Community Church of San Francisco, the largest gay Protestant church. There, he started a social service foundation that provides services to people with HIV, homeless people and at-risk youth. He has been an HIV activist, and in 1996 distributed marijuana at the church to people with HIV in defiance of state and federal law, an action that was instrumental in passing a state proposition to legalize marijuana for compassionate use.
In February, Mitulski became executive director of Rainbow Adult Community Housing, a not-for-profit that builds senior housing for the gay and lesbian community. On weekends, he travels to Guerneville, Calif., where he is part-time pastor of Metropolitan Community Church of Guerneville.
"I constantly reflect on the Columbia experience," Mitulski says. "Study at Columbia taught me about social change and about putting all of our resources together for public service."
Geanuracos, who earned a master's of social work at UC Berkeley, worked on HIV education programs in Guatemala and Argentina and is director of research, evaluation and technology for Larkin Street Youth Services. Larkin Street, where she formerly headed up the HIV services division, is a not-for-profit agency that provides shelter, medical care and other services to the homeless aged 12–24.
"We're a national model for youth services, especially for HIV services," Geanuracos says. "The people who work here are really driven and dedicated to young people."
S.J.B.
| | | | | | | |
| --- | --- | --- | --- | --- | --- | --- |
| | | || | | || | | |


CCT Home


This Issue


Previous Issue

CCT Masthead