| | | | | | | |
| --- | --- | --- | --- | --- | --- | --- |
| | | || | | || | | |
FEATURES
John Crabtree '78 Wines and Dines
At the Kittle House
By Dina Cheney '99
On a wintry Saturday night, Crabtree's Kittle House was buzzing. The dining room was packed and the bar was filled with a lively crowd. Downstairs, the banquet room overflowed with bar mitzvah celebrants and the wine tasting room was booked for a $1,000-a-head charity event.
Sounds hectic, but it's just business as usual for the popular restaurant and inn in Chappaqua, N.Y., about 45 minutes north of New York City and a stone's throw from Bill and Hillary Clinton's home. In fact, on the day of George W. Bush's first inauguration, the former president and his staff chose the Kittle House for their farewell-from-office dinner. This year, about 700 names graced the waiting list for Mother's Day brunch. And on almost any weekend, the restaurant hosts famed winemakers and wine enthusiasts who come from all over the world to sample wines from a wine list named one of the top 88 in the world by Wine Spectator.
Who would believe that this stately, white building previously was a moldy, neglected restaurant scoffed at by Westchester County residents?
Probably few, other than John Crabtree '78. Despite youthful intentions to avoid the restaurant field, at least partly because his father was in the business, he's been the driving force behind the Kittle House's transformation into Westchester's most popular restaurant, according to the 2004–05 "Westchester Hudson River Valley Restaurants" Zagat Survey. Awarded a 25 (out of 30) for food, a 25 for décor and a 24 for service (based on feedback from 2,700 restaurant-goers), the Kittle House is described as "exactly what a top-notch restaurant should be" and a "charming, picturesque historic inn [that] captivates diners with beautifully presented, gloriously delicious new American fare."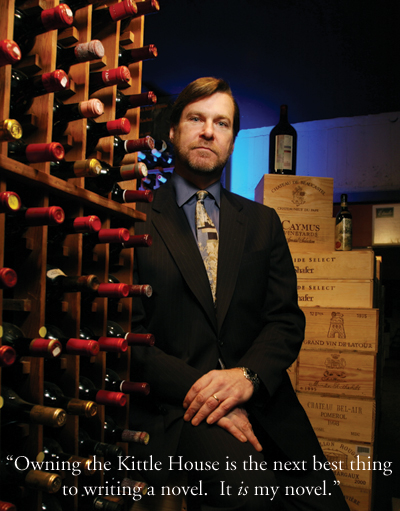 John Crabtree '78 has built a world-class wine cellar at the Kittle House, with about 6,000 selections and 70,000 bottles, priced from $18 to $10,000. The list has received Wine Spectator's Grand Award every year since 1994.

PHOTO: IKO/THE PHOTODESK.COM

Born in Red Bank, N.J., Crabtree grew up in Yonkers, N.Y., watching his father, Dick, jump between automobile sales and the hotel and restaurant business. "My father was never around when he worked in restaurants, so he gave me the idea never to go into that industry," Crabtree says, remembering how his family was so cash-strapped that "chicken with peas and rice was a special meal."
At 16, Crabtree began dating his now-wife, Amy, whose Italian mother introduced him to fine food. Crabtree tasted wine for the first time at Amy's home and tried to attend Sunday dinners as often as he could.
Crabtree also learned about cuisine by working at his father's restaurants. "My father eventually found a spot in Eastchester, and I told him to settle down and buy it. He did, in 1974, and named it Crabtree's Plaza Inn because one of his defunct companies had been named CPI and he could reuse the stationery. I started out mopping floors and cleaning bathrooms and graduated to dishwasher. It was the worst job in the world, but I loved the camaraderie with the chefs."
While studying English literature at Columbia, Crabtree explored the city and sampled au courant fare, such as onion soup gratinée, at neighborhood restaurants. His football and rugby teammates thought him "a kook" when he subscribed to a cheese-of-the-month club. At night and on summer breaks, Crabtree worked at his father's restaurant, then as general manager.
Though gourmet food was a hobby, Crabtree thought he would become a political writer or pen the Great American Novel. "To sign up for Wallace Gray's playwriting class, you had to submit a few writing samples," Crabtree recalls. "I turned in some stories and the next day, Gray called to ask if he could be my adviser."
Shortly after Crabtree graduated, his father's restaurant burned to the ground. The senior Crabtree was responsible for managing its rebuilding, but only three-quarters of it had been reconstructed before the insurance money ran out. "My father told me that he was going to pack up and head to California," Crabtree remembers. "But I demanded that he stay and get his place back on track."
The senior Crabtree remained, and he and Crabtree borrowed money from Crabtree's father-in-law to complete the rebuilding, reopening the restaurant in 1980. While his father sang and worked the crowd, Crabtree managed the books, worked as maitre d' and trained the staff. "The place took off like gangbusters," Crabtree recalls.
Although Crabtree was gathering what he describes as "interesting writing material" while working at the restaurant, he decided to pursue a career in international relations. "I had to learn about the political system in order to write about it," he says.
Crabtree took some time off from the family business and became an administrative assistant to Gordon Burrows, deputy minority leader of the New York State Assembly. He then matriculated at SIPA, majoring in labor relations; he graduated in 1982. During the two-year program, Crabtree attended school from 10 a.m.–4 p.m., worked at the restaurant from 5 p.m.–4 a.m., and slept for two hours before repeating the process.
At SIPA, however, Crabtree became disillusioned. "The course of study taught you the rules you needed to know in order to play the game of politics. I wanted to save the world, and that wasn't being taught. But this schooling taught me how to negotiate, which later became useful — I manage a staff of up to 90 during busy periods."
Crabtree returned to what he knew best: working in his father's restaurant. He realized he "was getting good at the restaurant business — that was the problem."

Crabtree realized he "was getting good at the restaurant business — that was the problem."

One month before Crabtree graduated from SIPA, his father told him that he'd uncovered a sure-bet investment property: a run-down restaurant in Chappaqua. His father said they could duplicate what they had in Eastchester and sell it after a year for a sizeable profit. He also told his son that he couldn't move forward without him, offering him a 50-50 profit share. "I thought, 'What a shame to let this beautiful building come to such disrepair,'" Crabtree says.
Crabtree's father purchased the property "for nothing." With a team of workers, Crabtree and his father cleaned out mold, repaired broken windows and painted. They ran the on-site restaurant, serving an average of only 25 dinners on Saturday nights and 10–12 on weeknights.
"Since we're off the main road and a bit difficult to find, we saw the building as a special event place. To overcome its bad reputation, we decided to do bar mitzvahs and weddings at cost to draw people to us. So, we charged $25 per person for food and wine," Crabtree explains. "We weren't making any money, but we threw great parties."
After a year, Crabtree's father found interested buyers, who were to meet at his other restaurant. Upon arriving at the bustling restaurant, the buyers decided that they wanted to purchase it instead of the Kittle House. Crabtree's father agreed on the spot.
"My father and I had different perspectives on what makes a good restaurant," Crabtree notes. "He said, 'We're not here to educate people,' but I disagreed. He thought we shouldn't challenge the customer. He was on the side of '60s Continental cuisine; I wanted to serve New American, creative fare, made with locally grown, organic ingredients.
"I wanted an unpretentious but sophisticated restaurant that would give a world-class dining experience equal to a 40-seat restaurant, but on the scale of 125 seats. With that volume, we could keep prices reasonable. So, I told my father, 'Either I take over or I leave.' " His father told him he couldn't run the business alone and relinquished control. Under Crabtree's leadership, the Kittle House has been making money since 1986.
Crabtree wanted to do more than make money, though, so he hired Glenn Vogt, former captain and assistant to the wine director at the renowned New York restaurant Montrachet. Remembers Vogt, who served as general manager and wine director at the Kittle House from 1990–95, "When I met with John about working together, he told me he would do whatever was necessary to make the Kittle House a great dining destination and to build one of the world's best wine cellars. I thought to myself, 'Someone pinch me, because this is too good to be true.'"
Vogt transitioned the Kittle House from a system in which waiters managed their own tables to a hierarchical structure with a front captain, back waiters and busboys. "When we did that," says Crabtree, "10 percent of our staff left, but the strong people stayed and got better." In fact, according to Vogt, "Many of those people are still there, which is a testament to John's skills as a boss and his ability to keep everyone inspired." Maitre d' Gustavo Zuluaga, who has been at the Kittle House for more than 20 years, says, "I've stayed so long because there is always something new to learn. And Johnny is great. He's not like a regular boss, he's like a friend."
In addition to refining the service, Crabtree, with Vogt's help, hired chefs with impressive pedigrees, including Gregory Gilbert, formerly the executive sous chef at Manhattan's well-respected Oceana. The restaurant's new chef, Jeremy Smollar, worked for Trio in Chicago and The Myriad Restaurant Group in Manhattan.
"Soon, people were spreading the word that we had great food, and we were taken seriously," Crabtree notes. "In 1993, The New York Times' Westchester edition awarded us three stars, the highest you can get in Westchester. I knew then that we'd really made it."
Regular customers, such as Doug Metz and James Mustich Jr., confirmed why the Kittle House is a success. Says Metz, "The Kittle House is my family's restaurant of choice. My wife and I were married there, and it's hosted every special event we share. We love the food. It gets better with each visit, and the staff makes you feel as if you are the most important customer for the night."
Adds Mustich: "I have happily eaten my way through the restaurant's progress, under John's discriminating guidance, from modest but solid quality to imaginative sophistication. Just as the menu has undergone a transformation from predictable fare to impeccable cuisine, the decor has gone from farmhouse dowdiness to Old World elegance."
The wine list is by far Crabtree's biggest success. In 1986, Crabtree sent a loyal former employee, Don Castaldo, to sommelier school and asked every distributor in the metro area to bring him wines. During the selection process, his new sommelier tasted 300 bottles in one week. Soon, Crabtree began hosting wine dinners in a renovated room next to his wine cellar. "We were the first in Westchester to do these dinners," he recalls. "Winemakers come to talk about their wines and guests taste 12 wines with five courses."
Now, the restaurant's wine list, which weighs roughly eight pounds, includes about 6,000 selections and 70,000 bottles, priced from $18 to $10,000, all stored in the cavernous wine cellar. The list first received Wine Spectator's Grand Award — the magazine's top wine award, shared by only 87 restaurants worldwide — in 1994 and has held the distinction every year since. The February 2004 issue of Wine Enthusiast magazine gave the restaurant an Award of Ultimate Distinction, its highest designation. Michael Schachner, in "Wine Enthusiast's First Annual Restaurant Wine Awards," states: "Wine Enthusiast magazine's judges found nary a crack in the Crabtree game plan … pricing is extremely fair, and, in some cases, downright philanthropic … simply the best place north of Manhattan for fine food and wine."
In addition to the restaurant and the wine selection, Crabtree runs a 12-room inn on the second floor as well as a catering service, which brings in 40 percent of the revenue.
The Kittle House typically serves 250 meals on a Saturday night, 125 on a busy Friday night and 40–100 on weeknights, but Crabtree knows he cannot sit on his laurels and remains focused on the big picture as well as the details.
"I'm always learning and making changes," says Crabtree. "Recently, we introduced an online reservation system and a tavern menu for those who want to have a casual lunch or dinner. A year ago, we added Internet access to our inn rooms."
While some would find an operation like the Kittle House all-consuming, Crabtree makes time to be a devoted husband and father. Says his wife, Amy: "If the kids have something at school during the day, he's there." Often, she adds, their children line up their school papers on the kitchen counter. When Crabtree returns from work, sometimes at 10 or 11 p.m., he'll edit them. The family dines together most Sunday nights, often as late as 9:30 p.m.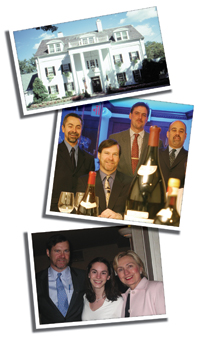 From top to bottom:
The Kittle House was constructed in 1790 as Reisig and Hexamer's Barn on Ivy Hill Farm, a nursery and fruit farm.

Crabtree and his staff have transformed the once run-down Kittle House into the top-rated restaurant in Westchester County, according to the 2004-05 edition of the popular Zagat's survey.

PHOTO: IKO/THE PHOTODESK.COM

Crabtree, who was honored by the Rotary Club of Chappaqua on January 29, is joined by his daughter, Christine '07, and Senator Hillary Clinton (D-N.Y.).

PHOTO: LORI SACHARE

One of Crabtree's daughters, Christine '07, says, "My favorite memories are of making breakfast on Christmas morning with the whole family, eating family dinners late on Sunday nights and skiing in Vermont on a weekend. I know that the restaurant business is time-consuming for my dad, but he always made sure that it didn't take away from the most important part of his life: the family."
Crabtree also brings his family into the business. His wife creates the Kittle House's floral arrangements and is renovating the inn rooms; his eldest daughter, Kathryn (20), creates scenes for the holidays and occasionally helps out the pastry chef; Christine (19) writes the newsletter and manages the mailing list; Elizabeth (15) busses tables and assists at banquets; and Madeline (13) worked Mother's Day brunch. Crabtree's daughters don't want to go into the restaurant business, however. "When they see how hard I work, they definitely don't want to follow suit," he says.
Crabtree is devoted to Columbia, as well. He's participated in the last two commencement exercises and interviews prospective students with the Alumni Representative Committee. He also has hosted a retreat for College deans, as well as 25th reunion meetings for the classes of 1978 and 1979.
Crabtree is on the Board of Directors of the Make-A-Wish Foundation (Hudson Valley chapter), United Way (Northern Westchester chapter) and Boys and Girls Club (Northern Westchester chapter). He sponsors an annual 350-guest dinner for his chapter of the Make-a-Wish Foundation, and accompanied by his daughter Elizabeth, went to Nicaragua last year to build houses through Bridges to Community.
Although Crabtree has his hands full, he hasn't given up on his dream to write. Perhaps he'll chronicle the history of Crabtree's Kittle House, including the time he was privy to a discussion between Bill Clinton and Ehud Barak about the Palestinian-Israeli peace process. Or maybe he'll document the night when Clinton dined with former German Chancellor Helmut Kohl, and guests from the wedding outside congregated on the lawn to wave to the world dignitaries at the window.
In the meantime, Crabtree says, "Owning the Kittle House is the next best thing to writing a novel. It is my novel."
---
Dina Cheney '99 writes for Westchester Magazine, Connecticut Cottages & Gardens, Lexus Magazine and several other publications. She also offers cooking classes and chocolate tastings through her company, Cooking by Heart (www.cookingbyheart.com).

| | | | | | | |
| --- | --- | --- | --- | --- | --- | --- |
| | | || | | || | | |


CCT Home


This Issue


Previous Issue

CCT Masthead