| | | | | | | |
| --- | --- | --- | --- | --- | --- | --- |
| | | || | | || | | |
ALUMNI UPDATES
Reynolds Beats Schizophrenia, Inspires Others
Mike Reynolds '72 received the 2004 President's Award for outstanding service at St. Luke's Regional Medical Center in Boise, Idaho, in December. Reynolds, who was diagnosed schizophrenic 20 years ago and has since recovered, also was elected to the Idaho State Board of the National Alliance for the Mentally Ill in August.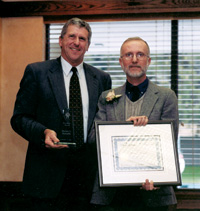 Mike Reynolds '72 (right) was presented with the 2004 President's Award for outstanding service at St. Luke's Regional Medical Center in Boise, Idaho, in December by Ed Dahlberg, St. Luke's president and CEO. The annual award is given to select St. Luke's caregivers who exhibit extraordinary kindness and gentility in their professions.

PHOTO: BARRY MOORE

Arriving at Columbia in 1968 on a full academic scholarship, Reynolds remembers the culture shock he felt upon moving to the city after having been recruited by Gideon Oppenheimer '47, '49L from Boise (see January CCT, page 40). He fondly remembers taking Leonard Krieger's year-long course, on "European History of the 1800s," and credits the Core Curriculum with "opening my eyes to a variety of other cultures" within New York City and abroad. Adjusting to his new setting was not easy, though, and Reynolds began to notice signs of his illness the summer after his first year. Due to the gradual onset of his disease, he continued at Columbia and nearly graduated, falling a few credits short in spring 1972. He officially completed his economics degree at Boise State University in 1980.
Reynolds has worked in the St. Luke's housekeeping department for 15 years. He has spent the past 13 years on Bible study teaching missions through Youth With a Mission, a multi-denominational Christian group, and attributes much of his success to his faith. He has given inspirational speeches on living with and recovering from schizophrenia throughout the world, including travel to China and Tibet in 1987. Reynolds sees himself as a spokesman for schizophrenia and has made it his goal to prove that those with the disease can function in society, provided they seek and receive proper treatment.
Jeff Fereday '72, who has known Reynolds since first grade, remarks that he has "always been a very brainy, quiet and contemplative person with a strong sense of humor." Fereday notes that Oppenheimer's many Idaho-Columbia recruits are "extremely proud of Mike for finding a way to live with schizophrenia … and to lead a productive and happy life while helping others." Reynolds is working on a memoir of his life and has published several poems.
Matthew Goldberg '05 GS
| | | | | | | |
| --- | --- | --- | --- | --- | --- | --- |
| | | || | | || | | |


CCT Home


This Issue


Previous Issue

CCT Masthead