| | | | | | | |
| --- | --- | --- | --- | --- | --- | --- |
| | | || | | || | | |
ALUMNI UPDATES
Rob Endelman '91 Cooks With Class
Rob Endelman '91 has gone from trying to make money for people to showing them how to have a gourmet cooking and dining experience at home, and he likes the change.
Unhappy as a Wall Street trader, last year Endelman founded Cook With Class, which brings a gourmet cooking experience into people's homes through hands-on instruction in a fun, social environment. Endelman covers the details of planning and creating a meal, from shopping, recipes and food preparation to cooking techniques and nutritional concerns, while students become more comfortable with and knowledgeable about cooking in their own kitchens.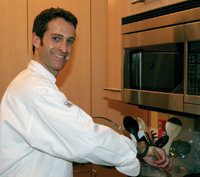 Rob Endelman '91 at the stove in the NYC apartment of David Carnoy and Lisa Landau Carnoy '89.

PHOTO: DAVID CARNOY

"Many people are intimidated by the idea of cooking dinner on a random Tuesday night, especially in their small, New York City kitchens," says Endelman. "But I want to show people how easy it can be to prepare quick, healthful and delicious meals, even after a busy day."
Before founding Cook With Class, Endelman worked for Merrill Lynch for 10 years, the last eight as a trader. Meanwhile, he was cooking dinner for himself in what he des-cribes as "one of the 10 smallest kitchens in Manhattan." He learned more about the food world by exploring New York City's farmers' markets, ethnic neighborhoods and restaurants while taking recreational cooking classes.
Last year, Endelman decided to take the plunge and leave Wall Street. He enrolled in the Institute of Culinary Education's Career Culinary Arts Program, then interned at the four-star Jean Georges and simultaneously worked at 'Cesca, an Upper West Side trattoria. He learned about organic gardening and farming while working at the East End Community Organic Farm in East Hampton, N.Y., where he experimented with nearly 40 different vegetables and gained a greater appreciation for the importance of seasonality and locality in relation to the quality and variety of ingredients used by the professional chef and home cook.
All the while, he was thinking about how best to pursue his passion. "I knew I didn't want to be a line cook in a restaurant kitchen long-term," Endelman says. "It's a great learning environment and a lot of fun, but being 35, I didn't want to spend any more time not being fulfilled by my career. I had already done that on Wall Street."
After cooking for friends last summer and helping them learn how to cook, Endelman recognized his desire to pass along the tools to give others the confidence to enjoy their culinary efforts. Thus, Cook With Class was born. Endelman began giving instructional parties in December. Based in New York City, he travels throughout the metropolitan area and this summer expects to be busy in the Hamptons and elsewhere on Eastern Long Island.
"Customers can cook anything they want," says Endelman, "but I stress healthful eating, leaning toward seasonal and local products. My former Wall Street colleagues have kept me really busy. Instead of another late-night dinner with too much food and alcohol, while missing the kids' bedtime, many sales traders will host an instructional dinner party for three or four clients and their spouses. Everyone seems to enjoy the social interaction much more in this environment. Trust me: I attended enough customers' dinners to know how torturous they can be."
Alex Sachare '71
| | | | | | | |
| --- | --- | --- | --- | --- | --- | --- |
| | | || | | || | | |


CCT Home


This Issue


Previous Issue

CCT Masthead