| | | | | | | |
| --- | --- | --- | --- | --- | --- | --- |
| | | || | | || | | |
ALUMNI UPDATES
McLaughlin Heads Hale House
By Randy Nichols '75
Randolph McLaughlin '75 has been appointed executive director of Hale House, a nonprofit organization in Harlem dedicated to building better futures for children and families in need.
McLaughlin has dedicated his career to serving the underserved. After receiving his J.D. from Harvard in 1978, he began his fight for civil rights at the Center for Constitutional Rights in New York City. One of his first major cases was a successful lawsuit against the Chattanooga (Tenn.) Ku Klux Klan.
McLaughlin became Hale House counsel in 2001, when he was appointed to work with the Attorney General's Office in resolving an investigation by that office. He fell in love with the institution and the children it serves, and he stayed on as counsel after the investigation concluded. Several months ago, he was appointed interim executive director, and in September he accepted the Board of Directors' offer to hold the position permanently.
The first institution in the nation to house and care for infants born to drug-addicted mothers, Hale House offers 24-hour infant and toddler residential care, developmental childcare programs, supportive housing, family stabilization efforts and community outreach. More recently, its mission has expanded to care for children whose mothers are incarcerated or unable to care for their children. Under McLaughlin's leadership, construction has been completed on the Mother Hale Learning Center, located in a Hale House-owned apartment building adjacent to Morningside Park. "Just this year," McLaughlin adds, "the house signed a contract with the City of New York to provide homeless families with fully furnished apartments in two Harlem apartment buildings owned by Hale House."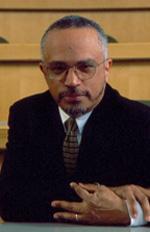 Randolph McLaughlin '75 is executive director of Hale House, his latest position in a career dedicated to serving the underserved.

PHOTO: PACE UNIVERSITY LAW SCHOOL

McLaughlin says, "I could have done a number of things differently in my career, such as work for a large Wall Street firm. But community service always has been important to me, and this is just a different chapter in the same book. Professor Jim Shenton '49 was an inspiration, and he taught me the value of community service."
McLaughlin has a passion for his work at Hale House, which presents different challenges from those found while working in the traditional legal field. "The stakes are so high," he explains, "with children's lives to save and improve and families to rebuild, continuing the legacy established by [Hale House founder Clara] 'Mother' Hale." McLaughlin's passion for the children is evident whether he is hugging one after another or teaching them to play Senegalese Jembe drums. He says that the greatest benefit to working at Hale House are the incredible staff members, who work above and beyond the call of duty.
Since 1988, McLaughlin has taught at Pace Law School, where he was the founding director of the school's Social Justice Center. He will continue to teach at Pace part-time during his Hale House tenure.
McLaughlin is married to Debra Cohen, a fellow lawyer, with whom he worked at the Pace Social Justice Center. She is an adjunct professor at Pace, and together they teach a class on civil rights law. They have strong ties to Columbia — he proposed to her in front of Alma Mater. When asked why he was not a member of the Columbia E-Community (https://alumni.college.columbia.edu/ecom), McLaughlin said he was not yet aware of it; by the next morning, he was one of its newest members. Welcome!
| | | | | | | |
| --- | --- | --- | --- | --- | --- | --- |
| | | || | | || | | |


CCT Home


This Issue


Previous Issue

CCT Masthead