| | | | | | | |
| --- | --- | --- | --- | --- | --- | --- |
| | | || | | || | | |
FEATURES
Changing a Culture: Dianne Murphy Takes Over
Interview by Phil Wallace '04
After a protracted national search, Columbia has its new athletics director. M. Dianne Murphy has been named as the successor to the recently retired John Reeves; she assumes leadership of the athletics department on November 8.
Murphy comes to Columbia with impressive credentials. For the past six years, she has been athletics director at the University of Denver, where she was instrumental in its growth into an NCAA Division I school. Under Murphy, Denver won four national championships, including one in ice hockey in 2003–04. For her work in expanding Denver's rapidly improving athletics department, Murphy was named National Association of Collegiate Directors of Athletics General Sports Turf West Region Athletic Director of the Year for 2003–04.
Murphy previously held athletic administration positions at Cornell and Iowa, and she coached women's basketball for 13 years at Eastern Kentucky, Shorter College and Florida State, where she received her Ph.D.
Phil Wallace '04, former associate sports editor, columnist and investigative reporter for Spectator and director of news and sports for WKCR, interviewed Murphy to learn about her philosophy and vision for the future of Columbia athletics.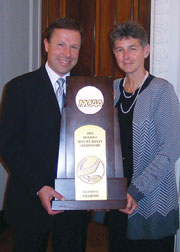 Dianne Murphy and Denver hockey coach George Gwozdecky hold the 2004 NCAA championship trophy.

PHOTO: DU ATHLETIC MEDIA RELATIONS


You're leaving a school, the University of Denver, where you've been very successful competitively — winning four national championships, including one this past year in the high profile sport of ice hockey. And you're coming to a school, Columbia, that
hasn't won a conference football title since 1961, a basketball championship since 1968 and has won fewer Ivy League titles historically and in the last five years than any other school. Why would you make this change?

I look at this as a tremendous opportunity, quite frankly, given the fact that Columbia University is a wonderful institution in terms of its academics, its faculty and its alumni. Obviously, it's in the best city in the world. I think it's a tremendous opportunity to come in while there is a lot of interest right now with President [Lee C.] Bollinger, his commitment and the trustees' commitment to athletics. It's a wonderful institution in terms of the academic side of the University, but I think the opportunity is right to also complement that with a strong and wonderful athletics program. I don't think that athletics and academics are mutually exclusive. We've proven that here at the University of Denver, and other universities have done that as well: Princeton in the Ivy League, Stanford, Duke, Michigan and many others. It's certainly going to be a huge challenge, but it's something I feel quite confident in.

At the University of Denver, you were a big part of moving the school up from the NCAA's Division II to Division I school. Can you talk about what that process is like in terms of really putting sports on the map at a school where it might not have been in the past?

There are certain ingredients that make that happen. First and foremost, you need a commitment from the senior leadership of the university. Certainly, you need that support from your "CEO" and that support from the trustees or your Board of Regents. We had that at the University of Denver.
You have to have passionate leadership. You have to have people who are committed to making it happen. You need visionary leadership — that's what I'm talking about. Another component is that you certainly need to have excellent academics, where you have strong programs and strong majors, to recruit student-athletes. You need a really good faculty. Then, you've got to have competent athletics administrators, coaches and support staff. Your staff is critical.
Of course, you need outstanding resources — your operating budget, your staffing, your office space — and you've got to have excellent athletic facilities in terms of your practice venues and your competition sites.
Then, you really must have a solid infrastructure. What I mean by that is a strong compliance program. You've got to have a strong student-athlete support services program, from tutoring to strength and conditioning to sports medicine and athletics training and equipment. All these elements go into building a program. You've got to have infrastructure in terms of policies and procedures, and policies in terms of how you're going to deal with disciplinary actions. And then, of course, you need good, strong recruiting, from admissions support to knowledgeable coaches who understand how to promote and market and sell your university.
Then, I think you've got to have strong donor support from your alumni, friends and fans. Your marketing support in terms of your season ticket holders is tremendous.

Some people feel that many of those things aren't in place at Columbia, especially in terms of resources. Have you been given assurances that there will be more resources available for athletics under President Bollinger?

I think of the question a little differently. Obviously, those are the components that go into making a successful athletics program. You can certainly hire the right athletics director, but if you don't support that person with the resources, then I don't think you will be successful.
But part of the job of the athletics director is to generate resources, whether it's more resources from within the university community, from the corporate world, from ticket revenue or from alumni support and your other donors. I think all those things are integral to what we're trying to do.
We're certainly going to need more support from the University. There's no question about that. And I believe that will be there. I think it's also incumbent upon me as the athletics director to look for new revenue sources. It cannot come from just one source.

It's interesting you mention that, because John Reeves told me toward the end of his tenure that he never viewed his job as a fundraiser. Can you talk about your fund-raising plan?

Well, first of all, I haven't started the job, so it's difficult to give you a plan today. [Editor's note: This interview took place in September, before Murphy took over at Columbia.] But suffice to say, first and foremost, I think it is the job of the director of athletics to engage in fund raising and cultivating and developing relationships, particularly with athletics alumni and other alumni. In this day and age, as a director of athletics at a Division I program, a large portion of what we do is generate revenue. Our job is to provide the resources for our staff, our coaches and our student-athletes. So I think it's incumbent as part of our plan ... it will be simply what we did here at the University of Denver: to reconnect and connect with our most obvious people — our alumni who have participated in our athletics program — and to do some fund raising and bring those people back into the program.
It also will be getting them engaged as friends of our program, as friends of the University, and then to cultivate relationships with them. And then, ultimately, they're going to want to participate, they're going to want to give back to the athletics program.
A second part of the plan will be getting our student-athletes engaged in paying forward to their program. One of the programs that we have here [at Denver] is that our student-athletes and our coaches give to their program in terms of paying forward. That develops a habit of giving [that will be in place] when they graduate. It's a program that has worked very well for us, and it is something that we will talk about at Columbia. And that's part of why the Ivies have been so successful with their fund raising in general.
Our plan is not going to be rocket science. It's all about identifying people who already have a connection, who already have an investment in Columbia University. We need to get those people more involved.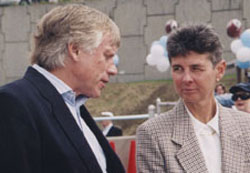 President Lee C. Bollinger shares a word with Murphy at this fall's Homecoming game.

PHOTO: EILEEN BARROSO


Space is very much at a premium at Columbia. Where do you see space being used for athletic facilities? A lot of talk has centered around Manhattanville, and lot of those decisions are being made now, without you here. Where do you see Columbia and athletic facilities?

I think there's a short-term answer and a long-term answer. We have to take the existing facilities — because we're not going to build tomorrow — and we have to enhance those. And I assume, not having been there, that there has been a lot of discussion about putting some athletic facilities up at Manhattanville, and I think that sounds like a logical answer. But that's long-term. That's not tomorrow. That's not five years from now. So we've got to look at what can we do in the next five years to help our coaches to and to help our student-athletes.

Often a new athletics director will come in and hire a number of new coaches and other personnel. At Columbia, approximately 11 coaches have been hired in the past two years. Many programs are operating with new coaches. There are a lot of people who are nervous about you making changes right after a number of changes already have been made. What do you think about that?

Any time there is a change in leadership, people are going to be nervous. It's just human nature. I have not hired any of the coaches at Columbia. I wasn't there as the athletics director. Coming in, I have to have to have faith and trust that the people making those decisions made the right decisions. I'm not planning on coming in the first few months and making wholesale changes. I need to understand our staff, I've got to figure out what they can and cannot do, what they're good at, what do they want to do.

I don't care about the past I only care about the future.


What are your expectations from a coach, in terms of his or her relationship with the athletics department and in terms of wins and losses?

It is so much more than wins and losses, which are probably a small percentage of what we're talking about. First and foremost, we're going to have very high expectations of our staff. I don't care where they report to or who they are, I can assure you that the level of expectation is going to be significantly ratcheted up. And I'm talking about everything from how we look when we come to work to how we answer our mail to how we answer our voicemail. In anything and everything that we do, the expectations are going to be significantly enhanced.
This is all about changing a culture to excellence and quality. That's what we're all about [at Denver]. That's what I'm all about. You're going to hear me talk a lot about that as long as I'm at Columbia. We're going to do everything we can with integrity, excellence and quality. Those are the three words everyone needs to pay attention to: integrity, excellence and quality.
In terms of our coaches, I expect them to be positive role models and mentors. I expect them to be outstanding recruiters. I expect them to be excellent teachers. I expect them to be good friend raisers and fan raisers and fund raisers. I expect them to be concerned about their student-athletes graduating, and having a good experience. It's not just about winning. If you do all the right things in terms of recruiting the right people, supporting them the right way in terms of mentoring and coaching, being concerned about their academics, being concerned about them as whole persons, making sure that they have a good experience, teaching well … If you do all those things, you're going to be successful competitively. And if you don't do those things, you're not going to be successful competitively. So the process is just as important, and maybe more important, than the outcome. If you don't do the process, you're not going to have the outcome.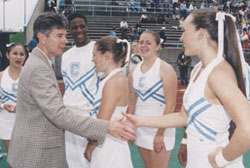 Murphy meets some of Columbia's cheerleaders.

PHOTO: EILEEN BARROSO


How do you feel about people who believe Columbia can never overcome its losing past?

We will work as hard as we can to turn things around. I don't care about what the past. I only care about the future. I feel very supported by everyone, or else I would not have taken the job. Why would I have left a great job like this [at Denver] if I didn't feel like we were going to have the support that we need? And I think too many people focus on the past and not on where they need to be going in the future. My primary focus is looking down the road and trying to get this program where it should be and deserves to be in the Ivy League and nationally.
Phil Wallace '04 is an international strategy analyst for NYC2012 — New York's bid for the 2012 Olympics.
| | | | | | | |
| --- | --- | --- | --- | --- | --- | --- |
| | | || | | || | | |