| | | | | | | |
| --- | --- | --- | --- | --- | --- | --- |
| | | || | | || | | |
ALUMNI UPDATES
Enjoy Art While Doing Your Laundry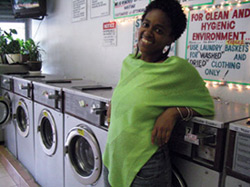 Risë Wilson '97 sees potential for a community arts center in a Laundromat.

Risë Wilson '97 and Takema Robinson have received a $90,000 fellowship to pursue the Laundromat Project, an innovative nonprofit venture that involves opening a self-service laundry that will double as a community arts center in the Bedford-Stuyvesant neighborhood in Brooklyn. The fellowship was awarded by Echoing Green, a New York-based global social venture fund.

"The idea is to create a space that invites anyone to experience art in a meaningful way, without entering a museum and without having to have a background in art," says Wilson, who majored in African-American studies at the College and took art classes while on campus. "I've always been interested in art, but never gave myself permission to pursue it as a career."

Wilson conceived the idea five years ago while working in sales at Procter & Gamble. She didn't know how to create a public arts center, but figured she could support one by marrying it to a profitable venture.

In her free time, while still working at P&G, Wilson enrolled in art classes in her native Philadelphia, pursued internships and volunteered at arts organizations in order to learn more about the nonprofit art world. She continued to hone the idea while a graduate student in Africana Studies at NYU — from which she graduated in May with an M.A. — during which time she interned for a year at the Museum of Modern Art.

For the money-making side of the venture, Wilson considered pairing the arts center with a beauty or barber shop or a bodega, among other options. Her objective was to capture the broadest audience possible and to engage customers in visual arts in an informal atmosphere. Eventually, she hit on the idea of a Laundromat.
"You have to do laundry whether you want to or not," notes Wilson, "no matter what the economy is doing." Other Laundromats around the country have combined their services with a café, bar, dating service or musical concerts, but Wilson says this is the first attempt she knows of to use the profits from the coin machines to support a nonprofit mission.

"You have down time," says Wilson, noting that a self-service laundry often is a place where local residents gather and talk. Installing art will give patrons something new to discuss. The exhibitions will be by local artists or about the neighborhood. "It's about displaying the art creatively, not about hanging framed pictures on the wall," she says. "We can install works on the machines, on the floor, or hang them from the ceiling. As someone who's come in to do your laundry, you enter the installation and become part of the work."

Two artists that Wilson and Robinson already are working with are Isaac Diggs '94 and Syreeta McFadden '97. Diggs, a photographer, lives and works in New York City. He recently had a solo exhibition of his photographs at Luxe Gallery and is preparing for a project in Japan. Wilson and Diggs did not meet at the College; rather, they met in early 2004 at a symposium. "Isaac's images explore issues of sexuality, power and performance in public spaces, which matches my curatorial interests in the body's participation within the many processes of inventing identities," Wilson notes.

By day, McFadden works in the NYC Department of Housing Preservation and Development, but for the past six years also has been a freelance photographer. She and Wilson met at Columbia. "Syreeta's artistic work is interested in the dialogue between urban architecture and urban bodies (individually and as communities)," says Wilson. McFadden is a board member of Louderarts, Inc. and an active member of the Fort Greene Photography Association.
Wilson would love to see the Laundromat Project take over a brownstone in Brooklyn and expand to provide art classes, studio space and perhaps an artist-in-residence program. The project continues to raise funds so it can look for a start-up space.
"We might mount some arts education programs and community programs even before we have the building," Wilson says. "We don't want to wait two years to start fulfilling our mission."
Shira Boss-Bicak '93
The Laundromat Project is building a board of directors, and its founders are eager to meet alumni who can offer advice or assistance. Those interested in learning more can contact
Wilson at (718) 574-0798 or laundromatproject@hotmail.com.
| | | | | | | |
| --- | --- | --- | --- | --- | --- | --- |
| | | || | | || | | |


CCT Home


This Issue


Previous Issue

CCT Masthead