| | | | | | | |
| --- | --- | --- | --- | --- | --- | --- |
| | | || | | || | | |
AROUND THE QUADS
Columbia250 Closes With Symposia, Celebrations and Homecoming
By Lisa Palladino
Photos: Eileen Barroso and Chris Taggart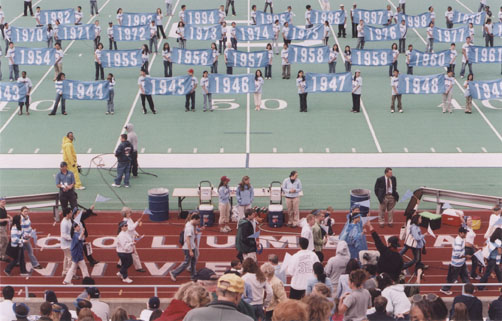 Alumni paraded into Wien Stadium behind their class banners and circled around the track as part of the C250 celebration.

Columbia wrapped up its yearlong Columbia250 celebration with symposia, a pep rally, Homecoming and even a visit from Prince Andrew, Duke of York, among other events.

On September 18, Columbia feted its neighbors from Morningside Heights, Harlem and Washington Heights with the C250 Community Festival, an all-day event for kids and adults that featured informative sessions, fun activities and live jazz. Despite stormy weather early in the day, many community members turned out to enjoy the offerings.

Rounding out a year of stimulating talks on a variety of topics, the two final C250 symposia were "Re:NEW Frontiers in Creativity," which took place on September 30 and featured students, professors and alumni of Columbia's Computer Music Center, and "The 21st-Century City and Its Values: Urbanism, Toleration, Equality," which convened many of the world's leading scholars and practitioners in architecture, ethics, law and anthropology on October 1.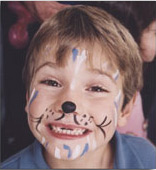 Face-painting was a highlight of the pregame carnival.

The weekend of October 1–3 was packed with activities focusing on Homecoming. It began with a rousing campus pep rally on October, 1 where fans showed their support for the Lions in their challenge the next day against Princeton's Tigers (a tough 27–26 overtime loss).
One non-Homecoming event that weekend was "HOWL! – A Poetry Gathering in Honor of Columbia's Beats" at the West End on the evening of October 1. Parr Professor of English and Comparative Literature Ann Douglas and Jonah Raskin '63 were among those who read from the famous poem by Allen Ginsberg '48. (For more on Raskin and HOWL!, see page 52.)

Baker Field was the focus of the celebration on October 2. As was the case last year, Homecoming's pregame festivities had a treat for younger attendees: a midway-style carnival, which featured an inflatable rock-climbing wall, cotton candy, clowns, face-painting and Skee Ball as well as other games. All attendees mingled in the Big Tent and enjoyed gourmet barbecue food and the chance to see classmates and friends, as well as purchase great Columbia merchandise, including a new book, My Columbia, edited by Ashbel Green '50, which consists of reminsicences about Columbia by many famous alumni and faculty.

Something new at this year's Homecoming, created especially for the C250 closing festivities, was an Alumni Parade, where members of each class walked the field behind their their class banner. Leading the parade were several of Columbia's 2004 Olympic athletes (see story, page 31).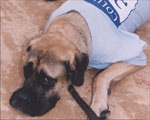 Homecoming wore out this canine Columbian

The celebratory year officially ended on October 11 at a dinner in Low Library Rotunda. Prince Andrew delivered the night's keynote address, saying that Columbia "represents America at its best and boldest." The duke's appearance marked the second time in 50 years that a member of the British royal family helped celebrate a major anniversary of the University, founded as King's College and whose charter was signed by King George II in 1754. For Columbia's bicentennial in 1954, the Queen Mother visited campus and conferred degrees at the year's Commencement ceremonies.
In his speech, Prince Andrew focused on what he called "Columbia's great contribution to the special relationship between our great countries." He highlighted alumni John Jay (Class of 1764) and Alexander Hamilton (Class of 1778), citing their respective contributions to Anglo-American relations.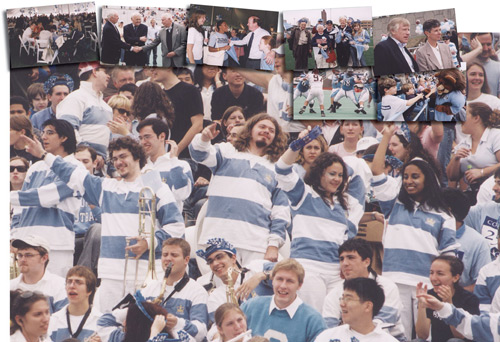 The cleverest band in the world did its raucous best to boost the Lions to victory, but the football team came up short, bowing to Princeton 27–26. (Inserts, top, from left): Alumni and their families enjoy a gourmet barbecue inside the Big Tent before the game; Professor Wm. Theodore de Bary '41 (right) shakes hands with Professor Ken Jackson before the game as Ashbel Green '50, author of My Columbia, looks on; Dean Austin Quigley (with his daughter) visits young alumni in the Big Tent; Columbia and C250 shirts, banners, caps and crowns predominate, but one Boston Red Sox fan proudly shows her allegiance; President Lee C. Bollinger and new Athletics Director Dianne Murphy watch from the sideline; (bottom row, from left) Jeff Otis '04 throws a pass behind solid blocking by the offensive line; and the Columbia Lion delights youngsters in the crowd.

| | | | | | | |
| --- | --- | --- | --- | --- | --- | --- |
| | | || | | || | | |


CCT Home


This Issue


Previous Issue

CCT Masthead