| | | | | | | |
| --- | --- | --- | --- | --- | --- | --- |
| | | || | | || | | |
FEATURES
Roar Lion Roar: Columbia's 2004 Olympians
By Jonathan Lemire '01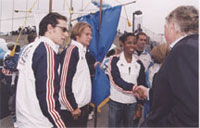 President Lee C. Bollinger congratulates Olympic fencer Erinn Smart '01 Barnard at Homecoming 2004 as Olympic teammates Dan Kellner '98 (left) and Jed Dupree '01 look on.

PHOTO: EILEEN BARROSO

Athens is a long way from Morningside Heights. And there are probably as many differences between life near the Acropolis of America and the actual Acropolis as there are miles (about 5,000) that separate New York from Greece.
But there also are some striking similarities — and one of them is the spirit of sports. Indeed, whether an athlete is staring across the starting line (or fencing mat, or open water) at an opponent from Yale or from Spain, the fire of competition burns just as bright in the Ivy League as it does in the shadow of the Olympic flame. But, as several Columbia competitors discovered this summer at the Olympic Games in Athens, the thrill — and the honor — is that much greater when they represent their home country as well as their school.
And while none of the seven Light Blue athletes (alumni as well as students) who competed in the Olympics brought home a medal, the experiences that the four fencers and three rowers shared were worth their weight in gold.
"The Opening Ceremony was one of the most amazing experiences of my life," says fencer Dan Kellner '98. "Marching with my teammates, who are some of my best friends and with whom I have shared so much, and meeting athletes from all over the world, was something that I am very grateful for.
"All of us could barely wait to hear 'The Star Spangled Banner.' It was thrilling and so moving."
The Lions were well-represented on the U.S. fencing team. In addition to Kellner, Jed Dupree '01, Emily Jacobson '08 and Erinn Smart '01 Barnard also changed their uniform colors from pale blue to red, white and navy.
Kellner, a American history major from Warren, N.J., finished 16th individually in foil and teamed up with Dupree for the team competition. The U.S. finished fourth, narrowly losing the bronze medal 45–38 to Russia.
"A few tough calls went against us, ones that we've watched over and over on DVD," says Kellner, a graphic designer living in New York City. He took consolation in his squad's defeat of the world's No. 2 team, Germany, in an earlier round.
The loss to Russia hasn't discouraged Kellner or Dupree: Both are working to raise funds to keep the team active in order to compete in the 2008 Olympics in Beijing. "This is what we live for," Kellner says.
"To come so close to a medal and to fall just short was tough to take," adds Dupree, a history major who coaches youth and adult fencers in Hoboken, N.J. "More than anything, it's motivated us and made us confident of what we can achieve in Beijing."
Meanwhile, the odds are that Jacobson has been able to trump most of her first-year peers when answering the traditional "How did you spend your summer vacation?" question. She competed in foil but was unable to match her older sister, Sada, a Yale fencer who snagged the bronze medal.
Smart, an alternate during the 2000 Sydney Games, was eliminated in the first round. All four fencers — the latest in a long line of CU swordsmen and women to compete in the Olympics — ran into at least one familiar face in Athens, as Lions co-head fencing coach George Kolombovich was in charge of selecting the event's officials.
On the water, Stacey Borgman '98 Barnard helped power the U.S. lightweight pairs boat which, after just missing the cut for the final race, won the consolation race (or "B-Final") to claim seventh overall.
Two other Columbia rowers took pride in traveling to Greece to represent their home country, Serbia-Montenegro. Veljko Urosevic '03 and Milos Tomic '05E made up half of Serbia's four-man lightweight crew that, like Borgman's pair, won the B-Final to place seventh overall.
"There are no crew teams in schools in Serbia, only scattered clubs," notes Tomic, a civil engineering major. "It is no small thing to qualify for the Olympics and be counted with famous athletes from all over the world."
"It's a small country where the whole nation is paying attention to your every move," says Urosevic, a political science major who lives in New York. "Everybody knows our team and roots for us, so we didn't want to disappoint them."
Adds Urosevic, "We race against the same teams in the World Championships, but what made the Olympics unique is the time we spent in the [Olympic Village], meeting the other
athletes, watching the other sports and sharing our stories. It's an experience none of us will forget."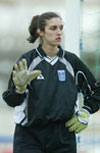 Brimming with patriotic pride, more than 15,000 Greeks packed a Crete stadium during the Olympics to cheer on their women's soccer team as it hosted the heavily favored United States squad. Some of their loudest cheers were reserved for their team's goaltender, who stopped 23 shots to keep the final score respectable — Greece lost 3–0 to the eventual gold-medal-winning Americans.
The goalie for the Greek team, Maria Yatrakis, calls Brooklyn Heights home and is a volunteer assistant for Columbia's soccer teams. Yatrakis' parents — Kathryn Yatrakis, dean of academic affairs and associate dean, and Peter Yatrakis '62 — were born in Greece. Maria was raised with dual citizenship, which she used to join the join the Greek squad two years ago. After a whirlwind of travel and practice, the Yankees fan from Brooklyn suddenly found herself in goal for the host country in the Olympics, staring down the likes of the legendary Mia Hamm.
"I walked onto the field with a silly smile on my face," Yatrakis told The New York Times. "I watched these players in my childhood. [It was] slightly unbelievable, a really fabulous moment."
J.L.
Jonathan Lemire '01 is a frequent contributor to Columbia College Today and a staff writer for The New York Daily News.
| | | | | | | |
| --- | --- | --- | --- | --- | --- | --- |
| | | || | | || | | |


CCT Home


This Issue


Previous Issue

CCT Masthead