| | | | | | | |
| --- | --- | --- | --- | --- | --- | --- |
| | | || | | || | | |
ALUMNI UPDATES
Raskin Howls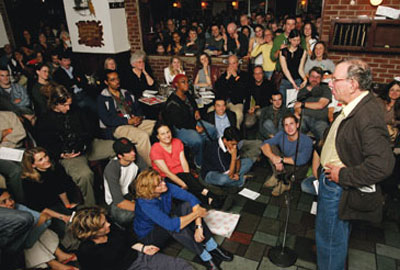 Jonah Raskin '63 read from HOWL and discussed the work of Allen Ginsburg '48 at The West End.

PHOTO: CLARK JONES

As part of Columbia 250's closing celebration, Jonah Raskin '63 returned to campus to take part in "HOWL! – A Poetry Gathering in Honor of Columbia's Beats" at The West End on October 1. Raskin read the first stanzas of the famous poem by Allen Ginsberg '48 that evening, and Audra Noble '05 Barnard, Gregory Ford '96 and Parr Professor of English and Comparative Literature Ann Douglas read the remaining portions. Raskin also gave a lecture on campus earlier in the day in the Journalism School's World Room on Ginsberg's relationship with Columbia.
Raskin is the author of the recently published book American Scream: Allen Ginsberg's Howl and the Making of the Beat Generation. A native of Huntington, Long Island, Raskin earned his master's in American literature at Columbia and went to the University of Manchester to study the effects of literature and imperialism, earning his Ph.D. there in 1967. He returned to Morningside Heights and then moved to Northern California, where he has lived for almost 30 years. He is a journalist and a journalism professor at Sono ma State University.
Raskin became enthralled with the Howl Beats in 1957 during the obscenity trial. His first reading of the poem spawned a lifelong fascination with it and the society that helped to create it. This grew into an affinity with the Beat generation — Ginsberg, Jack Kerouac '44 and William S. Burroughs — who had walked the streets of Morningside Heights just a decade before Raskin arrived.
Douglas noted in her preface to the reading that although this was the first time the University had acknowledged the Beats as a whole, a large part of why Ginsberg was highlighted above his peers as part of C250 was that he was the only one to graduate from the University. Kerouac, author of On the Road and Ginsberg's close friend, came to the College to play football but gave up the game after an injury and found his place as a writer. Yet despite Kerouac's brief time at the school, Raskin emphasized that it was he, as much as Ginsberg, who inspired him to attend Columbia.
Raskin speaks fondly of his years at Columbia. A devout football player in high school, he later became captain of Columbia's rugby team (echoing Kerouac). He shared stories of roommate Eric Foner '63, with whom he has remained in touch. He also spoke with exuberance of his comparative literature course with Lionel Trilling '25, who also taught Ginsberg.
During his lecture, Raskin des-cribed how much of New York, Harlem and Columbia found their way into Howl. Ginsberg's time at Columbia was "tumultuous," said Raskin, and it took him six years to graduate. But Raskin noted how Ginsberg's rebelliousness and Columbia's focus on tradition fed off each other: Columbia's deeply rooted sense of tradition was necessary for grounding Ginsberg's rebellion, yet the University had to awaken to the era's subterranean rumblings. Raskin stressed that each factor was necessary in order for the other to function properly. Acknowledging that tension in himself, Raskin remarked, "I guess if you live long enough, you inevitably become part of the establishment."
Matthew Goldberg '05 GS
| | | | | | | |
| --- | --- | --- | --- | --- | --- | --- |
| | | || | | || | | |


CCT Home


This Issue


Previous Issue

CCT Masthead