COVER STORY
A First Look at Lerner
Long-Awaited Student Center Opens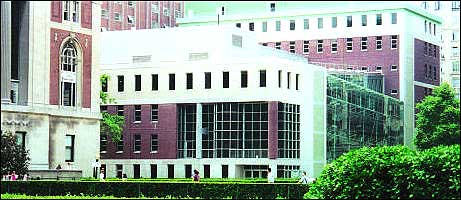 (PHOTO: EILEEN BARROSO)
It stands on the southwest corner of the central campus, a traditional brick façade facing Broadway, a gleaming, ultra-modern glass wall looking out on the campus where 115th Street would be. Alfred Lerner Hall, Columbia's new $85 million, 225,000-square-foot student center, officially opened its doors with the start of the fall semester, three years after the wrecking ball felled its predecessor, Ferris Booth Hall.
Will Lerner foster the sense of community that administrators hope for, its signature ramps and atrium becoming a year-round, indoor version of the Low steps? Will it be a building students flock to and hang out in, interacting with one another in a way that fosters the kind of "coordinated living and learning environment" Dean Austin Quigley has described as one of his goals?
Or will it become a place in which students pick up their mail, grab a bite to eat, perhaps check their e-mail on one of the banks of computers and then quickly leave to go back to their dorms unless they have a specific meeting or event to attend?
Only time will tell, of course. The building, named after Alfred Lerner '55, isn't even fully operational yet, with the large restaurant, for example, not scheduled to open until next fall. The basement bookstore opened its doors in late spring, administrators moved in over the summer and most of the building was ready when students returned to campus in September. A formal opening was held on October 1 that featured a musical performance by Art Garfunkel '62.
Lerner Hall's opening has not been without criticism. This fall, the Columbia Daily Spectator has run numerous articles, both positive and negative, about the facility. Among student complaints cited were the exclusion of some groups in the allocation of meeting rooms, red tape in reserving space and the expense involved in staging events, delays at the package room, and not enough phones or vending machines. Harris Schwartz, executive director of Lerner Hall, said he and other administrators welcomed feedback from students and would work to address complaints. "What we really want to see is how well Lerner can adapt to changing student interests and ideas and approaches, what they really want to see the building do and how they want to use it," Schwartz told Spectator.
CCT conducted its own brief survey of Lerner's consumers, with Laura Butchy interviewing 16 students at random on September 23, and here are their reactions. Recognizing that the student center is still in its shakedown period, we plan to do a follow-up story at an appropriate time in the future.
Tours of Lerner Hall are conducted weekdays at noon and 4 p.m., leaving from the hospitality desk at the campus entrance.