FEATURE
Andrew Carroll '93: Man of Letters
By Shira J. Boss '93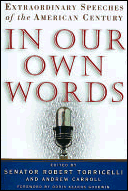 Carroll's newest book, edited with New Jersey Senator Robert Torricelli, is a compilation of some of the most noteworthy American speeches of the twentieth century.
(PHOTO: COURTESY ANDREW CARROLL)


The letter is on Hitler's stationery, written at the dictator's desk in his Munich apartment on May 2, 1945, two days after his suicide.
"I saw a swastika on it and thought, 'This is some neo-Nazi thing,'" says Andrew Carroll '93. He received the letter in the mail as a contribution to his War Legacy Project, which is gathering thousands of wartime letters for preservation.
It turned out to be authentic, a letter written by an American soldier sitting in Hitler's chair at the very end of World War II. The troops were securing buildings, and while going through particularly lavish quarters, they realized they were inspecting Hitler's personal apartment, one of several he maintained throughout Germany.
Sergeant Horace Evers, 26 years old, sat down at the desk, took Hitler's personal stationery embossed in gold, crossed out "Adolph Hitler" and in its place wrote his own name. He then proceeded to write a moving letter home to his mother and stepfather.
"The proximity of that is chilling," Carroll says. "That this was paper from Hitler's desk - just that is incredible. But he goes on to talk about the horrors of Dachau. Here he is at ground zero in many ways, and he's writing about what Hitler had done."
The veteran is still alive, and the letter remained tucked away in his Florida mobile home until he read about Carroll's War Legacy Project. "He didn't realize the historical significance of it," Carroll says. "Now every museum I've talked to wants this letter."
Carroll himself is a true man of letters. In addition to writing 50 to 100 of them per month (not including business correspondence or e-mails), he is the editor of the best-selling Letters of a Nation: A Collection of Extraordinary American Letters. Recently he has been spending most nights perusing stacks of first-hand accounts of fighting, homesickness, love and perseverance from the American Revolution to Kosovo.
The War Legacy Project, conceived and run by Carroll, was featured on ABC's Nightline on May 7. It is fueling an exhibition of soldiers' last letters that opened at the Smithsonian's National Postal Museum on November 11, Veteran's Day. That evening, A&E aired a documentary about the project, which is getting attention in part because it is the first mass appeal to Americans to preserve their war letters and contribute some of them for archives and publication. Mostly, says Carroll, it is popular because letters transform textbook history into intimate encounters with those who lived it.
"I never liked history. It seemed overwhelming, an onslaught of names and dates. I couldn't get the narrative of it," Carroll admits. "But once I started reading the letters, it came alive. You get the unfolding of the drama, the things going on. You learn about human nature."
Letters, however, are only part of Carroll's literary involvement. His work on the War Legacy Project is all volunteer. His main job - supported by fellowships and grants - is as director of the American Poetry and Literacy Project in Washington, D.C. He founded the non-profit organization with the late poet laureate Joseph Brodsky shortly after Carroll's graduation from the College in 1993. Its mission is to bring poetry to the people, and so far Carroll has orchestrated the giving away of a half million free volumes of poetry. That includes handouts in libraries, hospitals, truck stops, diners, prisons, hotels, grocery stores and jury waiting rooms. When Brodsky used to describe their work he would say, "We give away poetry anyplace people kill time," and then would add under his breath, "as time kills them."
In addition, APLP has gotten poetry included in the Yellow Pages, 15 million phone books countrywide.
It's a good time to be a messenger. Poetry has been making a well-publicized comeback in both reading and writing, and letter writing is rallying as an appreciated art form.
While many of his classmates claw their way past six-figure incomes, Carroll, 30, the son of a publisher and a realtor, subsists on about $24,000 per year and a conviction to nurture literacy. He runs both the letters and poetry projects out of his one-bedroom apartment in D.C. and has designed a Thoreau-like lifestyle. "I don't travel, I'm not a slave to fashion, I rarely eat out and I don't eat any sugar or caffeine," he says.
Settling into the lounge at Philosophy Hall on campus for a recent interview, Carroll, with his casual khakis, unassuming backpack, and scholarly looking horn-rimmed glasses, resembles any self-supporting graduate student. Few would recognize him as having been featured on three major television networks, Oprah, Tom Snyder, NPR and in the country's top newspapers.
Nor does Carroll promote himself as a celebrity, or a micro-celeb, even among friends. "He won't tell you about any of his successes until after the fact, usually after you've read about it somewhere," says his friend, Peter Leheny '92E, '96B. "He'll come up to New York, we'll say, 'Great, you can crash here.' Then a couple days after, we find out he was in New York to be interviewed by Peter Jennings or something."
War on paper
The War Legacy Project got its start with the Letters of a Nation book. The "Letters of War" chapter contained mostly letters that were previously unpublished. "It made me think there must be so many other letters out there," Carroll says.
Seeing the movie Saving Private Ryan last year and realizing how many veterans are dying and their letters being lost moved him to get going on the project. Carroll had the idea to ask Abigail Van Buren if she would write a "Dear Abby" column for Veteran's Day asking people to send copies of their war letters to the Legacy Project. She did, and Carroll rented a post office box.
A few days after the column was printed last fall, he got a call to come clear out his mail. "Okay," he replied. "I'll bike right over." "Bicycle?" the man responded. "Oh, no, you're going to need a car."
Bins and bins of letters jump-started the Legacy Project. A year later, they haven't stopped coming. In addition to some other publicity, the original "Dear Abby" column is still getting passed hand-to-hand and inspiring people to make contributions. Carroll estimates the collection at about 15,000 letters. Some arrive as packets of entire correspondences over years.
"People write and say, 'There's nobody left but me, and I want someone to remember what my father (or husband or whoever) did. Please hang onto these," Carroll says.
Part of the project's aim is to get more people to realize the value of these old letters.
"We're losing our most cherished personal possessions," Carroll laments. "Kids go through their parents' houses and throw out boxes of letters without realizing what they're throwing out.
"These are eyewitness accounts of battles, personal accounts of encounters with generals, love letters that show the destruction of war. We have Civil War letters that are marked with flecks of mud and blood. There are Dear John letters that these guys have kept their whole lives and still say, 'The war tore us apart.'"
A Civil War soldier wrote a letter describing a deserter being executed by firing squad. Many soldiers wrote about the horrors they saw touring the concentration camps at the end of World War II. "I cannot expect you to believe it," wrote a 25-year-old who helped evacuate the Bergen-Belsen camp in 1945, "indeed I who have seen it cannot."
A series of letters between a mother and her son spanned his being drafted, boot camp, and eventually action on the front lines. In the early letters the young soldier, who by mistake was drafted a year before being eligible, begs his mother to correct the error and free him. Eventually, he warms to being a soldier. The last letter was written by his brother, who had returned home, as well as his mother. They ask, "And when are you coming home?" not knowing the young man already had been killed at Guadalcanal.
The project is run by Carroll and other volunteers. Right now they are categorizing letters and responding to those who have sent them. Some will be included in a planned book, the royalties from which will be entirely donated to veterans' projects, Carroll says. "It's very important to me that this is seen as clean and pure," he says.
In going through the letters, Carroll has himself become a kind of historian.
"War letters are really peace letters," he observes. "Nobody writes about the joy of war. It's all about the horrors. Letters, along with diaries, are the best resources we have for understanding that drama. When letters are lost, we all lose. Society at large loses.
"People say, 'Well, my husband wasn't famous, he was just a common soldier.' But that's exactly the perspective we want."
He is especially searching out letters from pacifists and war resisters, letters from the home front (which were harder to hang onto and so are more scarce now), and letters "by those who haven't gotten their due: nurses, women spies, African-American soldiers, Japanese-American troops, Native American soldiers," Carroll says. "Millions of people served in World War II alone. Fifteen thousand letters isn't even the tip of the tip of the iceberg. All of the stories are still out there - and the thought that they might be lost if there's not a concerted effort to preserve them."


"Missing You: Last Letters from World War II" runs at the Smithsonian's National Postal Museum from November 11, 1999 for six months.
To contribute war letters to the Legacy Project, send photocopies with a phone number to:
The Legacy Project, P.O. Box 53250, Washington, D.C. 20009


Although the project requests copies, some originals have been donated, and they are being kept temporarily in two fire-safe vaults. In addition to those that will go in the book, many more may be put on a website, perhaps in an on-line archive. Others will be donated to museums or libraries. Carroll's criteria for donating letters are that they cannot ever be sold or thrown away and must be available to the public.
In addition to public preservation, the Legacy Project encourages people to find and care for their personal collections. The book and website will include tips on how to preserve letters.
"The worst thing you can do is laminate them," Carroll says. "Just keep the letter the way it is. Don't write on it, staple it, stamp it or even put sticky notes on it. Just keep it in a safe, dry, dark place." Preferably in acid-free folders, he adds.
History through letters
Carroll's fascination with letters - especially with preserving them - dates to his sophomore year at Columbia, specifically Christmas, 1990, when his house in Washington, D.C. burned down. "It made me much less materialistic," he says. "Before that I'd wanted to go to Los Angeles and be a filmmaker and make gobs of money."
The fire destroyed boxes of letters he had been keeping in his closet: love letters, notes from friends, dispatches from friends studying overseas, including one who had witnessed the Tiananmen Square uprising and wrote an account to Carroll.
Carroll was also inspired by Ken Burns's documentary series on the Civil War, which had just come out and used letters to add emotion to the narrative. In his reading for Columbia classes, Carroll often came across fragments of letters - sometimes a single quotation, often with "those frustrating ellipses." He started jotting down references to letters and put what he found in a folder. "It grew fatter and fatter," he says. "This school could not have been a better place at which to have this idea. It was a field day."
It took Carroll seven more years to track down the letters in their entirety, to negotiate permission and to buy reprint rights, for which he spent over half his book advance.
"He was able to tell the history of the United States through correspondence," says Victoria Walch, an archival consultant in Iowa City, Iowa. "It's easy for we archivists to get, like, 'Ho hum, it's just another George Washington letter.' But [Carroll] brought so much enthusiasm and excitement to it."
Each letter is annotated with an introduction and sometimes a follow-up. In addition to letters of slavery, exploration, war, social concern, love and death, the volume includes humorous gems such as E.B. White writing to the ASPCA on getting a dog license, and Groucho Marx writing to Warner Bros. responding to the company's protesting Marx's film title, A Night in Casablanca. "Apparently there is more than one way of conquering a city and holding it as your own," Marx's letter began. "Even if you plan on re-releasing your picture, I am sure that the average movie fan could learn in time to distinguish between Ingrid Bergman and Harpo."
Carroll says that the most talked-about letter in the book is Elvis Presley writing to President Nixon offering to help fight drug use in America.
Contributions from Columbians include Alexander Hamilton (Class of 1778) writing to George Washington on the new Constitution, Thomas Merton '38 to pen pal Henry Miller on them looking alike, Jack Kerouac '44 to his friend Sebastian Sampas on living for "vodka, love and glory," and Mark Rudd '69 to University President Grayson Kirk protesting Vietnam.
Many were previously unpublished letters and some were written by people who are not famous, such as a woman writing to her birth mother wondering if they will ever meet.
Letters of a Nation was published in 1997 and became a national bestseller, rising to No. 18 on The New York Times's list. The hardcover went into three printings and the softcover is in its seventh, together generating sales of 100,000 copies. Royalties from it help support Carroll, who will not use any donation money to APLP for overhead costs.
"I wanted to show that letter writing is the most democratic art form there is," he says. "You don't need an instrument, paint, a canvas or a brush. You only need pen and paper."
To encourage letter writing, he organized giving away the book to Amtrak passengers along with a care package of stationery, stamped envelopes and a fountain pen. Part of the outreach efforts of the War Legacy Project, he says, is to get people to appreciate letters and write more of them today.
"This is the best time in history to write letters," Carroll says, "because we have so many other options - faxes, e-mail, cell phones. When you sit down to write a letter, you're making a decision to do that. The implicit message is, 'You're worth the time.'"
Literacy through poetry
Carroll confesses he was never a big fan of poetry, and can understand readers of it being intimidated. His view was changed when he took Kenneth Koch's class on poetry at Columbia. Then a friend of his gave him a copy of a speech that Brodsky had delivered at the Library of Congress advocating giving away poetry in supermarkets and other public places.
"It was so egalitarian, that poetry is for everyone," Carroll says. "I wrote him a letter on a whim, not knowing who he was and definitely not knowing that he'd won the Nobel Prize."
To his surprise, Brodsky, who was living in Greenwich Village, responded. The two met and eventually founded the American Poetry and Literacy Project, which Carroll has headed as executive director after Brodsky's death in 1996.
Carroll came to the project as a lover of books, wanting to encourage literacy in all age groups. To use poetry as the vehicle came from Brodsky.
The first year of their giveaways was 1993. They handed out 10,000 volumes by Joel Conarroe that had been donated by the Book of the Month Club and they considered it a smashing success. Now APLP gives away 100,000 books per year.
"There's no end to the demand," Carroll says. "We could give out 10 million books if we wanted to."
Which they do. What prevents them is only funding. APLP's file of requests for poetry books is three inches thick. Every $1 donation funds two thrift editions of poetry books to be given away. General donations fund handouts to non-profits, and corporations often sponsor large giveaways. This year, Target stores contributed $150,000 for a giveaway in-store and to teachers, and Lancôme sponsored a love poetry giveaway. "We've also had old ladies send $5 and say, 'Can you send 10 books to my local hospital?'" Carroll says.
One regular recipient of books is the Martin Luther King Memorial Library, the main public library branch in Washington, D.C. "In downtown Washington, there are a lot of people who come to the library who don't own books," says Eleanor Dore, head of the language and literacy division of the library. "It's such a special thing to them to be able to own a book and have that in their lives."
She recalls that the day after a poetry reading and giveaway organized by APLP, an elderly black woman came back to the library and timidly asked if there were any books left. Dore gave her a copy of African-American Poetry. "She said it meant so much to her to have the book.
"Occasionally, we'll get people asking, 'Are you for real giving away poetry books? How come? How can you do that?' And I tell them about Andy."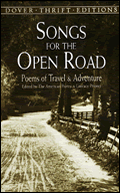 One of the poems in Songs for the Open Road is "A Dream of Trains," by the legendary Mark Van Doren, who taught at Columbia for four decades.
(PHOTO: COURTESY ANDREW CARROLL)


APLP organizes readings and giveaways throughout the year, often customized by date, location, or event. In 1999 their theme was travel. During National Poetry Month they gave away a volume edited by APLP, Songs for the Open Road: Poems of Travel & Adventure, to 4,000 Peace Corps volunteers, 5,000 departing U.S. Navy sailors, 10,000 Amtrak passengers and 40,000 buyers of new Volkswagen cars.
They like to give out copies of Poe's "The Raven" on Halloween, love poetry on Valentine's Day and T.S. Eliot's "The Waste Land" ("April is the cruelest month...") on tax day. "It's corny, but it makes it easy to draw attention to poetry," Carroll says.
Carroll got especially creative on a 6,500-mile cross-country trip during National Poetry Month in April, 1998. He and "Winona," his Ryder truck, carried tons of books to large metropolises and tiny outposts. Among the books distributed were 101 Great American Poems, African-American Poetry, Spanish-language poems and poetry books on tape for the blind.
He gave away love poetry in a 24-hour, drive-through wedding chapel in Las Vegas, animal poems at the St. Louis zoo and Civil War poems at Gettysburg. Drivers through the Walt Whitman toll bridge connecting Philadelphia and New Jersey were handed a Whitman collection featuring "Leaves of Grass." Visitors to the UFO Museum near Area 51 in Roswell, N.M. got Lost Lunar Baedeker: Poems of Mina Loy, and customers at White Castle in Chicago got Scrambled Eggs & Whiskey by Hayden Carruth, who refers to White Castle in one of the verses. "He uses White Tower, but he meant White Castle," Carroll insists.
Not all of the pit stops fit as well as planned. Carroll kept an on-line journal during the trip. The entry on April 6 is entitled "Mistakes Were Made" and begins: "Apparently there's been a slight error. Zanesville, Ohio, in Muskingham County is the pottery capital of the world."
On the trip, as well as during other giveaways, Carroll says he didn't get any negative feedback. "But we get a lot of 'No, thank yous'" he says, "and what I call the Hare Krishna look: 'What is this all about? Is it a cult, a religion?'"
Often, people are looking for a catch, he says. "It's unusual that a giveaway is the end. There's nothing else to do. We don't give away a book and say, 'Now, if you want to join our little book club....'"
Because free is associated with a follow-up, hotels were initially reluctant to take up the APLP on its offer to place poetry books in rooms like the Gideons place Bibles. "They finally realized we're just promoting poetry, there's no ulterior motive," Carroll says, although he remembers one hotel executive asking, "Who's this Robert Frost guy you work for again?"
As soon as the books were put into rooms, they were taken out by guests - to the delight of Carroll. "That's the idea," he says.
Next year's theme is "poetry takes flight," for which Carroll is working on getting a major airline to give away volumes on board and getting NASA to put a poem in the space shuttle. He is also working on placing a book of international poetry in every hotel room for the 2002 Olympics in Salt Lake City.
"Letters and poetry give us incredible insight into human nature," Carroll says. "It's why we like gossip. It tells us what makes people tick. Letters and poetry do that."
About the Author: Shira J. Boss '93, who holds graduate degrees from the Journalism School ('97) and SIPA ('98), contributes regularly to The Christian Science Monitor and Crain's New York Business as well as CCT. She still writes letters sealed with wax.