AROUND THE QUADS
Mundell is Columbia's 60th Nobel Laureate
By Lisa Kitayama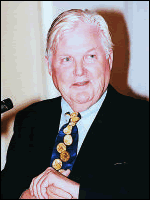 Nobel Prize winner Robert Mundell
(PHOTO: ROY MITTLEMAN)


Not even the Yankees have a better record: For the third time in the last four years, just as baseball's Bronx Bombers have won the World Series, a Columbia professor has been awarded a Nobel Prize. In October, it was announced that Robert A. Mundell, the C. Lowell Harriss Professor of Economics, had won the 1999 Nobel Prize for Economics.
Mundell is credited with developing fundamental theories of monetary and fiscal policy. In the 1960s, when concepts of a fixed exchange rate and national currency dominated economic thought, Mundell argued for a common currency for specific regions. His arguments, analysis on the advantages of a common currency, and theoretical framework provided the foundations for international monetary theory and policy.
Mundell is the 60th Nobel laureate affiliated with Columbia, continuing the remarkable legacy of students and professors at the University. He is the second professor of economics in recent years to have won the prize: the late William S. Vickrey was a Nobel laureate in 1996. Last year, Professor of Physics Horst Stormer won the prize for physics.
In announcing the award, the Royal Swedish Academy cited Mundell's 1961 article "A Theory of Optimum Currency Areas," in The American Economic Review as laying the groundwork for the common currency policy that became the model for the Euro.
"Mundell's research has had such a far-reaching and lasting impact because it combines formal - but still accessible - analysis, intuitive interpretation and results with immediate policy applications," the Academy said. "Mundell's contributions serve as a superb reminder of the significance of basic research. At a given point in time academic achievements might appear rather esoteric; not long afterwards, however, they may take on great practical importance."
Born in 1932 in Canada, Mundell studied at the University of British Columbia, the University of Washington and the London School of Economics before earning his Ph.D. in economics from M.I.T. Mundell taught at Stanford and the Johns Hopkins Bologna Center of Advanced International Studies, worked with the International Monetary Fund, and was a professor at the University of Chicago. He also has been editor of the Journal of Political Economy. Mundell joined the Columbia faculty in 1974. From 1965-75, he was a summer professor at the Graduate Institute of International Studies in Geneva. In 1997-98 he was the AGIP Professor of Economics at the Johns Hopkins Bologna Center.
A prolific writer and much sought out economics advisor and consultant, Mundell has written four books and authored over 100 articles. He has acted as an advisor to major domestic and international institutions, including the United Nations, the International Monetary Fund, the World Bank, the Federal Reserve Board, the U.S. Treasury, and the government of Canada, as well as advising several Latin American governments.
Burstein Named VP for Facilities Management
By Shira Boss
Mark Burstein, who in the past four years brought student services on-line, made dining halls less cafeteria-like and residence halls more comfortable and attractive for students, has been named vice president for facilities management. He succeeds Charlie Maikish, who had held the position for 112 years before returning to private-sector real estate management.
Burstein was an investment banker before coming to Columbia four years ago as vice president for student services, when the position was created. The student services department has grown to encompass housing and services for dining, health, finance and student information.
Among his accomplishments was the development of web-based services that allow students to order transcripts, see their grades, change addresses and track which requirements they have yet to fulfill and which courses will apply toward those requirements. He implemented the telephone registration system, remodeled dining halls to resemble retail-style restaurants rather than assembly-line cafeterias, and transformed student IDs into Columbia Cards that give students free checking with Citibank and act as an on-campus debit card at dining halls, a copy center, the bookstore, vending machines and laundry rooms. He also helped engineer the Columbia Comprehensive Educational Financing Plan, which negotiates student loans at lower interest rates, and was involved, from the users' perspective, in the building or renovations of Lerner Hall and several residence halls.
A long-heard criticism Burstein has worked hard to overcome is that students' complaints weren't being heard or their needs served. "He's genuinely dedicated to students' needs and finding out what they want," said Tiffany Fletcher '01, student services representative for student council.
"My biggest regret in the switch is that I won't work directly with undergraduates anymore," Burstein said. "That has been an exceptionally fulfilling part of my job." In his new position, Burstein will work more with faculty and administrative needs. "I'm going to work on improving service delivery, much like we did for student services," he said.
Facilities management has two sides. One is the planning, design and construction of buildings, and the other is their operation, including custodial care and maintenance. The construction side, which includes high-profile projects like the building of Lerner and the renovation of Butler, "is very strong right now," said Emily Lloyd, executive vice president for administration.
"Now we have to play catch-up on the operations side. We know that this is an area of concern with both students and faculty," she said. "They're not satisfied with the cleanliness of the areas they use and being able to get things fixed properly."
Lloyd said that Columbia's campus is a challenge to maintain because many buildings are old. "There are a lot of nooks and crannies that the sleek, new buildings don't have," she said.
Burstein will be in charge of expanding and improving custodial and maintenance services as well as overseeing the five-year, $848-million capital construction and renewal plan approved by the Trustees last June. That includes the restoration and renovation of three classroom buildings, including Hamilton Hall; the renovation of River Hall, which will take place next year; the construction of the Broadway Residence Hall on 113th Street, which will open next fall, and the Kraft Center for Jewish Student Life, which will open in early 2000; as well as the on-going renovation of Butler Library and the completion of the interior of Lerner Hall.
A search is under way for a new head of student services. In the interim, Margo Amgot, executive director of student health and related services, will also serve as acting vice president for student services.