ALUMNI PROFILE
Putting the Bucks in the Broncos Stadium
By Sarah Lorge '95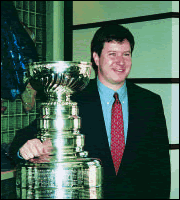 Jim Weinstein '84 with the Stanley Cup, the NHL championship trophy.


When face- painted football fans fill a new stadium for the Denver Broncos in the fall of 2001, it's unlikely that they'll be thinking about much more than tailgating and touchdowns.
But before there can be football, there first has to be financing.
That's where Jim Weinstein '84, '88B comes in. As a senior vice president and head of the project finance department at Sumitomo Bank, Weinstein leads a team that figures out how to pay for construction of new sports arenas such as the one in the works in Denver.
Weinstein became head of the project finance group in 1997. When he first joined the department in 1991, the bank primarily lent money to utilities to build new power plants. Weinstein quickly figured out that those methods of financing could be applied to sports stadiums. Since then, Sumitomo has had a major role in funding sports projects in Washington, Ottawa and Detroit, among others.
Power plants are still the meat and potatoes of what Weinstein's department does, but, however necessary, they lack the sizzle of a brand new sports stadium. "When you first spin a turbine at a power plant, there aren't 50,000 people cheering," Weinstein notes.
It probably was not surprising to Weinstein's family (father Ed '57, mother Sandra and sister Ilene '87) that Jim wound up helping franchises finance new stadiums. He was always interested in sports, as many youngsters and teenagers are. But in addition to tracking the on-field accomplishments of the players, Weinstein had a quirky fascination with the owners, especially when and by whom teams were purchased.
"It's something I knew from before Columbia," he says, "who owned every sports team, and the history of franchises. I had a book called The Ballparks, which lists every ballpark where major league baseball was ever played. I still have it."
If that book is ever updated, Weinstein could easily be a part of it, having arranged financing for the construction of the new home of the Detroit Tigers that will open in April.
Although new sports facilities sprout up regularly around the country, building a new outdoor stadium or indoor arena is never easy. Satisfying the interests of the franchise, the city, the league, and other banks requires sensitive negotiations. Sumitomo works with team representatives to help them fund their contribution to the project.
In the Denver arrangement, for instance, $250 million to build the new stadium will come from taxpayers and $150 million will be furnished by the Broncos. Despite the popularity of football in the city of Denver, taxpayers were suspicious that the Broncos wouldn't hold up their end of the bargain, says Allan Fears, CFO of the Broncos. The referendum that passed required the Broncos to make their contribution up front, before the tax dollars started kicking in. That meant the Broncos needed $25 million before construction could even begin.
"Jim was the only banker I dealt with in entire process who put together a structure to loan us $25 million," Fears says.
The Broncos deal was closed in August. Now that it's complete, Weinstein, an oarsman during his Columbia days, has time to catch his breath and help his former crew teammate David Filosa '82 with project finance of a different sort: Raising money from alumni for a new boathouse for the Columbia crews, which is scheduled to open next year.