FEATURE
Taking Business News To TheStreet
By Tami Luhby '92
Dave Kansas '90 has always chosen paths that others might not have dared to take. He left a small college in his hometown of St. Paul, Minn., to transfer to Columbia, though New York had scared him to death on previous visits. He abandoned his lifelong dream of being a sportscaster to venture into the unfamiliar world of financial journalism. Then he gave up an enviable job at the Wall Street Journal to edit a start-up Web publication called TheStreet.com in 1996 - when the Internet was still an unproven medium.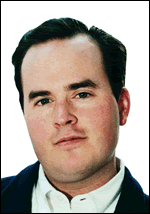 Under Kansas's editorship, TheStreet.com has become a leading source of financial information for consumers as well as a provider of business news to other media outlets.
(PHOTO: COURTESY OFTHESTREET.COM)


"Going to TheStreet.com was the craziest thing I ever did," Kansas says in his modest corner office, keeping one eye on his e-mail to check for breaking news. "But I didn't want to stay on the traditional journalism trajectory."

His chosen path has made Kansas, 32, a rising star in business journalism.

Under his tutelage, TheStreet has evolved from a fledgling Webzine to a respected site with 66,000 subscribers. It covers stock markets around the world, as well as various industries. Heavyweights from The New York Times to ABC News turn to TheStreet to provide business coverage for their own Web presences.

TheStreet also has made Kansas a rich young man. Thanks to the investment community's response to the company's initial public offering in May, the editor's stake is worth about $2.9 million as this issue of CCT goes to press. (Kansas had seen the value of his stock options soar to $9.1 million just after the IPO, before the Internet industry slump on Wall Street.)

This is quite a change for Kansas, who had to work during college to pay Columbia's tuition, and then take freelancing assignments to supplement his first job's salary. He's still not comfortable talking about his newfound wealth - his college friend Sam Marchiano '89 dragged him shopping after the IPO to replace the worn out clothes he'd had since college - and instead politely shifts the conversation back to TheStreet's journalistic endeavors.

Kansas has always been focused on journalism. After spending a year at Macalester College, he transferred to Columbia to become part of the media mecca of New York. Two days after arriving on campus, before attending any classes, he lined up a job interview that turned into an 18-month stint at NBC Radio Network, first as the overnight desk assistant and later as an engineer and taperoom producer.

At Columbia, Kansas joined the Spectator and worked his way up to editing the sports section. He also could be found on the air, announcing football, basketball and baseball games for WKCR. His most memorable moments included covering the 1988 homecoming game, when Columbia's football team broke a 44-game losing streak.

"The team was being covered by the national press," says Kansas, who also performed with the Kingsmen during his years on campus. "I got to rub shoulders with some very interesting people."

Kansas' sometimes brutal honesty in his reporting did not win many friends among the athletes, but it impressed his colleagues at Spectator. He was not afraid to criticize teams or players, and he held people accountable for their actions, a practice he continues as a business journalist.

"Dave didn't back down when the athletes got mad at him. He would do what he thought was right," says Marchiano, now a sportscaster for Fox Sports. "To me that was a sign of great things to come."

In his senior year, Kansas began covering high school sports for New York Newsday. He continued working there part-time after graduation, and wrote freelance news articles to make ends meet. But after a few months, he decided he needed a full-time job with benefits. And he realized the only publications that were hiring covered business.

So he secured a job as a news assistant at the Wall Street Journal. This move stunned friends and colleagues, not only because Kansas had never taken an economics course or bought stock, but also because he was giving up a writing post for one where he would look for typos and act as a liaison with the paper's production facilities.

Kansas, however, had a plan. As soon as he walked through the Journal's doors in May 1991, he started pitching story ideas to the editors. He often came in five hours early to work on articles. Within a month, he published his first piece, about a new law in Chester, N.Y. that required all store signs to be blue. Soaking up financial journalism on the job, he became a reporter on the spot news desk the next year and then started writing the "Abreast of the Market" column. Since he knew nothing about covering stocks, he read a dozen books in four weeks and called experts to explain the markets to him.

"He didn't know a lot about financial journalism, but he caught on fast," says Jim Hyatt, one of Kansas' former editors at the Journal.

One reason he took to business writing, he says, is because it's a lot like sports. There are winners and losers. There is inherent drama in the game. And the vocabulary is often the same.

"I used to joke that I covered Columbia football, so I'm ready for a bear market," Kansas says. "I've got all the words and phrases."

But after five years at the Journal, Kansas was ready for a change. At the same time, he caught the eye of TheStreet's founder James Cramer, a hedge fund manager who calls Kansas' work at the Journal "some of the most credible, authoritative business journalism" he'd seen. Tempted by the challenge and the potential high returns, Kansas signed on as executive editor in September 1996, becoming editor-in-chief the following April.

It wasn't easy at first. Kansas spent two days at TheStreet's office - then located in an abandoned bank vault with telephones and computers that didn't work - before taking a few days off to adjust to his new position...and to ponder whether he had just made the biggest mistake of his life.

Though uncertain, Kansas returned because he believed TheStreet would succeed. Debates rage in the journalism industry as to whether the Internet will be more than a conduit for self-publishers, such as Matt Drudge, and whether it would ever be a credible source of news, with the same standards for truth or ethics that hold at the highest levels of print or broadcast journalism.

As he watched the value and importance of information explode, Kansas was certain people would turn to the Internet for news throughout the day that they couldn't get from their newspapers. He felt he could fashion TheStreet as an authoritative source for financial information.

Another draw, Kansas noted, was that readers could interact with the writers. At the Journal, he received only a handful of letters over four years. Now, when he writes a column, he gets 50 to 100 e-mails.

Convincing others of the medium's potential, however, took some work. "We would cheer when someone agreed to work here," Kansas recalls.

He doesn't have to cheer anymore. Launched in November 1996 with a staff of seven, TheStreet now has 70 reporters in bureaus on both coasts, as well as in London, Berlin and Tokyo. It also has landed two high-profile columnists, Herb Greenberg, formerly of the San Francisco Chronicle, and Adam Lashinsky, who came from the San Jose Mercury News.

Though Web publications have proliferated, TheStreet is unusual for the Internet. It has no print companion, such as a newspaper or magazine, and posts 60 to 70 original stories a day.

Like many of its peers, TheStreet is not yet turning a profit. It charges a fee of $9.95 a month, or $99.95 a year, and hopes to become profitable through advertising and partnerships with other media, such as providing business news for ABCNews.com and doing a weekly program on Fox News Channel. Eventually it may publish books about finance and investing. As a director of the company, Kansas could not predict when TheStreet might ease into the black, but he did point out that it took many traditional publications, such as USA Today, many years to generate profits.

Despite the financial pressures and seeming conflict of interest with a hedge fund manager as a publisher, Kansas says he hasn't let his journalism standards suffer. He expects the same level of reporting and writing from his staff as his editors did at the Journal.

When he first took the job, he was very concerned about having the freedom to make editorial decisions, says Roger Lehecka '67, Columbia's director of alumni programs, who struck up a close friendship with Kansas when Lehecka was the College's dean of students.

Kansas apparently has succeeded. Cramer says he keeps his distance from the editorial side of TheStreet, over which the young editor has complete control. And his former boss at the Journal says Kansas has won the respect of his former colleagues who doubted his ability to make TheStreet a credible source of business news.

"He is bringing stature to an unknown medium," says Hyatt, the Journal editor. "TheStreet could have been gossipy or poorly reported. Instead it breaks news, has high standards and is well-written."

Kansas hasn't let his newfound Internet wealth change his personal routine. He still sleeps on a futon in his lower Manhattan apartment, which he shares with a roommate. One of the few luxuries he's allowed himself is a new titanium bicycle, which he recently rode across Iowa. Friends such as Roger Rubin '89 say Kansas doesn't believe his own good fortune.

"I don't really think about it that much," Kansas says. "I focus more on trying to succeed."

About the Author: Tami Luhby '92, J'97 is a writer at Crain's New York Business. Her work has also appeared in Newsday and The New York Times's Cybertimes section.