ALUMNI PROFILE
Joel Feldman '85: Lawyer and Idealist
By Shira J. Boss '93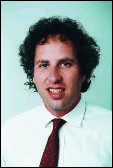 Like many lawyers, Joel Feldman '85 started out as an idealist. Unlike many, he has stayed one.
Feldman and two partners, all of whom have backgrounds in legal aid, run a Massachusetts law firm for low income clients. The firm, Heisler, Fields & Feldman, in Springfield, Mass., specializes in discrimination cases, landlord-tenant disputes, consumer protection and illegal debt collection cases; it does not handle personal injury cases.
They charge clients a nominal retainer (such as $25) and instead recover lawyer's fees from "fee shifting provisions" that make the defendant pay the plaintiff's legal fees if the defendant loses. If a case settles, the firm tries to negotiate a fee or else takes a predetermined percentage of the settlement amount.
Needless to say, it is not a lucrative operation. The partners' financial goal is to make what legal service lawyers generally make, which in Massachusetts is $25,000 to $45,000, according to Feldman. Feldman says he was making at the high end of that scale when he left his last job as legal director of the Housing Discrimination Project in Holyoke, Mass. a year ago.
To keep costs down they use the Hampshire County Courthouse library and the Internet for legal research, and employ an answering machine instead of a secretary or any other staff.
By all measures, the firm is needed. Public legal services are overloaded, there are not enough pro bono hours to go around, and most private firms charge a retainer that can be prohibitive for poor people. According to Western Massachusetts Legal Services, 80 to 85 percent of the legal needs of the low-income population are never met.
"I went to law school to help people," says Feldman, who graduated from Harvard Law School. "That's why I worked in legal services for years. [The partners at this firm] all care deeply about social change work and people who haven't gotten the access they deserve."
Feldman is married to Pamela Schwartz; they have two children, Isaiah, 3, and Gabriel, 1.