COLUMBIA FORUM
Experiments in the Everyday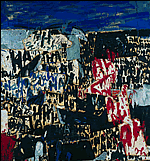 Allan Kaprow, Hysteria (1956). 79" x 72", oil, aluminum, foil, and canvas on canvas.


During the 1960s, artistic production in America shifted from abstract expressionism to a new aesthetic vision that employed everyday, industrial materials and challenged traditional perceptions of what was art. "Experiments in the Everyday: Allan Kaprow and Robert Watts - Events, Objects, Documents," an exhibition on display at the Miriam and Ira D. Wallach Art Gallery, highlights the work of two avant-garde artists central to this aesthetic transformation. The two works presented here - Allan Kaprow's Hysteria (1956) and Robert Watts's Table for Suicide Event (1961) - are among more than 80 works on display.
Although both artists began as abstract expressionist painters, each moved beyond the limits of the painted field. Best known for his collage-like, collaborative performances known as "Happenings," Kaprow (b. 1927) worked to move art into everyday spaces. Watts (1923-1988), too, tried to break down the distinctions between art and the everyday, becoming a key figure in the quasi-anarchic artists' collective known as Fluxus and producing unconventional projects and objects. Both men received master's degrees in art history from Columbia - Watts in 1951 and Kaprow in 1952 - though they did not become friends, or collaborate on any projects, until after 1953, when they were each hired by Rutgers.
The Wallach Art Gallery is located on the 8th floor of Schermerhorn Hall; the exhibit runs from 1 to 5 p.m., Wednesday to Saturday, through December 4 (except Thanksgiving week). A fully illustrated catalogue will be available from the Wallach Gallery for $30. For more information, please call (212) 854-2877.