COVER STORY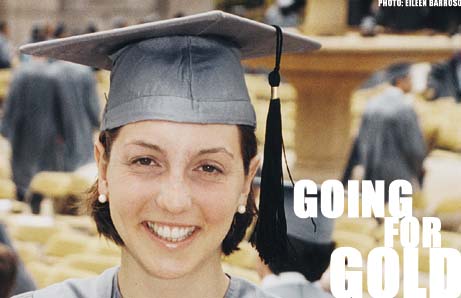 Honored as the top female college athlete in the nation, Cristina Teuscher '00 heads for Sydney, Australia and the 2000 Olympics
By Jonathan Lemire '01
It's been a good year for Cristina Teuscher '00. One of the greatest athletes in Ivy League history, she received the biggest honor of her career on June 12 when she was awarded the 2000 Honda-Broderick Cup as the nation's most outstanding collegiate woman athlete of the year.
Then, after graduating from Columbia in May, she competed at the Olympic Trials in Indianapolis in August, where she earned a berth on the U.S. Olympic team that will compete in Sydney, Australia, later this month. She is hopeful of surpassing her performance at the 1996 Olympics in Atlanta, where she earned a gold medal in the 800-meter freestyle relay but placed sixth and eighth in her two individual events.
After failing to qualify in the 400-meter individual medley, where she was one of the favorites but finished third (only the top two finishers qualify), Teuscher earned a trip to Sydney by winning the 200-meter individual medley qualifying in a time of 2:13.36, her career best. "It was important to prove to myself that I could get up after being down," she said after the race. In addition to her individual event, she may also compete in relays.
Indisputably the greatest swimmer in Columbia's history, Teuscher became not only the first Columbia athlete but the first Ivy League athlete ever to win the Honda-Broderick Cup, presented at the 24th annual Collegiate Woman Athlete of the Year Dinner in Orlando, Fla. Teuscher was stunned by her victory.
"I couldn't believe I won," said Teuscher. "I actually audibly said 'What?' when they announced my name. I was completely awed to not only be named among these incredible athletes, but to receive the award.
"I feel it was the perfect capper to my Columbia career," she continued, "but I'm especially excited by representing the Ivy League in winning it. Now people will have to look at us more seriously."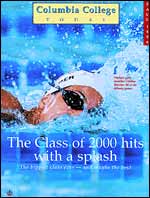 Cristina Teuscher '00
came to Columbia off a gold medal performance in Atlanta.


People have been looking seriously at Teuscher from before she donned a Columbia swimcap. Since coming to Columbia in 1996, with a gold medal from the Atlanta Olympics already in her trophy case, she has set 10 school records and four relay records, was named Swimmer of the Meet at the Ivy League championship four years in a row, and perhaps most impressively, never lost an individual race. Her presence, however, was not just felt in the pool, according to Director of Athletics John Reeves.
"Her impact will be the greatest in global terms," he said. "Not only is she a great athlete and one of the finest people I've ever met, but she has also always been very outspoken about the compatibility of great academic and athletic opportunities. She has incredible credibility and has helped create a better program and athletic department."
Her coach at Columbia, Diana Caskey, could not agree more, especially after Teuscher captured the prestigious Honda-Broderick Cup. "It was quite an honor for Cristina, her coaches, Columbia and the Ivy League," she said. "We haven't been first to do much in women's athletics since we went co-ed so late, so it's been even more exciting to have these honors go to her, and by extension, Columbia."
Teuscher, a psychology major with a 3.4 GPA, did not rest at the season's close, or even after graduating in May. Instead, she began the pursuit of her second Olympic gold medal. Rather than continue to split her practice time between Morningside Heights and the Badger Swim Club in Larchmont, N.Y. as she did during the season, Teuscher began swimming exclusively upstate with her long-time coach, John Collins, once school was over. The Columbia influence did not vanish, however, as Caskey commuted to Larchmont at least once a week to help with practices, and Teuscher shuttled to campus frequently to work out with strength and conditioning coach Thomas McKinney.
"She basically trains every day, twice a day, for two hours in the water at a time," Caskey said in an interview shortly before the Trials, "and then lifts weights two or three times a week. She races in meets every few weeks to keep her racing mentality honed."
Teuscher has taken the brutal pace in stride. "I am just doing the same old things," she said. "I want to stick with what's been successful. That keeps me calm and confident while allowing me to enjoy the process."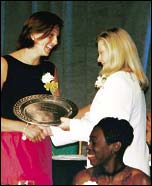 Cristina Teuscher '00 receives the Honda Award as the nation's top female swimmer from Susie Jones of George Washington University.


The hard work and discipline paid off as she qualified for Sydney, giving herself an opportunity to improve on her already remarkable resume as well as to reprise some enjoyable moments from 1996.
"The closing ceremonies were my favorite part," she said of the Atlanta Games. "Before they started, the entire team ran onto the field and just savored being there. We really appreciated what we had accomplished."
Although her focus remains on the Games, Teuscher does allow herself to sneak quick glances at her future post-Sydney. When told that most of Columbia College Today's readership consists of alumni, she laughingly exclaimed: "Have them get me a job!"
Seriously, concerning her future plans, she said, "I'm leaving the door open. Swimming has been the biggest part of my life since I was 6 years old, and I will continue to swim professionally, which, by the way, sounds a lot better than it really is: big money is not involved. Still, it's great to be get paid to do something that I love.
"I'm not sure what field I'm going to be in yet," she continued, "but since I'm a people person, I hope it will have a lot of human interaction. However, since I find that it's not good for me to delve into too much at once, my focus is on swimming now, getting a job later.
"Right now, it's all about getting ready to swim."
About the Author: With less than nine months left till graduation, Jonathan Lemire '01 has yet to take his Columbia swim test.