FEATURE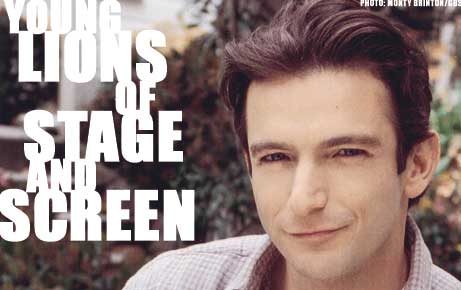 By Sarah Lorge '95
Dan Futterman '89 says he occasionally is recognized for his role in the CBS drama Judging Amy — but it's mostly older women who pick him out. They're some of the biggest fans of the show in which Futterman stars as Vincent Gray, the quirky brother of the title character.
In its first season, Judging Amy attracted praise from critics and a loyal audience. So loyal, in fact, that after last year's season finale, during which Gray was almost killed by an exploding van, Futterman says, "An old lady came up to me, pinched my chin and said, 'You get better and come back!'"
Futterman is just one of several young alumni who are winning faithful fans and gaining critical acclaim with their performances in film, television and theater, following in the footsteps of earlier Columbia thespians such as James Cagney '22, Cornel Wilde '33, George Segal '55 and Brian Dennehy '60.
High-profile young acting alums include Amanda Peet '94, Jean Louisa Kelly '94 and Matthew Fox '89. Peet plays Jack in the WB drama Jack and Jill, stole the show from Bruce Willis in the recent comedy The Whole Nine Yards and stars in the movie Whipped, due out this fall. Kelly, who starred in Mr. Holland's Opus and Uncle Buck, is one of the stars of the new CBS comedy Yes, Dear. Fox gained acclaim for his role as Charlie Salinger in Party of Five, which ended this spring after a successful six-season run on the Fox network.
Others in acting include Cara Buono '93, whose latest film is the independently produced Chutney Popcorn and who has branched into screenwriting; Elizabeth Paw '00, who has played Kim, the lead in Miss Saigon, both on Broadway and in the national tour; Welly Yang '94, who acts, hosts a cable TV show in New York and heads his own theater company; and Rita Pietropinto '94, who has had roles in several Broadway and off Broadway productions as well as TV soap operas.
Students get into the act, too. Jake Gyllenhaal '02 starred in the 1999 film October Sky, about a young boy who escapes his West Virginia mining town to build rockets. The movie was on many critics' top-10 lists. Charlotte Newhouse '01 appears in her first feature-length film, The Smokers, starring Dominique Swain and Joel West, scheduled for release this year. And among incoming first-years is Anna Paquin '04, who won an Oscar for best supporting actress in the 1993 film The Piano and more recently was in the summer hit X-Men.
Maybe it's Columbia's location — its Broadway address in the city that's the heart of theater in this country. Or maybe it's the improvisational skills that most Columbia students develop while taking Lit Hum. Whatever the reason, the College has been attracting and nurturing actors and actresses at the same high rate that it produces Nobel Laureates.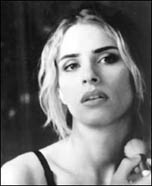 Amanda Peet '94


If success is measured in websites hosted by smitten fans, these Columbians are doing quite well. In fact, an e-mail petition circulated among fans of Jack and Jill after its first season, urging the WB not to cancel the series, helped convince the network to air 13 new episodes beginning in January. But as these actors will be quick to tell you, there are never any guarantees. They learn to live with uncertainty, suffer the consequences of arbitrary decisions made by network and studio execs, and endure unkind reviews from unseen critics. And while grads in other fields reap the rewards of a tight labor market, thespians will always have to compete for jobs — and take on whatever comes their way in order to pay the bills while searching for the role of their dreams.
"I think there's a divide that a lot of actors feel," Futterman says. "Some things you do because you love them and they don't pay very well. Other things you do pay well, but they aren't as gratifying. And that's OK."
Although Futterman says he loves working with the other cast members of Judging Amy, it's clear that he counts the series in the higher-pay, lower-gratification category — in part because it forces him to live in Los Angeles, which he hates, for nine months of the year. Most of the high points in his career have come from his theater roles, like the seven-month run he had playing Louis in Angels in America on Broadway. "There's a lot of selfishness and self-indulgence in acting and performing arts in general," he says, but Angels in America was "important politically and emotionally to a large segment of the population, and [the audience] let you know that every night."
When he was finishing Columbia, Futterman had been accepted into a graduate program in English, but he decided to give his acting career a year. Before he knew it, one year turned into two years, which turned into 11. Along the way he has appeared in dozens of movies and plays, including The Birdcage with Robin Williams in 1996. He's very proud of his role in the film Urbania, which comes out this fall. But he's had his share of bad parts, too, including one in a play about an AIDS support group. "I was the guy who came out in the first few minutes and died, and I'd return as a ghost periodically," Futterman says. "My whole family came to see it and fell asleep."
Although Futterman has achieved a measure of fame and stability with Judging Amy, he hopes to do the show only for another season or two, then return to more fulfilling roles on stage. Success, he says, has come gradually, and he knows it can be fleeting. "There's no one moment where it's, 'I've made it,'" he says. "And there's never a time when you can say, 'I've arrived and I can relax now.'"
Jean Louisa Kelly '94 is perhaps best known for her role as Rowena in Mr. Holland's Opus, the 1995 film starring Richard Dreyfuss. She had her first breakthroughs before she attended Columbia, however. While a teenager, she was cast in the Broadway production of Into the Woods, and later starred as the difficult niece in the movie Uncle Buck, a role that gained her considerable attention. But after her chaotic high school years, when she'd travel between New York and her home in central Massachusetts every weekend for months at a time, she decided to step back from her acting career, "chill out a bit and go to college." And while some of her classmates recognized her from Uncle Buck, she found it easier to blend in at Columbia than at a more insulated school.
Although Kelly had taken voice lessons for most of her life, it wasn't until Columbia that she took her first formal acting class, scene study with Broadway director Aaron Frankel '42 (which Futterman also took). It was a revelation. "You come in with monologues, or a scene from a play, and the class talks about it," Kelly says. "It was great. I learned about techniques that could give me some control in my acting."
Looking back on her Columbia days, Kelly says that what has stayed with her is the ability to quickly absorb the undercurrents in a script. "The thing that helped me the most is learning how to analyze text," she says. "I have a step up in reading between the lines."
Kelly appeared in a few campus productions, and when she graduated she gave herself three months to get an acting job or else she would take her English degree and do something else. She met her deadline by landing an MCI commercial. Soon after, she was cast in Mr. Holland's Opus.
Auditioning for the movie was nerve-wracking. "I had gone on tape in New York," Kelly recalls, "and I found out the next week that they were going to fly me out to Oregon [where the movie was filming]. They told me to pack one bag for the audition trip, and pack another bag that your friends can send you if you get the part." Kelly and another woman read for the role, but the next day both were sent home. A few days later, however, Kelly was told she had been chosen, so she returned to Oregon for filming.
Kelly talks about success as a double-edged sword. Mr. Holland's Opus opened many doors, but she found herself intimidated by all the attention. "I wasn't prepared for it," she says, "and I took a step back. I didn't audition for a lot of stuff that could have really moved my career forward. Now I think I'm a little more grounded."
Since then Kelly has continued to work in independent films and television, and she'll soon be seen in a movie version of The Fantasticks that was filmed in 1995 and then shelved for five years. Last year she starred in an hour-long NBC drama, Cold Feet, about three young couples living in Seattle. The cast filmed eight episodes, but it was cancelled by NBC after just four of them aired. Although that was a major disappointment, Kelly is philosophical. "The network didn't consider it a priority," she says. "Stuff happens. The business is hard, there's a lot of rejection. You have to be able to blow things off, otherwise you spend a lot of time crying."
Kelly has since signed a deal with CBS to be exclusive to the network, and is working on a new sit-com, Yes, Dear, which debuts this fall (Monday nights at 8:30 p.m. Eastern). Kelly plays an uptight, stay-at-home mom, one who makes baby food from scratch, using organic ingredients. She enjoys comedic roles and would like a long run, but her experience with Cold Feet has left her cautious: "You never know, we could be cancelled immediately."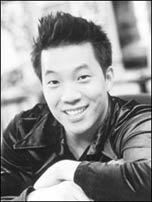 Welly Yang '94


Welly Yang '94 splits his time between acting and producing with the non-profit theater company he founded, Second Generation Productions, and his gig as the host of Metro Channel's (channel 70 in New York) Studio Y, a talk show for teenagers. In a typical day, he'll work mornings from his apartment for Second Generation, which highlights Asian-American actors, tape Studio Y from 2 p.m. to 6 p.m., then go back to working for his company. "My life has always been like that," Yang says, "one thing bouncing off another. I'm happier when I'm doing more than one project."
As an undergraduate, Yang took acting and dance classes at Barnard and sang with the a cappella group the Kingsmen. During the summers, he performed in regional theater productions. "Somewhere after sophomore year, I started getting paid to do it," he says. Since graduation, he has appeared in diverse roles. He spent a year playing the role of Thuy ("the bad guy who gets shot by Kim") in Miss Saigon on Broadway; he received rave reviews for his role as a civil rights attorney in the play I Was Looking at the Ceiling and Then I Saw the Sky, and he appeared as a guest soloist with the New York Philharmonic, singing one of the songs from Ceiling/Sky. He also turns up occasionally as the forensics expert in the NBC series Law and Order.
But if there's a unifying theme to his work, it's giving a voice to people who aren't usually heard. Second Generation gives the stage to Asian-American actors. And Studio Y gives teenagers a chance to speak. "Political discourse in this country about young people is so sanctimonious," Yang says. "Everyone talks about protecting children and teenagers, but no one ever asks them what they think." Studio Y is an effort to do just that.
Cara Buono '93 has appeared in several movies, television shows and Broadway productions, including Next Stop, Wonderland and Kicking and Screaming. She also has a lead role in the upcoming release Chutney Popcorn, which won second prize at the Berlin Film Festival.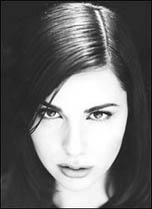 Cara Buono '93


Buono says she paid her Columbia tuition with her acting jobs, which included roles in two Lincoln Center productions while she was at school. "Every check I made, [Columbia] got all the fruits," she says. Because she was paying for it herself, she finished her degree in three years by taking 22 credits per semester, and she graduated with a double major in English and political science. "For three years I basically slept two hours a night," she says.
Looking back, Buono says she was "genuinely energized by the ideas" and the classes she took, including a theater class with Dean Austin Quigley. "It was a great, really disciplined time."
Although she's been lucky enough to land acting jobs steadily since she was 18, her career hasn't been without its disappointments. Buono worked on a pilot for ABC last spring, produced by Ron Howard, but it wasn't picked up. Like Kelly, she is philosophical about such turns of events. "You get so used to disappointment; it's just part of the business," she says. "You just don't get your hopes up too high."
When she's not acting, Buono is writing screenplays. She began writing short plays while she was at Columbia, and Brad Anderson, the director of Next Stop Wonderland, asked Buono to partner with him in writing When the Cat's Away. It's the story of a girl who loses her cat, and "in the process of looking for it, she finds herself," Buono says. Heather Graham is expected to star in it. Buono also is in the midst of another project for Miramax, an adaptation of F. Scott Fitzgerald's This Side of Paradise.
"People always ask me what I like better, acting or writing," Buono says. "I find this a limiting question. I'm an actress and a writer and a future director. I love them each equally."
Rita Pietropinto '94 was thinking of applying to law school her senior year when she had a talk with Roger Lehecka '67, then dean of students, about her future. Although Pietropinto's only on-stage experience to that point was her four years in the Varsity Show, Lehecka encouraged her to apply to the new acting program at the Graduate School of the Arts. She was one of 16 in that first class.
Since completing the three-year program, Pietropinto has been in a number of Broadway, off-Broadway, and regional theater productions, including London Assurance at the Roundabout, which was nominated for a Tony Award. She played Kate in The Taming of the Shrew off-Broadway and appeared in Philadelphia in a play about Sylvia Plath called Psychic Life of Savages. She's also appeared in soap operas, including One Life to Live, and she has a recurring part in As the World Turns. Pietropinto is the chair of Marymount High School's drama department, and has taught three summer acting classes at Columbia.
Although Pietropinto's life is pulled in many different directions, she's hooked on acting. Law school is out now, although it took her a few years for her acting career to get rolling — just at the same time when friends from Columbia were landing lucrative jobs. "I was thinking I'm the most overeducated, underachieving person," she says. "But you have to find out what you love and find a way to make money doing it. It took me a couple of years to be honest about that."
Pietropinto has had her share of interesting moments on stage. When she played Sylvia Plath, she had to make a nightly jump out of a 10-foot-high window onto a mattress backstage to depict Plath killing herself. She also remembers a time her contact lens popped out, leaving her half-blind, and the moment the tight leather pants she wore for her role in Taming of the Shrew split down the middle. "You just keep going," she says. "That's the thrill of live theater."
About the Author: Sarah Lorge '95 lives in New York and is an editorial projects writer for Sports Illustrated who previously contributed several alumni profiles for CCT.