ALUMNI PROFILE
Rosencrans Named to Cable Hall of Fame
By Alex Sachare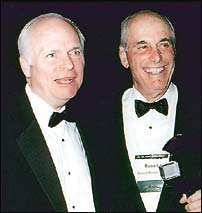 Robert M. Rosencrans '49 (right) accepts his induction trophy from Brian Lamb, chairman and CEO of C-SPAN.


Robert M. Rosencrans '49, the cable television pioneer who helped lead the industry to breakthroughs in programming and technology and was one of the key figures behind the development of C-SPAN and the USA and MSG Networks, has been inducted into the Cable Television Hall of Fame.
A former chairman of the College's Board of Visitors, Rosencrans earlier this year received a John Jay Award for distinguished professional achievement. He was inducted into the Cable Television Hall of Fame by the Cable Television Museum in Denver on May 7.
Rosencrans began his career with Box Office Television, which he formed in 1953 to provide closed circuit telecasts to theaters, hotels and arenas, and later served as vice president and director of closed circuit television for TelePrompTer. In 1962 he bought a small cable television service in Washington state called Columbia Television Co., which through a series of acquisitions and mergers became UA-Columbia Cablevision. It constructed and franchised major cable systems in New Jersey, New York and Texas and installed the first earth station in the cable industry, to receive HBO programming. In September 1975 it broadcast the Muhammad Ali-Joe Frazier heavyweight boxing championship bout — the "Thrilla in Manila" — to its Florida subscribers.
That fight underscored for Rosencrans, an avid sports fan, the possibilities cable presented for broadcasting sports events. In 1977, UA-Columbia joined with New York's Madison Square Garden to create the MSG Sports Network, the nation's first satellite-delivered basic cable television service, with Knicks and Rangers games as its programming cornerstone. Seeking to broaden the network's audience, general programming was added to what was then called the USA Network, which developed into one of cable's most successful channels.
"The cable business has always been about risk and about people with the strength and vision to take those risks. Bob was one of those," said Jerry Levin, chairman of Time Warner.
After leaving UA-Columbia in 1984, Rosencrans formed Columbia International, a major cable systems operator that sold its cable systems to TCI, Jones Intercable and Continental Cablevision for an amount the Wall Street Journal estimated at $600 million.
Rosencrans always believed cable television provided an opportunity to present positive messages and was one of the earliest supporters of public service cable broadcasting. In 1977 his initial investment helped create C-SPAN, then he worked hard to mobilize the cable industry behind the not-for-profit network as its founding chairman.
"Bob tried to give back to the industry," said Kay Koplovitz, longtime head of USA Network. "He was always interested in bringing programs that would make the industry proud, that would make us want to stand up and say, 'We're doing something good.' That's going to be Bob's legacy."