AROUND THE QUADS
Broadway Dorm Opens on Schedule
Fewer seniors than expected opt for first new residence hall since 1988
By Alex Sachare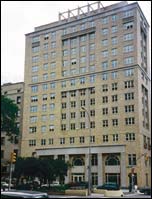 The facade of the new Broadway Residence Hall is a tan color that blends in well with nearby biuldings.
PHOTO: Timothy P. Cross


The Broadway Residence Hall, Columbia's first new dorm since Schapiro Hall was completed in 1988, welcomed its first occupants this month, opening on schedule and within budget.
The mix of residents, however, is not quite what administrators expected. The vision was for the new dorm to be part of a three-building senior complex along Broadway from 113th to 114th Streets, with Hogan and Watt. But more seniors than expected have chosen to live elsewhere, opening much of Broadway to juniors and sophomores.
The 14-story facility contains 371 beds, 80 percent in single rooms and the rest in doubles. According to Ross Fraser, director of residence halls, the singles are split evenly between seniors and juniors while the doubles are occupied by juniors with some sophomores — meaning fewer than half the students in what was originally projected to be a senior dorm, and which includes the Senior Class Center on the first floor, are seniors.
Many seniors opted for the recently refurbished Furnald, according to Fraser, while others chose to remain in groups and went for suites in East Campus rather than singles in Broadway.
"Seniors tend to be risk-aversive about their housing," Fraser noted. "I think once this [Broadway] is more of a known quantity, the numbers will change. You'll see more seniors opt for it a year from now."
The student entrance to the Broadway Residence Hall is on 114th Street across from the Carman Hall gates, behind Hogan. The first floor is an expansive, nicely appointed lobby, not unlike that to be found in an upscale hotel. There is an attractive staircase leading from the lobby into Hogan, and the hope is to create access to Watt as well. "Although you only have maybe 60 percent of the senior class, it's the largest concentration of seniors in any three buildings and they're all connected nicely together," observed Mark Burstein, vice president, facilities management.
The first two floors of the new building will house a branch of the New York Public Library as well as a retail space, neither of which is ready for occupancy. Both will have separate entrances and be sealed off from the dormitory part of the building. Also on the first two floors are the Senior Class Center, a computer room, four music practice rooms and a seminar room. Student housing is on the third through 13th floors, with separate lounges and kitchen facilities plus four bathrooms on each floor. There are two airy lounges on the top floor, one envisioned for meetings or other programming and the other for more informal use.
Designed by world-renowned architect Robert A.M. Stern '60, the Broadway Residence Hall was budgeted at $53 million, according to Burstein, and there is some money left for contingencies. This despite the fact that Columbia had to assemble the site, which formerly included a garage, a bank branch and a barber shop, a process that delayed the start of construction by two months. Also, building plans were modified after meetings between community leaders, the architects and University officials headed by Emily Lloyd, executive vice president for administration. The height of the dorm was reduced from 21 to 14 stories and a tan-colored brick was chosen instead of red, so the building will blend in better along that part of Broadway. The entrance to the library was moved to the corner of Broadway for greater access, and the façade of a townhouse on 113th Street — once home to baseball legend Lou Gehrig '25 — was incorporated in the design of the building, a process that "worked out very successfully, I think, for all parties," according to Burstein.
| | | |
| --- | --- | --- |
| | | |