ALUMNI PROFILE
City of Chicago Honors Edelman
By Laura Butchy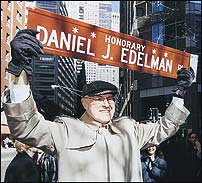 Daniel J. Edelman '60
holds his street sign during ceremonies honoring the public relations pioneer in Chicago earlier this year.

You've heard of hanging out your shingle? Well, the Chicago City Council has hung out a street sign for Dan Edelman '40.
A section of St. Clair Street in Chicago has been renamed "Honorary Daniel J. Edelman Place" in honor of the founder and chairman of Edelman Public Relations Worldwide, who has made major contributions to advance standards and ethical practices for the PR profession. Located near the site where Edelman founded the company, the southeast corner of St. Clair and Ontario Streets bears a brown and white sign honoring Edelman, an innovator in the field of public relations for more than 50 years.
A New York City native, Edelman received his M.S. from the School of Journalism in 1941. Edelman served in World War II as an officer in the U.S. Army Psychological Warfare and Information Control Divisions, earning four battle stars and the Commendation Medal. Following the war, Edelman wrote for newspaper and radio before beginning his career in public relations.
In 1952, he founded Edelman Public Relations Worldwide in Chicago, and the company has grown into the largest privately held independent public relations firm in the world, and the sixth largest overall. Edelman continues to work as chairman of the firm, which operates 38 offices in North America, South America, Europe and Asia-Pacific. Edelman won the 1999 Public Relations Society of America (PRSA) Gold Anvil, the Society's highest individual honor.
A major contributor of time and skills to philanthropic organizations in Chicago and nationally, Edelman has underwritten five Congressional seminars about the critical need for mental health research.