| | | | | | | |
| --- | --- | --- | --- | --- | --- | --- |
| | | || | | || | | |
BOOKSHELF
The Merchant Ivory Expert

In the late 1980s, Robert Emmet Long '56 wrote more than 50 profiles of filmmakers for a reference work, World Film Directors, which covered renowned directors such as John Huston, Ingmar Bergman and George Cukor. One filmmaker whose works caught Long's attention was director James Ivory of the independent Merchant Ivory Productions.
Long wrote to Ivory, asking for his cooperation regarding a book Long hoped to write about the director's career. When he did not receive a response, Long wrote to Ruth Prawer Jhabvala, the primary screenwriter for most of Ivory's films, and mentioned that friends of his were friends of her brother, S.S. Prawer, a noted scholar of German literature at Oxford.
The day after Long wrote the letter, Ivory invited Long to join him, producer Ismail Merchant and Jhabvala at Ivory's house on the Hudson. Upon their first meeting, Ivory agreed to give Long his full cooperation. It helped that, at the time, Ivory was adapting two Henry James novels, The European and The Bostonian. Long is a noted James expert and has published two highly regarded works on the novelist; Long's knowledge of the subject gave Ivory more incentive to cooperate.
The Films of Merchant Ivory, first published in 1991 and extensively updated in 1997, gave readers unprecedented access to the filmmaking process of Merchant Ivory Productions. Long conducted interviews with Ivory, Merchant and Jhabvala and labored over the large Merchant Ivory archive for behind-the-scenes photos and movie stills, editing a book that is widely considered the standard work on the production company. "Merchant Ivory films are observant, civilized and, of course, visually captivating, and sometimes they are perfect," said Long, who named Shakespeare Wallah (1965) and The Remains of the Day (1993) among his favorites.
Having gained Ivory's trust and friendship, Long proposed an interview book with the director. James Ivory in Conversation: How Merchant Ivory Makes Its Movies (University of California Press, $24.95), published in April, is a collection of interviews with Ivory that spans three years, examines more than 40 years of filmmaking and offers Ivory's reflections on his body of work. Long demonstrates his own extensive knowledge of Merchant Ivory films and their source materials by asking provocative and pointed questions throughout the book. "Ivory is a perfectionist in the extreme," Long remarked. "You can't ask him boob questions; you always have to be well prepared."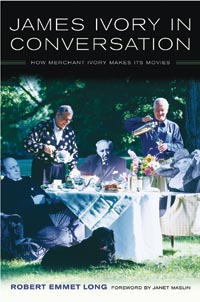 James Ivory in Conversation: How Merchant Ivory Makes Its Movies by Robert Emmet Long '56

As much as the book delves into details of the director's decision-making process and critical analyses, the interviews are hardly dry academic exercises. James Ivory in Conversation essentially is a series of intellectual and engaging chats between two friends who are up on their subject. "I wanted Ivory's urbanity to show," Long said. "I consider him the most articulate filmmaker in America."
Long describes Merchant, who died in May, as a "most mercurial person" with shifting moods and contradictions in his personality. Merchant had a talent for extracting money from financiers, Long said, but he was devoted to art. It was through Merchant that Long was able to meet actors such as Vanessa Redgrave, Christopher Reeve and Paul Newman.
Long's latest book is another achievement in a prolific career as an independent scholar and freelance writer. His first job after graduating from the College was as an investigator for the Liberty Mutual Insurance Co., which he says he never took seriously. He soon found himself in San Francisco in the wake of the Beats. "Everyone there wanted to be a writer," said Long, "so I was right in my element." Eventually, Long started graduate school in the Northeast. He would go on to write hundreds of reviews and essays for national magazines before publishing his first two books in 1979 — The Achieving of The Great Gatsby and The Great Succession: Henry James and the Legacy of Hawthorne.
While his early work centered primarily on literature, Long has since ventured into writing about theater and film. His diversity of interests may have been partly inspired by Mark Van Doren, "a man of great charm" whom Long idolized as an undergraduate. After hearing Van Doren's "magnetic voice" on radio as a high school student, Long took his class at the College, "The Narrative Art," and found the professor's lecturing abilities "mesmerizing." "He was very versatile, and was constantly being published; I wanted to be like him," Long said.
With more than 40 books and hundreds of articles and essays to his credit, Long continues to produce. A collection of actress-turned-director Liv Ullmann's interviews will appear in spring 2006; the final interview is by Long, and excerpts can be found online.
Long, who recently has focused his writing on theater, is working on two projects. The first is a book based on his coming to know Julian Beck and Judith Malina of The Living Theatre while a College sophomore. The book is about The Living Theatre in the context of American avant-garde movements of the 1940s, '50s and '60s. His other project, with The American Theatre Wing, is four volumes of edited transcripts from its televised panel discussions ("Working in the Theatre"), in which noted theater figures discuss aspects of their profession. Long, in addition to having more theater books planned, hopes to work again with Ivory.
Long lives in Fulton, N.Y., and makes frequent trips to New York City to "keep in touch." He is involved with the Syracuse James Joyce Club, one of the largest and most active in America, in which members read through Ulysses line by line and explicate what they read. He also is a self-professed fitness addict who enjoys running, swimming, biking and lifting weights.
Peter Kang '05
| | | | | | | |
| --- | --- | --- | --- | --- | --- | --- |
| | | || | | || | | |


CCT Home


This Issue


Previous Issue

CCT Masthead