| | | | | | | |
| --- | --- | --- | --- | --- | --- | --- |
| | | || | | || | | |
FEATURES
Back on Track
By Todd Kennedy
When Caroline Bierbaum '06 steps up to the starting line of
the NCAA Cross Country Championships on November 21 in Terre Haute, Ind., her goals no longer will be to just be the top Ivy
League finisher, just earn All-American honors or just finish among the top five in the nation.
"My ultimate goal is to win an NCAA title," says Bierbaum, a four-time All-American and ESPN The Magazine Academic All-American.
That goal is within reach. Last year, Bierbaum became Columbia's first Heptagonal Ivy League women's cross country champion and finished third at the NCAA Championships. Her mission to become the Lions' first NCAA cross country champion doesn't seem far-fetched to Mark Wetmore, head coach of Colorado, last year's team champion. "I don't think there is any doubt that she is among a handful of people who could win the race in November," Wetmore says.
This is a substantial change for a student-athlete who, just a year ago, was a virtual unknown. Even to those familiar with collegiate distance running, Bierbaum's rise to the nation's elite appears meteoric. She even was misidentified by the public address announcer at the 2004 NCAA Cross Country Championships, who assumed she was North Carolina's Carol Henry as she reached the finish line because Henry also wore light blue and was among the favorites to win the race. Bierbaum "didn't really appear on anyone's radar," says Craig Lake, Columbia's women's cross country coach for the past eight years who left this month to head Brown's track and cross country program.
Seven months later, at the Heptagonal Ivy Outdoor Track and Field Championships hosted by Columbia, Bierbaum overshadowed an American Junior record-setting performance by Harvard's Lindsey Scherf. Scherf's time of 32 minutes, 51.20 seconds in the 10,000 meters would have marked the fastest time by any collegiate runner in 2005. However, Bierbaum had coasted across the line 7 seconds ahead of her in 32:44.51, the fastest time by an Ivy League runner.
Bierbaum's time was the fastest posted by any NCAA runner last spring and would have earned her fifth place in the event at the 2004 U.S. Olympic Trials. With her fluid, unwavering stride, her running looked effortless and she smiled widely as she darted down the final straightaway to the finish line of the usually punishing 6.2-mile event. What really made the track world take notice, however, was the fact that Bierbaum was competing in only her second 10,000-meter race.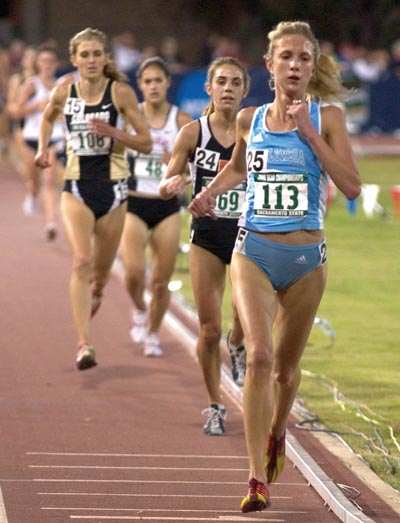 Caroline Bierbaum '06 (No. 113) led the field in last year's 10,000-meter run at the NCAA Championships but was overtaken by Colorado's Sara Slattery (No. 108, far left) and finished second.

PHOTO: RANDY MARTIN '80

If Bierbaum was under the radar in fall 2004, she was anonymous a year earlier. In fall 2003, she struggled on the Lions' junior varsity cross country squad in her first season at Columbia after transferring from Duke.
"I was horrible," she notes in her typically frank manner. "I was at the bottom of j.v. and didn't compete in any track meets. I didn't know what was going on and just thought I was mentally out of it."
Her poor performance was a mystery. As a first-year at Duke, Bierbaum had catapulted to the top of her cross country team and finished 34th at the NCAAs despite being one of the few on the varsity team without a scholarship. She had been a low-profile high school runner at The Groton School in Massachusetts, which has no track program and seldom attracts the attention of college coaches on recruiting missions.
Bierbaum was at soccer practice in ninth grade at Groton when she saw the cross country team running nearby. "That looks like something I could do," she recalls saying to herself. She proved to be gifted in the sport and, by her senior year, college coaches had begun to take notice when she finished ninth at the Foot Locker Cross Country Championship, Northeast Regional.

After a bout with anemia, Caroline Bierbaum '06 earned a place among elite distance runners last year and now has her sights set on an NCAA championship.

Bierbaum, who grew up on Manhattan's Upper East Side, considered nearly all the Ivy League schools — except Columbia. She looked closely at Princeton and Yale before settling on Duke, but quickly realized she was unhappy there.
There were many reasons. "The rural setting, the city of Durham," Bierbaum lists, "and I wasn't that close to my team. I had some sorority friends and some running friends, and life was very split … Duke was getting dressed up every Friday night to go to a frat house, as opposed to going out to dinner someplace cool in New York City. We can do non-running-related things socially at Columbia."
Even though Bierbaum earned cross country All-America honors that fall, she left the track team in January and looked into transferring to a school near home. "I only applied to Columbia and NYU, and I only contacted the Columbia coach," she notes.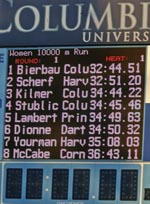 The Baker Field scoreboard shows Bierbaum atop the finishers in the 10,000-meter run at the 2005 Heptagonal Ivy Outdoor Track and Field Championships.

PHOTOS: GENE BOYARS

For Lake, this was the coaching equivalent of Ed McMahon showing up at her front door with a large check. "I knew exactly who she was when she called," Lake says. "She said she was hoping to transfer to a school in the New York area. We flew her here within a couple of weeks for a visit. This is where she wanted to go and we wanted her here."
Bierbaum entered Columbia as an accomplished cross country athlete. Her arrival in fall 2003 was cause for some wariness among the Columbia distance runners, who had finished 11th as a team at the NCAA Cross Country Championships the year before, primarily as a result of closely-knit pack running. The Lions had had just one previous All-American, Caitlin Hickin '04, and suddenly were confronted with one from another school.
"She's really warm and friendly once you get to know her, but at first she's a little intimidating," says Tenke Zoltani '06, Bierbaum's teammate. "All we knew was that she was from the Upper East Side and had had great successes at Duke." Bierbaum notes, "I was nervous and anxious at first. The first year is such a learning experience, figuring out what is going on."
Bierbaum's first year at Columbia was complicated by what she called "a bad roommate experience" and a rapid, unexplained decline in her running. She was fatigued after short distances on training runs and unable to run faster than seven minutes per mile, a pace that had been routine for her just months earlier. She had maintained a high-mileage training program after leaving the team at Duke and thought that she might have "worn myself out," she says.
"I think everyone just attributed it to, 'She's too thin, so she's not running well,'" says Lake. "She wasn't nearly as strong as she is now."
Bierbaum continued to try to train throughout the year but did not compete in any track meets as a sophomore. That summer, things became worse. "She was struggling getting through five miles at a nine-minute pace. That was a scary wake-up call for her," Lake recalls.
In August 2004, Bierbaum was diagnosed with anemia. Low iron levels had been preventing her from running at full capacity. "[I was put] on iron pills and felt better within a week of taking them," she said. "I wasn't in great shape then, but I could at least get through 30 minutes of running without stopping."
As late as the first week of October 2004 — less than two months before she would finish third in the nation — it was uncertain if Bierbaum would be able to compete in her junior cross country season. Her training went well, however, and she quickly recovered her fitness. On October 29, she became Columbia women's cross country's first Ivy Heptagonal champion. Two weeks later, she finished fourth at the NCAA Northeast Regional Championship. At the same time as she was making dramatic improvements in her running, she was forging friendships with her teammates and winning their trust and admiration. "She's a really funny person," says Zoltani. "She's a really good friend and her personality just draws you to her. You want to be doing what Caroline is doing."
Bierbaum's discipline meshed well with that of the team. Hilary Bontz '06, Ivy champion in the 1,500 meters last spring, says of Bierbaum, "She is a dedicated runner and 'gets' what types of things you have to do outside of practice."
"She's not good by accident," Lake adds. "She does everything right. She's tired at 9:30 p.m. and she goes to bed on time. She's very regimented and she makes athletic choices all the time."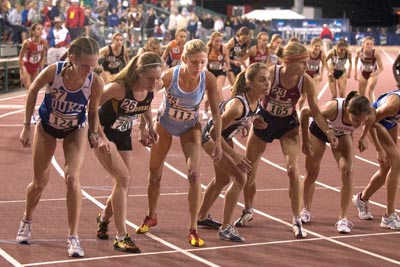 Bierbaum, seen here at the start of last year's NCAA 10,000 meters, has her sights set on becoming a national champion this year.

PHOTO: RANDY MARTIN '80

"She's really well-cultured and definitely an intellectual," adds Zoltani, although Bierbaum, who earned ESPN The Magazine Academic All-America honors in track and field as a junior, downplays the notion of being an academic. "Only in the sense that I want to do well in my classes," she says. "It's not like I want to be completing six years of grad school." A history major, she cited "America Since 1945" as a favorite class and also enjoyed Music Humanities.
When asked what she would spend time doing if she weren't running, she replies, "Probably studying. And I don't think I take advantage of the city as much as I should."
Bierbaum says she feeds off the team as much as it does off her. "Everyone who is on the team wants to be on the team. We're pretty close. We do our extra stretching, icing and time in the weight room, and it's considered cool to do that as opposed to dorky."
Bierbaum's health and success continued into the winter indoor track season. In January, the 21-year-old raced on the track for the first time. She ran 3,000 meters in 9:18.02 to win the race by 28 seconds in a meet versus Dartmouth and Yale in Hanover, N.H.
"She was noticeably nervous going into the race, but once it began, you knew it was going to be good," says Lake. "Her talent was obviously going to carry over from the cross country season."
Bierbaum's work ethic and ability translated to immediate success on the track, although the process continues to be a learning experience. Bontz appeared amused when describing her teammate's sense of speed in workouts: "She has a problem with the pacing. She has no idea how fast she's running … But that'll come."
Bierbaum agrees. "It's bad not knowing track tactics or pacing or, in a race, knowing to stay on the inside versus the outside," she says. Yet she understood strategy and pacing well enough to finish second in the nation in the 5,000 meters at the NCAA Indoor Track & Field Championships. Her time of 15:52.53 was just 2.33 seconds behind Northern Arizona's Ida Nilsson. Bierbaum also won the event at the Ivy Heptagonal Championships and placed second in the 3,000 meters at the same meet.
Outdoor track is Bierbaum's opportunity to shine, as she had shown she was stronger at longer distances. "The 10K is just more my style," she explains of the outdoor-only event. "You have to be more patient the whole race, then make a big move at the end."

"As a coach, you wonder if you'll ever get someone as good."

Bierbaum ran only a few races in the spring, as the taxing nature of the event often requires weeks of recovery between each competition, but she made the most of her outings. In her first race, she ran 33:20.11 at Stanford to set the Columbia record by more than a minute. One month later came her breakthrough race at the Ivy championships, when her time of 32:44.51 qualified her for the NCAA Championships on June 9 in Sacramento, Calif.
In that race, Bierbaum waited patiently with the leaders for the first five miles until she sensed Colorado's Sara Slattery moving up on her shoulder, at which time Bierbaum surged ahead and moved up 50 meters on the field. With a lap and a half remaining, the race was between Bierbaum and Slattery, who had pulled within striking distance. Slattery took the lead on the final lap and opened up what appeared to be an insurmountable lead of 80 meters on the backstretch, but Bierbaum produced a second dramatic surge that had fans on their feet as the runners hit the homestretch. Bierbaum reduced Slattery's advantage to less than 10 meters but ran out of space as Slattery, a fifth-year senior with years of track experience, held on for a 1.16-second victory over Bierbaum, who was running her third 10K on the track.
"That race was exciting and a near perfect end to my first year on the track," Bierbaum says. "To be no worse than top three in the nation for all seasons is a feat I could not be prouder of. I also know that winning an NCAA title before I graduate will not come easily."
"Caroline showed the ability to do well under pressure," Lake says. "Some people may go in as the top seed and finish 10th, but she was in the mix to win and the pressure did not get to her. She is still in the process of learning race tactics, and lost only
to a veteran runner who has a little more experience."
Bierbaum's success attracted the attention of local and national media, including Newsday, ESPN.com and WNBC, whose interviewer was unaware that Bierbaum had interned there a year ago. Bierbaum, who may pursue a career in journalism or attend law school, spent this past summer interning at Forbes, where she wrote an article on Google and several company bios for the "Forbes 400."
Bierbaum intends to run the New York Marathon in 2006 and shared her modest objective of breaking three hours with Lake. "I told her my goal was three hours and she laughed and said, 'That's ridiculous,'" says Bierbaum. "I guess I've moved my goal to 2:50."
She is noncommittal about her running future with a year of collegiate competition and the goals of an NCAA title and a top 10 team finish in cross country still to be attained. "I don't want to run professionally," she says. "If I could have a full-time job and still train for the Olympics [in 2008], I would."
As recently as a year ago, Bierbaum was uncertain if she would compete again, but she appears to have found herself at Columbia. "She's like a different person," says Lake. "I can't even describe it from last year to this year. She never gave up. There is never any need to motivate her … As a coach, you wonder if you'll ever get someone as good or easy to work with just because she is so talented."
Bierbaum is pleased with the New York running environment: "Central Park is a great place for training. I like seeing people when I run and not being secluded on some woody trail every day." But most of all, she is pleased with the simple opportunity to run. "Running helps give me focus," she explains. "It's a great feeling pushing your body to the limits and seeing what you're capable of."
---
Todd Kennedy is in his 12th year in Columbia's Office of Athletics Communications. He competed in cross country and track at Colgate University.
| | | | | | | |
| --- | --- | --- | --- | --- | --- | --- |
| | | || | | || | | |