| | | | | | | |
| --- | --- | --- | --- | --- | --- | --- |
| | | || | | || | | |
FIRST PERSON
V&T Pizza Memories
By Thomas Hauser '67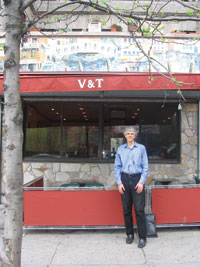 Thomas Hauser '67 outside V&T in May.
PHOTO: LAURA BUTCHY '04 SOA

Very few things in life are constant, but V&T pizza is one of them.
Vincent and Tony Curcurato were born in Manhattan and grew up on 116th Street off First Avenue. Prior to World War II, they were bakers by trade. Then they enlisted in the Army. In 1945, they returned from the war, opened a small pizzeria on Amsterdam Avenue and 122nd Street and named it after themselves: The V&T Restaurant.
In 1952, V&T relocated to Amsterdam Avenue between 112th and 113th Streets. In the mid-1960s, it moved again, this time two blocks south to its present home at 1024 Amsterdam Ave.
My memories of V&T date to September 1963, when I began my freshman year. A small cheese pizza cost 90 cents, and small was six slices, more than enough for a meal. The price went up in 10-cent increments for medium ($1.00) and large ($1.10).
During my Columbia years, I ate at V&T two or three times a week. Usually, I ordered pizza. Mushrooms and sausage were added when budgetary considerations allowed. Frank Macchiarola '65L, '70 GSAS (my floor counselor, who would become a lifelong friend and a nationally-respected educator) shared my love of V&T pizza. "It was comfort food for a homesick Italian kid from Brooklyn," Macchiarola recalls.
The restaurant was the site of numerous dates, celebrations and other gatherings, and remains a touchstone of my college years. Ten years ago, when I created a family-run Italian restaurant for a novel I was writing, I modeled it on V&T. Even now, I revisit V&T for pizza every few months.
There aren't many restaurants in the Columbia neighborhood that I recognize. The West End, Hungarian Pastry Shop and Tom's are still there. The Gold Rail, Takome, College Inn and New Moon are gone.
As for the V and the T: Vincent and Tony Curcurato sold the restaurant in 1985 to Alex Gjolaj. Vincent died in the mid-1990s, and Tony died five years ago. For Columbians of the past two decades, Gjolaj is the face of V&T. He's there a minimum of five nights a week. On weekends, he's joined by Robert Taylor, a waiter who has been on staff for 40 years.
The Zagat 2005 New York City Restaurants survey describes V&T pizza in no uncertain terms: "Scholars swear by the greasy saucy cheesy pizza … An undergrad dream."
Gjolaj estimates that half his business comes from Columbia students. Many of his other patrons are neighborhood residents. Alumni often return; Art Garfunkel '65 remains a loyal V&T customer. "We deliver to him on East 79th Street all the time," says Gjolaj. "He gives a nice tip and pays the cab fare."
But V&T is hardly celebrity-driven. "He's our only big celebrity," Gjolaj acknowledges. "No, wait a minute. Jack Nicholson was here once about 10 years ago. He was waiting for someone and the person never came. But he liked the way the pizza looked, so he went out to his limo and brought his chauffeur in to have a pizza with him."
The current V&T menu is more ambitious than it was years ago. In addition to old standards, there are new entrees such as chicken scarpariello, veal française and mussels fra diavolo. Prices have risen. It now costs $2 to add mushrooms to a small pizza. A large cheese pie costs $12.75.
As for the decor; the murals from my youth have given way to modern renditions of New York and Italian landmarks, and the blue Formica tables are covered by maroon tablecloths. The glass display case that housed salads, slices of cheesecake and cannoli has been replaced by a large wooden bar. Hard liquor is available, and the wine list is more elaborate. In fact, the simple existence of a wine list makes it more elaborate.
Writing this article was an excuse to return to V&T one more time. My dinner companion and I ordered a large pizza with mushrooms and sausage.
The pizza had a chewy crust. "The dough is handmade," Gjolaj told me later. "Not many places do that anymore."
There were gobs of cheese on top. "Whole milk mozzarella from Wisconsin is the best," Gjolaj noted.
And a rich tomato sauce: "Simple but good. We add oregano, basil and garlic." The mushrooms and sausage were plentiful.
In truth, the pie was a trifle greasy. "We don't put any oil on the pizza," Gjolag volunteered. "Whatever is there comes from the cheese. And we add a little love."
So, V&T pizza still is reliable. And there aren't many pleasures one can say that about over the course of 40 years.
---
Thomas Hauser '67 is an attorney and the author of 31 books. Film rights to his most recent novel — Mark Twain Remembers — have been acquired for DreamWorks by Steven Spielberg.
| | | | | | | |
| --- | --- | --- | --- | --- | --- | --- |
| | | || | | || | | |