Five outstanding Columbia College alumni received John Jay Awards for distinguished professional achievements on March 6 in honor of their accomplishments, which ranged from working on Academy and Emmy Award-winning films and music to helping catalyze a global movement for survivors of sexual harassment through Pulitzer Prize-winning news coverage, among other distinguished work.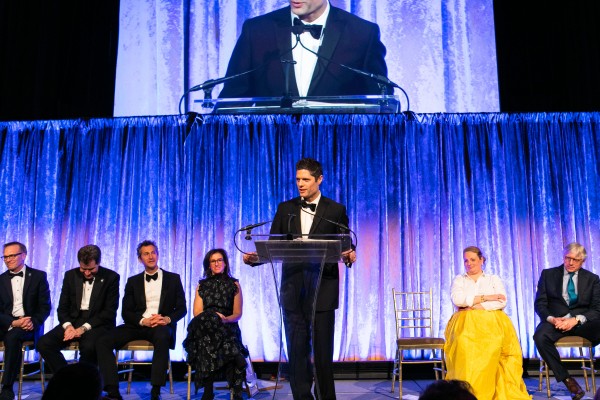 David Dini/Columbia College Alumni Association
The annual awards dinner and gala — which was held this year at Cipriani — raised $875,000 in scholarship money and support for the
John Jay National Scholars Program
, which provides financial aid and special programming to enhance the academic and extracurricular experiences of exceptional students. The John Jay Awards recognize College alumni for their achievements in an array of professional fields.
Columbia College Dean James J. Valentini said: "Our awardees exemplify the Beginner's Mind, having influenced the world with eyes and mind fully open to all possibilities. They have gone on to find purpose and success in journeys beyond College Walk. We celebrate these five exceptional John Jay Awardee alumni and look ahead to the future success of our many current John Jay scholars."
The honorees span cinematic film, news media and the performing arts, and have established innovative and successful careers in investment banking. Three married fellow alumni. The 2019 John Jay Awardees are:
James Brett CC'84, BUS'90 is managing partner at JTB Capital Partners, a private investment firm in Connecticut. He previously was a managing director at JPMorgan. A member of the Columbia College Board of Visitors (2012–2018), he currently holds an emeritus role. Brett is a former co-captain of the Columbia Varsity Crew Team and married to Patricia Brett CC'87. Two of their three children graduated or attend the College: James Brett CC'18 and Alexander Brett CC'21.
Erik Feig CC'92, is the founder and CEO of PICTURESTART, a production and co-financing company that creates, owns and aggregates content for the youth market. Feig held leadership roles at Lionsgate Motion Picture Group and Summit Entertainment and originated, produced and supervised Academy Award-winning films including La La Land and The Hurt Locker, as well as The Twilight Saga, The Hunger Games, and the Divergent, Red and Step Up series (books and film).
Jodi Kantor CC'96 is a Pulitzer-Prize winning journalist and the author of the national bestseller The Obamas — The Partnership Behind a Historic Presidency. Her work has revealed truths about power, gender, technology, politics and culture, and resulted in a national fair-scheduling movement and policy changes at Amazon and Starbucks. Her husband is the author and financial journalist Ron Lieber.
Tom Kitt CC'96 is a composer/arranger/orchestrator who won an Emmy as co-writer with Lin Manuel-Miranda for the 2013 Tony Awards show opening number, "Bigger." A former member of the Kingsmen, Kitt received a 2008 I.A.L Diamond Award for Excellence in the Arts from The Varsity Show, an Alumni Medal of Excellence at Commencement 2012, and the Community Impact Award for Outstanding Community Service in 2018 which he shares with his wife, Rita Pietropinto Kitt CC'93, SOA'96, a Columbia Alumni Association (CAA) board chair.
Alisa Amarosa Wood CC'01, BUS'08 is partner at KKR & Co., the global investment firm formerly known as Kohlberg Kravis Roberts & Co. She is also a member of its Inclusion and Diversity Advisory Group. Wood began her career in private equity as an intern while attending Columbia College, where she met her husband, Alastair Wood CC'01, who lived one floor above her in John Jay. Wood is a member of the Columbia College Board of Visitors and the Business School's Private Equity Board.
"This award is not about the personal accomplishments," Wood said as she accepted her award."It's about the demonstration of the power of a Columbia education and the outsized impact that those years in Morningside Heights can have on our life."
Olivia Ghosh CC'19 is a John Jay scholar who has been able to perform physics research every year since matriculating at Columbia because of the John Jay Summer Enhancement Fellowship — including at the European Organization for Nuclear Research (CERN), one of the world's largest and most respected centers for scientific research and fundamental physics, in Geneva.
"From wonderful advisors to thought-provoking speakers to our personal connection with the three lesser-known Federalist Papers authored by our namesake, we have been offered a great deal by this scholars program. I've shared my vignette with you, but mine is not complete without the plotlines of every other John Jay scholar in this room," Ghosh said.