Monday, February 23, 2015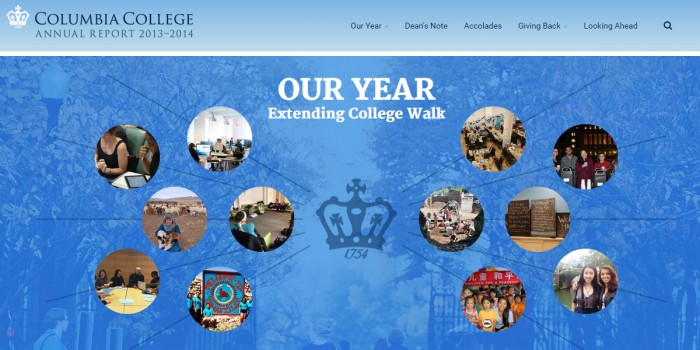 Columbia College is pleased to share the Columbia College Annual Report 2013–2014, which celebrates our students' and faculty members' achievements, thanks our alumni, parent, faculty and student volunteers and donors, and highlights some of our unique programs and opportunities, while also providing an overarching picture of Columbia College throughout the last academic year.
Dean James J. Valentini often says that for students, College Walk doesn't just extend from Broadway to Amsterdam, it extends around the world. This year's Annual Report is focused on the ways in which we extended the Columbia College student experience through new global programs, enhanced residential and advising programs, strengthened alumni-student connections, and new academic and entrepreneurial opportunities. It also demonstates how students extended their education beyond the classroom in myriad ways.
The 2013-2014 Columbia College Annual Report can be found online at www.college.columbia.edu/annualreport/2014.