Put on your Columbia blue and get ready to roar — the Lions have a team competing on College Bowl, the legendary quiz show returning to TV after more than 40 years. The 10-episode series, which airs this summer, will feature college students competing for a share of $1 million in scholarship money.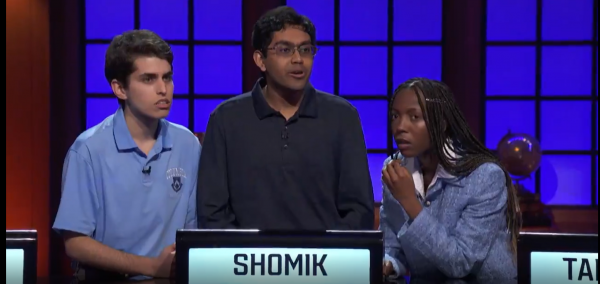 The talented trio of Jake Fisher SEAS'22, Tamarah Wallace CC'22 and Shomik Ghose SEAS'22 will represent Columbia. The show is hosted by Hall of Fame quarterback Peyton Manning.
Heading into the Columbia team's debut on June 29, we checked in with Fisher, a computer science major from New York, to learn more about his experience on the game show revival.
What was your path to joining this year's College Bowl team? Did you do anything special to train?
I've always really enjoyed playing trivia with friends, family or on my own. I did quiz bowl in high school and for some time at Columbia, and always jump at the opportunity to go to any trivia events on campus. When College Bowl reached out to me in the fall, I thought it would be fun to audition — even if I didn't get cast, the worst case was that I got to answer trivia questions for 20 minutes on Zoom. I really couldn't prepare much for the show — because I assumed that the questions would be general, I knew there was no way I could memorize all of human knowledge in a few months!
Were there any questions in the College Bowl that left you stumped?
There's a section of the show called the two-minute drill where you have to answer as many questions as you can in two minutes (hence the name). This round is definitely nerve-wracking, because it's so fast-paced and also tends to matter a ton in terms of points. I'm definitely very weak on sports knowledge, so anytime that came up, I basically knew nothing!
Columbia has a history of quiz bowl champs — must be something in the water! Which College/Core experiences helped prep you the most?
Probably my Lit Hum class with Professor Nancy Workman — I read so many fantastic books that not only exposed me to their own content but also to all the interesting contextual information that I learned about them.
How does it feel to represent the College and Columbia on a national stage?
It's really a great honor for me and my teammates. We just hope we can make Columbia proud and represent our school the best that we can.
Make sure to tune into NBC to see how the Columbia team fares this season, and check out Columbia News coverage on the students!