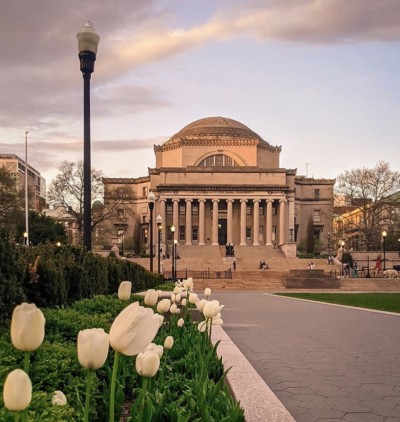 C

olumbia's remote working environment has brought new challenges for the entire Columbia College team. As we continue to adapt to the virtual workplace while upholding the College
'
s strategic priorities, this page will share information and provide opportunities to connect with colleagues through community-building activities, professional development programs and more.
The latest "Friday Fun"
From The New York Times: 5 Games to Play on Video Chat During Quarantine
LionCraft: Become a Columbia student on a virtual campus!
Some fun games courtesy of CCIT's Remote Engagement Task Force (RETF)
Events and Community
Introducing Zoom@Noon! This is a time for College staff to connect and learn more from each other by engaging in discussions with colleagues across units. We will invite College functional experts and University partners to join and facilitate conversations around themed topics.
CCIT 20/20 Sessions
Did you know that CCIT turns 20 this year? As they did during their popular summit in January, the team will offer educational hands-on sessions to improve your digital work/life. Learn more about registration for the specific sessions starting May 27.

What's really happening in the entry-level labor market as a result of COVID-19?
Thursday, May 28, noon - 12:45 p.m.
In order for the College community to best support students and new alumni in this uncertain job market, the Center for Career Education (CCE) will share what they are hearing from employers about summer 2020 internships and plans for full-time hiring. The team will outline how different industries are managing through the crisis and engaging students, share trends observed among students in career counseling sessions, and take any questions. Register here.

• Shared Interest Groups
The Food/Cooking Shared Interest Group invites you to a throw down with an Edible Food Challenge!
Food is one thing that many of us turn to for comfort in quarantine. Whether you're baking more, trying new recipes, perfecting your omelet-making skills, or just look forward to your next meal, food is there for us. Let's highlight the beauty of food in all its colors, textures, shapes and sizes for CC's very own Edible Art Challenge! Take a famous work of art and recreate it using only food items — for a little inspiration, check out these awesome renditions of famous artworks.
Once you've perfected your masterpiece, please email at least one photo to ccprofesisonaldevelopment@columbia.edu. We hope to feature your submissions in a future Friday Five!
The Arts, Travel and Culture Shared Interest Group would like to share some amazing free virtual resources:

• "Friday Fun" responses
We received these submissions to the May 8 call for arts/travel/culture links:
Thomas McKeller and John Singer Sargent at Boston's Gardner Museum, (reviewed in The New York Times)
Trouble sleeping? Watch these nightly Met Opera streams hour before bed
The Royal Opera House in London


• "The Friday Five" archive
Updates Regarding COVID-19
The University has created a multi-faceted online resource regarding the following topics around the COVID-19 crisis.