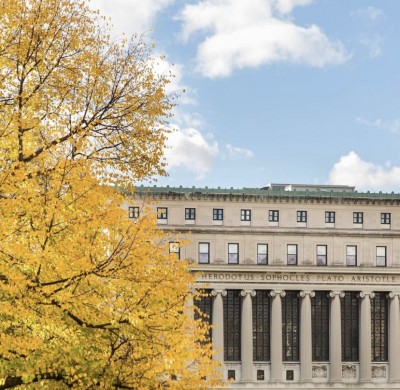 C

olumbia's remote working environment has brought new challenges for the entire Columbia College team. As we continue to adapt to the virtual workplace while upholding the College
'
s strategic priorities, this page will share information and provide opportunities to connect with colleagues through community-building activities, professional development programs and more.
Columbia College Staff Guide Now Available
The guide has relevant information for working on campus and remotely.
Events and Community
• Zoom @ Noon
We're continuing the Zoom @ Noon series this fall as a time for College staff to connect and learn about what's happening within units, as well as bring new skills to the forefront for our professional and personal development. College functional experts and University partners will join and facilitate conversations around themed topics.
Tuesday, November 10, 2020 12:00 p.m.
The 2020 Election: What happened and what's next?
On the heels of the 2020 Election, with fresh insight from the American Voter Project: 2020 Election Debrief panel, Bernard E. Harcourt, Isidor and Seville Sulzbacher Professor of Law, Professor of Political Science and Executive Director of the Holder Initiative, will provide post-election analysis and share his thoughts on how we might navigate our nation's political landscape. Register here.
Wednesday, November 18, 2020 12:00 p.m.
Baldwin's Children: The Core Curriculum in Dangerous Times
Columbia College created its Core Curriculum in 1919 to help students grapple with

"

the insistent problems of the present.

"

But how can the literary and philosophical works that have been studied for decades in Core classes prepare students to face the problems of the 21st century? This discussion will focus on the figure of the child in two Core texts: Augustine's Confessions, which is read in Literature Humanities, and James Baldwin's

"

A Talk to Teachers,

"

which is read in Contemporary Civilization. We will explore how the kinds of questions addressed in the Core can inspire students to reflect on their lives and confront the problems of their world. Brief passages from these works will be read together; no prior knowledge of the texts is needed. Register here.
• Wednesday Wisdom Brown Bags
Wednesday Wisdom Brown Bags are a casual discussion space to share best practices with colleagues from across the College on various areas as our environment/work/lives continue to change during the pandemic.
More events coming soon!
• Community Pop-Up Events
We are hosting a series of Community Pop-Up events, which provide opportunities for College staff to socially connect and enjoy fun activities virtually.
Thursday, November 5, 2020, 5:00 p.m.
Family Feud: College Edition!
A virtual version of the classic game show. Register here. Note: For this event we will need a minimum of 10 participants to create the game. There is a 20 person maximum. Registration is on a first come, first serve basis.
• "The Friday Five" archive
Updates Regarding COVID-19
The University has created a multi-faceted online resource regarding the following topics around the COVID-19 crisis.