BOOKSHELF
Cat's Meow is the Cat's Pajamas
By Timothy P. Cross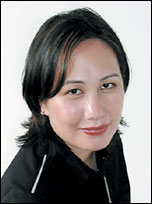 Melissa de la Cruz '93
PHOTO: EVA MUELLER


Related Stories

Cat McAllister has problems. The former child actress (she played a spunky street urchin in an episode of Miami Vice) is turning 25 (for the fourth time), has just been dumped by her fiancé, and is "stuck in that seventh circle of celebrity hell where I'm just recognizable enough that people think they know who I am but on second thought can't place me for the life of them." Now, to make matters worse, she's broke. A rich husband seems the only way out.
Cat is the tony, fashion-crazed, wannabe-socialite heroine of Cat's Meow, the debut novel by Melissa de la Cruz '93. Cat's scheme to marry a rich society type and "ratchet up the ranks faster than you could say Gwyneth Paltrow" sets in motion de la Cruz's gleeful, highly praised send-up of fashionistas and the Manhattan party circuit.
De la Cruz, who was class president her junior year, comes by her knowledge of the fashion industry, fashionistas and an addiction to Manhattan's nightlife firsthand. Although she was working for Morgan Stanley as a computer programmer, she found herself reading many fashion magazines and "obsessed with celebrities." The subject seemed ripe for satire. Fashion-crazed Manhattanites seemed "fun people to make fun of," de la Cruz told CCT.
De la Cruz defines fashionista as "a crazy, fashion-addicted woman who has to have the latest trend," and she admits that the Manolo Blahnik probably fits her. In an August 2001 op-ed piece in The New York Times, de la Cruz owned up to owning seven ponchos and described herself as a "card-carrying, graffiti-bag-toting, conical-heel-tripping, nautical-stripe-wearing, zippered-mule-loving member of the species Fashionus victimus." And she's no stranger to the Page 6-worthy celebrations, either. "I definitely went to a lot of the parties described in the book," she says.
The book's first five chapters were originally serialized on the fashion Web site hintmag.com, where de la Cruz moonlighted as senior fashion editor and wrote a column, also called "Cat's Meow." "It was a labor of love," she says. (In another parallel between author and subject, Cat also wrote for an online fashion site.)
Cat McAllister has definitely struck some sort of chord among readers. Cat's Meow, which is illustrated by Kim DeMarco, received warm notices in The New Yorker, The Los Angeles Times ("a rambunctious first novel"), Glamour, Complete Woman and The New York Observer. Simon Doonan, the creative director of the très-chic Barney's in New York, has pegged de la Cruz as the "Jackie Collins of the 'Moomba' generation." Already in its third printing in the United States, the book was published in December in the United Kingdom by Pinkus Books as The Girl Can't Help It.
As for de la Cruz, she was downsized by Morgan Stanley in June and left hintmag.com in August. She's now at work on several writing projects, including a non-fiction fashionista book, a children's fantasy novel and a follow-up novel to Cat's Meow, which also will be set among Manhattan's party scene.
Cat's Meow is published by Scribner Paperback Fiction and sells for $13.95.

Related Stories