ALUMNI CORNER
For Alma Mater on the Hudson Shore
By Gerald Sherwin '55
President, Columbia College Alumni Association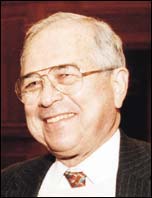 Gerald Sherwin '55
PHOTO: MICHAEL DAMES

One of the most important initiatives of the Columbia College Alumni Association in recent years has been to establish linkage between alumni and the undergraduate student body — our future alums. This starts once applicants have been accepted to the College and continues from the time they arrive on campus through their four years at Columbia. After they graduate, we want them to continue to feel part of the Columbia family. This is reflected in their participation, both financial and otherwise. We want alumni to help undergraduates in terms of mentoring, networking for jobs, and basically serving as a resource that fellow Columbians and future undergrads can call on. The College also depends upon alumni to give back financially, and this starts with the Class of 2002 Fund Committee. In addition, we want students to be exposed to the Columbia traditions built over the years and to be aware of the role alumni play in their lives and the life of the College.
All functions are handled in a coordinated effort between the Office of Alumni Affairs, headed by Derek Wittner '65, and the division of Student Affairs (including the Class Centers and the Admissions Office), under the auspices of Chris Colombo.
Everything begins before students even enter the College. In areas around the country and overseas, the newly accepted first-year students are invited to academic advising sessions led by Class Deans. Following these sessions, the students are joined by their parents for receptions jointly hosted by Alumni Affairs and the Office of Undergraduate Admissions, with local ARC (Alumni Representative Committee — Columbia graduates who interview applicants to the College) members. These events have been successfully held in a few cities, with plans under way for programs this year in Los Angeles, San Francisco, Atlanta, Milwaukee, Hong Kong and Singapore. Everyone should note that there are more than 3,000 alums who give their valuable time to interview secondary school students applying to Columbia by participating in the ARC.
The next phase is Orientation Week, in which incoming first-years and their parents meet various members of the alumni body, including the president of the CCAA and the heads of the Columbia College Young Alumni (CCYA), Columbia College Women (CCW) and the Outreach Committee. Welcoming events, including the legacy and international students receptions, ease the transition from high school to college (it is probably more important for the parents than the students). And at the first academic meeting of the year with Dean Austin Quigley, new students receive a gift from the Alumni Association, connecting past and present.
During the course of the academic year a plethora of activities are held that bring together students and alumni. CCYA hosts Networking Nights (to which seniors are invited), mentoring sessions and social gatherings. As guests of the Junior and Senior Class Centers, young alumni participate in the Columbia Connections series, topic-based discussions about practical matters and "life after Columbia"— the importance of networking, finding an apartment, staying in touch with friends near and far, and finding a balance between work and recreation. In another initiative, students and alumni meet to share dinner and conversation about a common area of interest. For example, Dr. Gordon Klein '67 returned to Columbia in December to talk with students about his experiences in pediatrics and preventive medicine. At the Trilling/Van Doren Awards, students, faculty and alumni get a chance to mix at an event related to the Core. CCW hosts numerous events throughout the year, including social occasions and mentoring sessions. The Outreach Committee has a mentoring component, as well, and also is involved with programming special events for Black, Latino and Asian students and alumni.
In November, Richard Wald '52 spoke to students in the Living Learning Center in the first program of a series examining media's response to crisis. Other alumni have been invited to continue this series with current students in several spring programs at the Center. Plans are being made for a late February event with first-years and alumni, and just before sophomores declare their majors in March, alumni will return to campus for conversations with students about college majors and career opportunities. To mark the end of their undergraduate years, the Class of 2002 will be honored at the Senior Dinner, a semi-formal event jointly sponsored by Alumni Affairs and Student Affairs.
Student leaders are invited to attend key events hosted by the Alumni Association, such as the Alexander Hamilton and John Jay Awards functions. In November, the Hamilton Medal for 2001 was presented to Phil Milstein '71, a long-time benefactor whose generous contributions to the College include the beautifully renovated Milstein Family College Library in Butler. This year's John Jay Awards Dinner will be held on March 6 at the Plaza Hotel and will honor Derek Johnson '81, president and CEO of the Apollo Theatre Foundation; Joel Klein '67, chairman & CEO of Bertelsmann; Conrad Lung '72, president of Sunnex; and William McDavid '68, general counsel for J.P. Morgan Chase.
There have been appearances by alumni at key student events — Class Day, the Senior Dinner, February Commencement, the Yule Log Ceremony, the Tree Lighting on College Walk, and even Orgo Night.
The Alumni Association and the staff in Alumni Affairs have been working with the Class of 2002 Fund Committee, 24 energetic, enthusiastic seniors who are educating their peers about the importance of participating in the College Fund. Participation is one of the categories which U.S. News and World Report measures to establish its annual school rankings, and one category in which Columbia has lagged behind its peers. This year's committee is determined to change that, and under the capable leadership of the four chairs (Scott Koonin '02, Alison Hirsh '02, Pooja Agarwal '02 and Sarah Palestrant '02), I've no doubt it will.
As you can see, we are well on our way to building a strong foundation of support for the future. The CCAA continues to reach out to undergraduates to show them that there is a nurturing alumni support group out there willing to help and work with them.
If anyone wants to be an active participant in anything that involves student mentoring, networking, interviewing applicants or even attending events, please let us know. Your current support has been most gratifying. We hope it will continue and grow in the future.
Please contact me at gs481@juno.com.