FEATURE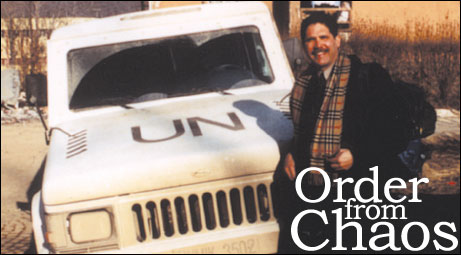 With the United Nations, Fernando Ortiz '79 works to construct legal systems in Kosovo and Afghanistan
By Laura Butchy
In the fall of 1999, Fernando Ortiz '79 was well on his way toward earning his pension, having worked for the New York Police Department for 14 years. He'd become heavily involved in alumni affairs at Columbia, was midway through his two-year term as vice president of the alumni Outreach Committee and was working with current students through the Latino Mentor program. He was enjoying time with his wife, Ofelia, and their two children, who were rapidly approaching high school.
Then, one Saturday, he received a phone call from the 38th floor of the United Nations building, the floor that houses Secretary General Kofi Annan.
Will you go to Kosovo for us on Monday?
"I took the leap of faith," Ortiz says, "and I went to Kosovo."
Within two days, arrangements had been made, plane tickets and visas were ready and Ortiz began working for the U.N. Mission in Kosovo (UNMIK), a world away from Columbia and New York City. Arriving in Pristina as a legal officer, he immediately was faced with the devastation: empty streets and smoking ruins, no one working or going to school, little water or food — and no one in charge.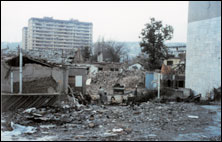 Upon Ortiz's arrival, much of Pristina, Kosovo's capital, looked like this site behind the U.N. building.

Ortiz's role, as part of the U.N. Department of Peacekeeping Operations, was to help establish a law enforcement system in Kosovo. "I set up the local judicial system including the Supreme Court, the Five District Courts and the Municipal and Commercial courts," Ortiz explains.
He also wrote a guide for a tribunal to prosecute war criminals. He says the hope is to make Kosovo more secure while working toward a political framework, economic reconstruction and humanitarian assistance.
"Fernando played an important role," says Michael Jorsback, who was deputy police commissioner in charge of UNMIK police in Kosovo. "[He] gave advice within the Judicial Affairs Department and liaised with the legal officers in the UNMIK Police legal section."
While much remains to be done in Kosovo, Ortiz now has an additional focus: Afghanistan. At first, he was asked to go there in early December, but then it was decided it would be safer to send two non-American delegates for the initial U.N. survey team. "Police and judicial experts will conduct a preliminary assessment of Afghanistan's needs," Ortiz says, "to help develop the mandate."
Once that mandate has been approved, Ortiz expects to be dispatched to Afghanistan, where he anticipates a difficult time trying to develop a judicial system. "Kosovo had judges, lawyers and prosecutors who had been out of practice for 10 years because of [Slobodan] Milosevic," he says. "The problem with Afghanistan is that there is no middle class. We don't have trained people already there."
As a member of the U.N. Secretariat, Ortiz represents 189 member countries. "If terrorism is an attack on the civilized world, then it is by definition an attack on the United Nations as an organization," he says. "It is both a challenge and a warning — a challenge to do better in all spheres, and a warning that conflicts and poverty and injustice, if allowed to take root, will fester and give rise to frustration, desperation and violence."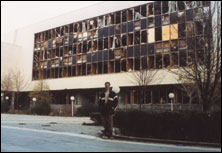 The government office building that served as Ortiz's workplace is clearly part of a nation in turmoil.

Ortiz was encouraged in his humanitarian pursuits by his parents, who emigrated from Puerto Rico and worked multiple jobs to put him through Catholic school in the South Bronx. He became the first person in his family to earn a college degree, followed by his younger sister, who works for the U.N. in The Hague.
After studying political science and Spanish literature at Columbia, Ortiz pursued his master's in Madrid, then attended NYU Law School on a full scholarship. From 1982-84, Ortiz interned for a think tank as a U.N. Institute for Training and Research Fellow. He then worked for NYC in various capacities, beginning as an examining attorney in the Department of Investigation and moving to the police department as an assistant advocate and then agency attorney.
"Fernando's background from police [work] was important," Jorsback says. "[Fernando] was the only legal officer in Judicial Affairs who understood police legal problems."
Then came the call from a former co-worker at the U.N. who remembered his work there 14 years earlier, and in the fall of 1999, Ortiz joined the U.N. Department of Judicial Affairs. After arriving in Macedonia, he traveled to Pristina, the capital of Kosovo, a six-hour bus ride that took him past mass gravesites. When he found an apartment after several days, there was no electricity, water or heat. Ortiz traveled in an armored vehicle, with military or police escort, when visiting the five regions of Kosovo to interview potential judges.
"I came face to face with the trauma of an entire population that had been terrified and hounded out of their homes or into hiding," Ortiz remembers. "There was little acknowledgment of what these people had just endured, and true justice still had not been done."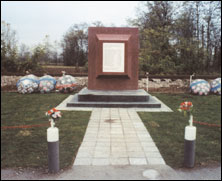 A somber memorial commemorates 19 executions of local community members in 1999.

The Department of Judicial Affairs established intermediary measures to increase the effectiveness of the legal system. International judges and prosecutors were employed and existing Kosovo law was supplemented with regulations against hatred and intolerance. After five months, though, only 35 trials, in one region of Kosovo, had been completed for more than 400 murders. According to Ortiz, a culture of silence was keeping witnesses from testifying.
"Biases stemming from decades of ethnic conflict have negatively impacted the ability of prosecutors and judges to perform their functions," Ortiz says. "The inability of law enforcement authorities to provide full protection to members of the judiciary, victims and witnesses has enabled certain defendants to manipulate the outcome of criminal proceedings through intimidation."
Since then, changes to criminal procedure have begun providing more protection for witnesses and allowing police officers, rather than international civilian police, a more significant role in investigations. Appointed judges are being systematically phased out and replaced by newly elected local and regional judges.
Even when he was in Kosovo, Ortiz remembered Columbia. "Professor Billy Thompson had an impact on me because he taught me how important it was to pay attention to details and symbolisms in medieval Spanish literature," Ortiz says. "My trip to Kosovo reminded me of the medieval period, so that course made me feel right at home."
Ortiz's loyalty to the College has been evident in his continuing involvement as a devoted alumnus. He has received the Charles Bjorkwall Prize for outstanding service to the College community and belongs to the Latino Alumni Association. He was the first alumnus to be cited for outstanding achievement by the Higher Education Opportunity Program and has served as a counselor for HEOP. He also served as the first vice president of the Columbia College Alumni Association's Outreach Committee.
In March 1999, he helped launch the Latino Mentor program, which matches Latino students with alumni contacts. Jorge Herrera '01, president of his class, was paired with Ortiz for two years and successfully campaigned for Ortiz to receive the first Latino Alumni Mentor Award last April.
"He instilled a confidence in me," Herrera says of Ortiz. "Even when he was in Europe, he called me. Our personalities clicked. We both love the law and aspire to use the law not for personal gain but for love and desire to help people."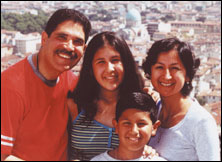 A dedicated family man, Fernando Ortiz '79 is devoted to his daughter, Christine; his son, Fernando III; and his wife, Ofelia.

In addition to his dedication to the College, Ortiz is a devoted family man who hopes to be a positive role model, as his parents were to him. His wife, Ofelia, who is originally from Peru, has worked at the U.N. for more than 20 years as special assistant to the legal counsel. They have two children: Christine (15) attends Bronx High School of Science, and Fernando III (12) is in parochial school in Queens. Both, Ortiz says with pride, hope to attend the College.
After returning to New York in November 2000, Ortiz officially began working in U.N. headquarters as legal officer to the civilian police and military divisions, providing legal guidance, developing doctrine, and serving as legal counsel to the police and military advisers.
Ortiz returned to Kosovo for a brief trip in August 2001 to respond to complaints by accused Serbian war criminals that they had been jailed for more than a year with no trial dates set. Ortiz prompted the local courts to set dates and handled other grievances, but says much remains to be done.
"The intervention by NATO in Kosovo in the first place was to protect a minority and to ensure the human rights of the oppressed and vulnerable," he says. "Our efforts to do the same for the current minorities, particularly the Serbs, have failed. I believe this is the single most important issue that will ultimately determine how we will be judged — our ability to protect the minorities."
About the Author: Laura Butchy is a staff writer for Columbia College Today who is studying dramaturgy at the School of the Arts.