ALUMNI PROFILE
Switching Sides
By Alex Sachare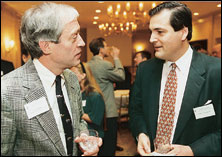 John Metaxas '80 (right) visits with Columbia president George Rupp at the College's annual luncheon at the Columbia Club on May 4.
PHOTO: MICHAEL DAMES

Long-time financial reporter and anchor John Metaxas '80 has moved to the other side of the fence, sort of, in his new role as chief corporate communications and government affairs officer for E*Trade, the online personal financial services provider.
Metaxas, who most recently covered the NASDAQ for CNN and contributed to the network's flagship financial news program, Moneyline, is now responsible for communicating E*Trade's "revenue diversification strategy and its long-term vision to become a digital financial media company," according to a company announcement of the move in April. Metaxas says the change in jobs to corporate spokesman is not a completely radical switch.
"My focus over the last several years at CNN has been on informing and educating the public about their financial affairs," says Metaxas. "This is a terrific opportunity to continue on that path to reach consumers."
"John brings to E*Trade a wealth of knowledge and experience in journalism, business, legal and governmental affairs issues that will be integral in his ability to lead our interaction with the media, analyst community and key government officials," says company CEO Christos M. Cotsakos.
Metaxas has more than 17 years experience in the communications and journalism fields. Since joining CNN in 1994, he has anchored several financial news programs including Your Money, CNN's weekly look at personal finance. Prior to joining CNN, he was a correspondent for CNBC and anchored a nightly business segment for WFSB-TV, a CBS affiliate in Hartford, Conn.
Metaxas, who also graduated from the Journalism School in 1983 and the Law School in 1984, has been legal editor for The National Law Journal and a reporter and producer for ABC News, where he covered the 1988 presidential campaign and worked on World News Tonight With Peter Jennings. In 1994, he served as director of communications for a candidate in the primary race in New York's 19th Congressional District.