| | | | | | | |
| --- | --- | --- | --- | --- | --- | --- |
| | | || | | || | | |
BOOKSHELF
Claiming Theology in the Pulpit
by Burton Z. Cooper '54 and John S. McClure. A two-part guide to assist ministers with writing deeper and more meaningful sermons, this manual explains how one can identify personal theological beliefs and successfully relate them in a well-constructed sermon (Westminster John Knox Press, $18.95).
Here and Elsewhere: Poetic Cul-De-Sac
by Raymond Federman '57. This intriguing and inspiring poetic adventure details a boy's journey to find his place in the world (Six Gallery Press, $9.99).
Poems: A Selection
by William Claire '58. Through the author's wide variety of poetry, the reader sees not only the joys life can bring but also the sorrows. Claire's peaceful acceptance of the world allows the reader to perceive the world in new ways (Turning Point Press, $15).
| | |
| --- | --- |
| | |
| | |
| Aging With Attitude: Growing Older With Dignity and Vitality by Robert Levine M.D. '58. | |
| | |
Aging With Attitude: Growing Older With Dignity and Vitality
by Robert Levine M.D. '58. The author maintains that it's the quality of years that matter, not the quantity, and offers strategies and advice on how to maintain a healthy, invigorating lifestyle as well as positive self-esteem, by addressing aging issues (Praeger, $39.95).
The Green Lantern: A Romance of Stalinist Russia
by Jerome Charyn '59. A performance by a prop manager stepping in for an ill actor in a production of King Lear becomes the talk of Moscow and catches the attention of Joseph Stalin. This "winter's tale" follows the accidental star Ivanushka and depicts an ever-shifting tangle of alliances, lovers and powerful figures in the Soviet Union (Thunder's Mouth Press, $22).

| | |
| --- | --- |
| | |
| | |
| | Waterfront: A Journey Around Manhattan by Phillip Lopate '64. |
| | |
Waterfront: A Journey Around Manhattan
by Phillip Lopate '64. The author takes his audience on an adventure around the Manhattan shoreline. The tour, filled with history, myth, culture and politics, gives a full scope of the magnificence of Manhattan with a view from the water (Crown, $25.95).

U.S. Destroyers: An Illustrated Design History (revised edition)
by Norman Friedman '67. This history of U.S. destroyers gives a detailed description of the ships' designs and the rationale behind them, as well as an account of changes in the ships' development (Naval Institute Press, $85).

Making Love Safe
by Philip Guinsburg '68 and Luanne Overton. An easy-to-follow guide on how to develop a healthy relationship. This book includes a blueprint for a stable relationship, tools to start and maintain that relationship and an analysis of major problems and limits in any relationship (1st Books Library, $14.50).
Dogen's Extensive Record: A Translation of the Eihei Koroku
translated by Taigen Dan Leighton '71 and Shohaku Okumura; edited and introduced by Taigen Dan Leighton '71. The first thorough, scholarly translation of the Eihei Koroku into English, this Zen master guide gives the reader wisdom and insight into religious life (Wisdom Publications, $65).
The Children's Hospital of Philadelphia Guide to Asthma: How to Help Your Child Live a Healthier Life
by Julian Lewis Allen M.D. '74, Tyra Bryant-Stephens M.D. and Nicholas A. Pawlowski M.D., editors. This guide, with educational resources and true stories about children with asthma, gives tips on how asthma is diagnosed, how to modify surroundings that affect asthma, how to manage the disease, what to do in an emergency and the special needs of those with asthma. (John Wiley & Sons, $14.95).
Sanctifying the Name of God: Jewish Martyrs and Jewish Memories of the First Crusade
by Jeremy Cohen '74. In this analysis of the Jewish massacres in the Rhineland during the Crusades, Cohen explores the symbolic meaning of martyrdom, Jewish and Christian traditions and the guilt of those who gave up their faith and surrendered to the crusaders (University of Pennsylvania Press, $37.50).
| | |
| --- | --- |
| | |
| | |
| God's Last Word: Reading the English Bible from the Reformation to Fundamentalism by David S. Katz '74. | |
| | |
God's Last Word: Reading the English Bible from the Reformation to Fundamentalism
by David S. Katz '74. This scholarly book explores society's response to the Bible from its first translation in the 16th century through the Renaissance, the Reformation, Newton and Darwin and the birth of 20th-century fundamentalism. (Yale University Press, $38).
The Forgotten Liars: The Tammi Honig Story
by Timothy Horrigan '79. A bittersweet romantic epic centered around a Columbia boy and a Barnard girl, with a supporting cast of punk rockers, poets, lawyers and U.S. presidents. The story begins in 1979 on South Field and ends in 1987 at St. Paul's Chapel (Xlibris, $28.95).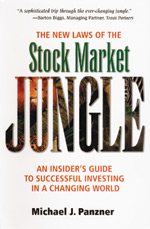 The New Laws of the Stock Market Jungle: An Insider's Guide to Successful Investing in a Changing World by Michael Panzner '80.

The New Laws of the Stock Market Jungle: An Insider's Guide to Successful Investing in a Changing World
by Michael Panzner '80. A veteran trader and Wall Street insider, Panzner highlights new developments in the modern share-trading environment, offers insights and action plans for investors developing strategies and reveals the tools and tricks of investment professionals (Financial Times Prentice Hall, $24.95).
HIP: The History
by John Leland '81. Leland, a veteran pop culture writer, shows how "hip" is about the story of black and white America and offers an alternative account of centuries of contact and emulation, of back-and-forth, from blackface minstrel shows to the Beat generation to the "digital" hip cheered on by Wired (HarperCollins, $26.95).
| | |
| --- | --- |
| | |
| | |
| Composite Sketches by Lou Orfanella '82. | |
| | |
Composite Sketches
by Lou Orfanella '82. In this compelling collection of poetry that ties together all aspects of life, Orfanella brings the reader into his world by merging present and past, reality and fantasy, and physicality and spirituality into one reflection of life (Fine Tooth Press, $12.99).
Holocaust Denial and the Law: A Comparative Study
by Robert A. Kahn '85. Kahn's first book correlates how courts in Canada, France, Germany and the U.S. have resolved the adversities of Holocaust-denial litigation. This study examines criminal prosecution of the deniers, legal fairness, litigation and the impairment that Holocaust denial could cause (Palgrave-Macmillan, $55).
Maverick Mind: A Mother's Story of Solving the Mystery of Her Unreachable, Unteachable, Silent Son
by Cheri L. Florance Ph.D. and Marin Gazzaniga '86. A speech and hearing therapist finds her greatest challenge in her son in this inspirational story of one mother's struggle to educate her deaf, mute son and integrate him into the world (G.P. Putnam's Sons, $23.95).

Magazine Fundamentals
by Rebecca Castillo '94, production editor, Alice Klement, word editor, and Laura Schaub, image editor. This extensive how-to guide for anyone working for a magazine covers all the basics, including raising funds, organizing staff, designing a look, evaluating submissions and publishing (Columbia Scholastic Press Association, $34.95).

The Graven Image: Representation in Babylonia and Assyria
by Zainab Bahrani, Edith Porada Associate Professor of Art History and Archaeology. An innovative look at the art and images of ancient Babylonia and Assyria and how they relate to their rituals, wars, divinities and the human form (University of Pennsylvania Press, $49.95).
From Oslo to Iraq and the Road Map
by Edward Said, former University Professor (deceased). In this collection of 46 essays that appeared between 2000–03, Said wrote about the second intifada, President Clinton's "fast-food peace" and the Bush administration's relationship with the Christian right and large oil companies (Pantheon Books, $24.95).

Peter Kang '05,
Carmen Jo Ponce '08
Columbia College Today features books by alumni and faculty as well as books about the College and its people. For inclusion, please send review copies to:
Laura Butchy, Bookshelf Editor
Columbia College Today
475 Riverside Dr., Ste 917
New York, NY 10115-0998
| | | | | | | |
| --- | --- | --- | --- | --- | --- | --- |
| | | || | | || | | |