| | | | | | | |
| --- | --- | --- | --- | --- | --- | --- |
| | | || | | || | | |
AROUND THE QUADS
Columbia Dedicates Plaza In Honor of M. Moran Weston II '30
By Alex Sachare '71
The landscaped plaza in front of John Jay Hall has been dedicated in honor of the late Rev. Dr. M. Moran Weston II '30, the University's first African-American trustee and the founder of the largest African-American–owned bank in the United States, Carver Federal Savings Bank. Long the site of tennis courts, the plaza most recently was home to a temporary structure known as the "tin can" that was erected while Lerner Hall was under construction.
Weston, who served as a trustee from 1969–81, was a tireless advocate for Columbia and the Harlem community, which inspired the Black Students Organization and other student groups to campaign for a space to be named in his honor.
At the dedication ceremony on October 26, President Lee C. Bollinger described the plaza as "a place for contemplation and consideration" and added, "Today we honor the memory of one of Columbia's and the community's brightest lights, a man whose influence has been widely felt."
Dean Austin Quigley noted that the student councils of the College, SEAS and GS had each unanimously recommended that Weston be honored. "Moran Weston helped write the history of his generation, and by enshrining his name on this new plaza on South Field, we ensure that future generations will know of his achievements," he said.
Other speakers at the dedication included the Rev. Dr. James Forbes, senior minister of The Riverside Church; Jessica Buchanan '05, president of the Black Students Organization; Evan Davis, former University trustee; and Greg Weston, Moran Weston's son. A benediction was performed by the Rev. Canon Frederick Williams, rector of the Church of the Intercession.
Buchanan praised Weston for "facilitating the bridge between dreams and reality. He sought to create change and break the rigid bonds of society. His example will serve to motivate generations of young minds to do the impossible."
Forbes described Weston as "a visionary whose eyes were open to what needed to be done." Bollinger noted that Weston once told a New York Times reporter, "I do nothing. I cause things to happen. If I have a gift, it is to encourage people that they can do the impossible."
"Dr. Weston was a giant in the Harlem community," said former New York City Mayor David Dinkins, Weston's friend and a professor at SIPA.
Weston served as rector of St. Philip's Episcopal Church in Harlem, and founded six nonprofit housing development corporations that have provided thousands of homes for low-income families. His leadership has been recognized by a number of organizations, including the NAACP Legal Defense Fund, Mount Sinai Medical School and Hospital, the Greater Harlem Nursing Home and CARE. In 1981, the Archbishop of Canterbury conferred upon Weston the St. Augustine's Cross in recognition of his service.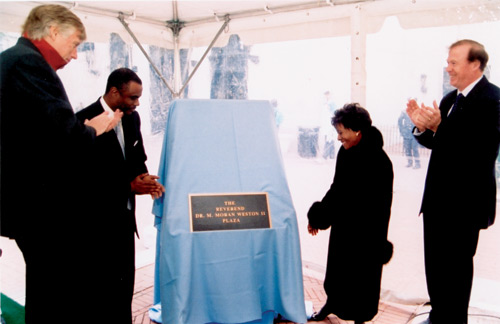 Miriam Weston unveils the plaque honoring her late husband, Rev. Dr. M. Moran Weston II '30, as (from left) President Lee C. Bollinger, Greg Weston and Dean Austin Quigley applaud.

PHOTO: EILEEN BARROSO

| | | | | | | |
| --- | --- | --- | --- | --- | --- | --- |
| | | || | | || | | |