| | | | | | | |
| --- | --- | --- | --- | --- | --- | --- |
| | | || | | || | | |
ALUMNI UPDATES
The Would-Be Apprentice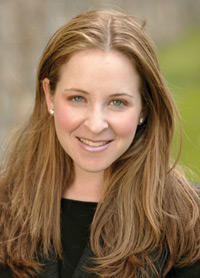 Stacy Rotner '99

NBC PHOTO: CRAIG BLANKENHORN

Stacy Rotner '99 competed for seven weeks last fall on the second season of NBC's hit reality series The Apprentice. Chosen from more than a million applicants, she was one of 18 candidates attempting to land a job with The Trump Organization by completing business tasks for prominent Fortune 500 companies at the behest of Donald Trump.
A native New Yorker, Rotner graduated with a B.A. in art history and studied in Paris. She received her J.D. from Brooklyn Law School and practices corporate law at a New York law firm. Rotner has worked in the legal departments of Sotheby's Auction House and the Metropolitan Museum of Art. She is an active member of several bar associations and New York charitable organizations.
"The Apprentice taught me numerous lessons," Rotner said of her television debut. "On a basic level, I was introduced to many exciting industries. On a personal level, I learned [that when] surrounded by intelligent, type-A personalities, it's best to listen and observe before chiming in. I also learned, similar to living in my Wallach suite junior year, it is extremely difficult to share a bathroom with 17 other people!"
The Apprentice also included a guest appearance by Hamilton Award winner Robert Kraft '63, who interviewed the final four candidates on the December 9 episode and advised Trump of his recommendations.
Laura Butchy
| | | | | | | |
| --- | --- | --- | --- | --- | --- | --- |
| | | || | | || | | |


CCT Home


This Issue


Previous Issue

CCT Masthead