| | | | | | | |
| --- | --- | --- | --- | --- | --- | --- |
| | | || | | || | | |
ROAR LION ROAR
Bierbaum Earns Cross Country All-America
Men, women sweep Heptagonal Ivy Championships for first time
By Alex Sachare '71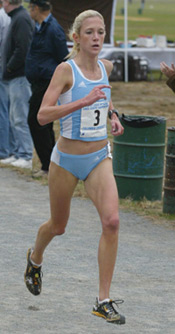 All-American Carolyn Bierbaum '06

PHOTO: GENE BOYARS

Carolyn Bierbaum '06, in only her fourth varsity race at Columbia, finished third among 248 runners in the NCAA Cross Country Championships on November 22 at Terre Haute, Ind. It was the finest finish ever in the NCAAs by any Columbia cross country runner, male or female, and led the Lions to their second straight 13th place finish in the 31-team field.
This event capped a brilliant cross country season in which Bierbaum earlier became the first Columbia woman to win an individual title at the Heptagonal Ivy Championships, where Columbia's men and women swept the team crowns for the first time.
"This has been an amazing season for Caroline," said head women's cross country coach Craig Lake. "In just two months, she won the Ivy League championship in a strong field and finished third in the NCAA Championships, making All-America. Caroline has really come far."
Bierbaum was running between 15th and 20th place at the midway point of the Nationals. "I was making my way up to the front gradually," she said. "I had a lot left as people were falling back."
"She ran a smart race, ran with confidence, and people just kept coming back to her," said Lake. "She was passing people effortlessly."
Providence senior Kim Smith, undefeated in track or cross country for the past year, won the women's title in 20:08.5, 18 seconds ahead of Renee Metevier of Colorado, who finished four seconds ahead of Bierbaum. Tenke Zoltani '06 was Columbia's next highest finisher, at 90th, followed by Lisa Stublic '06, 99th; Carmen Ballard '08, 129th; and Delilah DiCrescenzo '05, 168th.
One week later, Bierbaum was named one of four finalists for the Honda Sports Award as the nation's outstanding women's collegiate cross country competitor.
Bierbaum, who grew up on Manhattan's East Side, is a transfer student from Duke, where she finished 34th in the 2002 Nationals as a first-year student, good enough to be named All America. She transferred after that year — "I didn't want to go to school in the city since I grew up here, but I guess I realized that I needed it," she told the Columbia Daily Spectator — but was sidelined for the better part of a year by low iron counts, running only junior varsity races in 2003. She missed the 2003–04 indoor and outdoor track seasons and was not expected to compete in cross country this fall, but after working out on her own during the summer and early fall, she joined the team in time to win the Lafayette Invitational on October 16.
Two weeks later, Bierbaum led the Lions to their third consecutive Heptagonal women's championship at Van Cortlandt Park in the Bronx. Meanwhile, Gerry Groothuis '05 and Karl Dusen '05 led the men to only their second Heptagonal crown, marking the first time in the 27 years since men and women both began racing for the title that Columbia has enjoyed a sweep.
"It's been our goal to win the women's and men's races for a couple of years," said Lake. "We were so close each year, but we couldn't do it until now."
"This year was a different environment, a different feeling," said Willy Wood, director of men's and women's track and field. "You could sense it on the first day of practice. [The runners] had a different focus this year. They were on a mission."
Cornell's Kate Boyles led the women's field for most of the race, but Bierbaum rallied and passed her to win, covering the 3.1-mile course in 17:12.2, the fastest time in the Heps since 1982 and only 2.4 seconds off the meet record. Six other Columbia runners finished in the top 17 — Zoltani was ninth, DeCrescenzo 12th, Stublic 14th, Ballard 15th, Hilary Bontz '06 16th and Laura Meyers '07 17th. In the team scoring, which is based on one point for each placing by a school's top five finishers, Columbia won with 51 points; Princeton was second with 64 and Yale third with 73.
Groothuis finished seventh in the five-mile men's race with a time of 24:57.9. Dusen was 12th, followed by Mark Olivier '07, 14th; Steve Vilt '06E, 16th; and Brian Horneck '07, 21st. The team had to wait a few moments before the final standings were determined. "Coach Wood started walking over toward us, his head down," said Groothuis. "I see him, and then he gives us a little smirk. As soon as I saw his smile, I knew it. I erupted. This was one of the happiest days of my life." Columbia had scored 70 points for the victory, beating Dartmouth by nine points, the same margin by which Brown had topped the Lions — and prevented a Columbia sweep — a year ago.
Alex Sachare '71 is the editor of Columbia College Today.
| | | | | | | |
| --- | --- | --- | --- | --- | --- | --- |
| | | || | | || | | |