| | | | | | | |
| --- | --- | --- | --- | --- | --- | --- |
| | | || | | || | | |
FEATURES
Still Railing After All These Years
Cartoonist R.J. Matson '85 skewers politicians on all sides in trying to "get it right."
By Claire Lui '00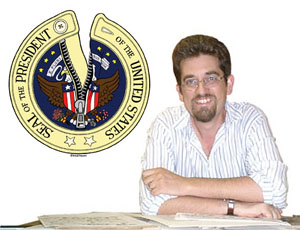 One of Matson's most famous cartoons, which appeared in the Washington, D.C., political review Roll Call on January 28, 1998, summarized the Monica Lewinsky controversy.

If you attended Columbia in the past 50 years, you're familiar with the scene in R.J. Matson '85's Spectator comic strip: a student with a table set up on College Walk, handing out pamphlets and shouting slogans. After all, this is Columbia, where diversity of opinion is valued and the tendency to question just about everything is common among students. But the pamphlet in this comic strip isn't protesting Vietnam or Iraq or any conflict in between; it's for "Students Against Bad Things." Explaining his rationale, the spiky-haired character yells, "Because it's bad! That's why!"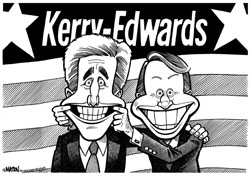 In this New York Observer cartoon, Matson shows John Edwards trying to loosen up John Kerry during the presidential campaign.

It's an early expression of Matson's recipe for humor — a base of politics, with mild mockery and a dash of silliness for spice. His comic strip, "College Walk," appeared in Spectator from 1982–85, and culminated in a full-page Dante-esque drawing of hellish occupations, with politics occupying the bottom rung. It was a prophetic comment. Matson has gone on to earn a living skewering politicians with his weekly cartoons for The New York Observer, Roll Call and a monthly back page drawing for City Limits. His work also has appeared in The New Yorker, The Nation and MAD Magazine.
Though Matson cringes at the style of his college strips, it's easy to see that the same mind produced his more recent comics. Encouraged by Spectator editor-in-chief Steven Waldman '84, Matson used "College Walk" to poke fun at everything from a student takeover of Studio 54 to the beginning of co-education. "One of my great pleasures at school was that my cartoons would appear on people's doors," Matson remembers. "I got a lot of positive reinforcement." Says Waldman, "He was a genius, even in college!"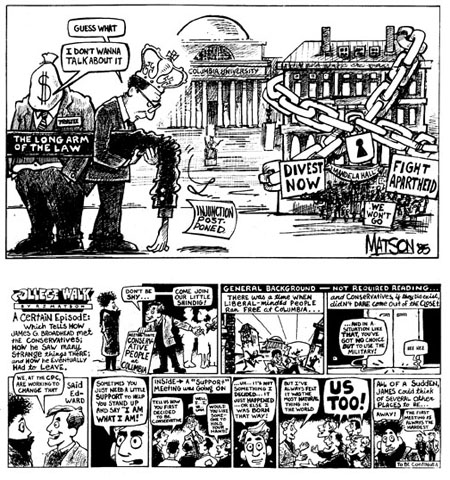 Two of Matson's Spectator cartoons.

After graduation, Matson was an art director at The Washington Monthly (founded by Charles Peters '49) alongside editors Waldman and Matt Cooper '84 before moving back to New York and becoming a full-time freelancer.
One of Matson's most famous cartoons, posted on numerous websites, is a rendering of the Presidential Seal being unzipped, with a top button unbuttoned (see page 20). Drawn when the Monica Lewinsky scandal broke, the image captured the incident succinctly and wordlessly.
Political cartoonist R.J. Matson '85 lampoons both sides of the aisle in trying to "get it right," as in this piece from the Washington political review Roll Call. He's been doing so for more than two decades, since his days on Spectator.
Despite that cartoon, Matson liked President Clinton and comments, "The great politicians have an air of theater about them." Cartoonists, he says, are "playing with these personas that politicians have set up. Politics forces everybody to take stands on certain sides of the issues and to play roles that they probably wouldn't take if you sat them down outside the realm of politics. So you're aware that it's an act. You almost hate the act more than you hate the actor."
In fact, Matson's political feelings don't impact his cartoons. "The way cartoonists think about it is: 'Who is the easiest to draw? Who's impossible?' " he says, laughing. "The politicians who are easiest to draw are the ones who become characters because they're larger than life."
Matson grew up as part of an expatriate family in Brussels, a bit of an outsider. "The notion of what's American is so sharply defined," he says, "and when you're further away from something, you can see it more clearly." Matson moved back to Minnesota when he was in middle school, but found it difficult to fit in at first. "I had no friends. It was really cold, and I just spent a lot of time with my drawings. Those were the years I really developed a fascination with comics. I would write 30-page comic books."

"As a cartoonist, you're caught between two worlds; you're not really a writer and you're not really a fine artist."

As an American in Europe and a seeming foreigner in America ("I didn't have the Minnesota accent, so people saw me as foreign"), and finally a Midwesterner in New York, Matson always has straddled two worlds, which was good practice for his profession. "As a cartoonist, you're caught between two worlds; you're not really a writer and you're not really a fine artist. Many people can draw better than you, a bazillion people can write better than you, but there are few artists who can draw and write a funny cartoon. So it's a weird profession."
Matson lives in Greenwich, Conn., with his wife, Mari, and baby daughter, Sofia. In his basement office, he's surrounded by framed prints and books of his cartoon idols: Thomas Nast, Robert Crumb and Krazy Kat strips. And in his own way, he's still railing "against bad things." Of his work, he says, "I just try to react to the news and get it right. I don't care so much about telling the world how I feel, just trying to get the right take on what's happening."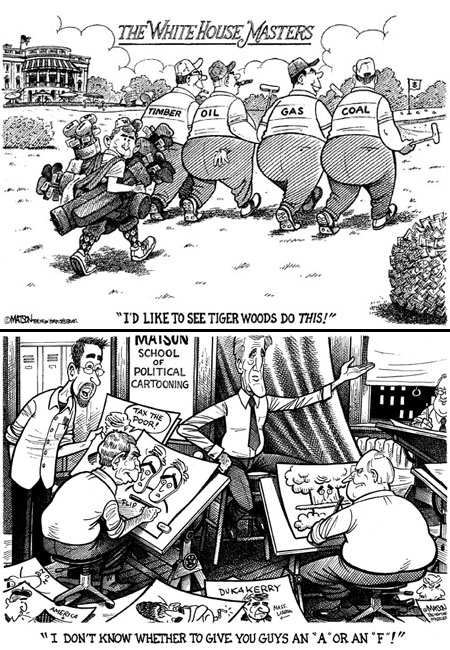 Claire Lui '00 is a freelance writer based in Queens, N.Y.
Her articles have appeared in Print, Entertainment Weekly and Martha Stewart Weddings.
| | | | | | | |
| --- | --- | --- | --- | --- | --- | --- |
| | | || | | || | | |


CCT Home


This Issue


Previous Issue

CCT Masthead