| | | | | | | |
| --- | --- | --- | --- | --- | --- | --- |
| | | || | | || | | |
FEATURES
Kraft Honored at Hamilton Award Dinner
PHOTOS: EILEEN BARROSO
As Robert K. Kraft '63 received the Alexander Hamilton Medal for distinguished service and accomplishment, he thought back to a time some four decades earlier.
"When I was a senior, Dwight Eisenhower won this award," said Kraft, founder and chairman of the Boston-based Kraft Group of Companies, who is perhaps best-known as the owner of the two-time Super Bowl champion New England Patriots. "This is something I never dreamed of."
More than 450 people filled Low Rotunda on November 18 to honor Kraft, who said he was "truly honored to be selected to receive this award in the 250th anniversary year of the founding of this great university." President Lee C. Bollinger presented Kraft with the Hamilton Medal and noted that Kraft, a trustee emeritus and benefactor of the Robert K. Kraft Family Center for Jewish Student Life, "has given back as much as anyone has to this university. He has an impulse to help, a mentoring quality, that is special."
"Robert Kraft is a man of extraordinary achievement and generosity," said Dean Austin Quigley. "He has a remarkable talent for leadership combined with a generous spirit."
Among those in attendance were Commissioners Paul Tagliabue of the National Football League and David Stern of the National Basketball Association, who also chairs Columbia's Board of Trustees. They co-chaired the dinner with Charles K. Gifford, chair of Bank of America, who toasted Kraft and his wife by saying, "With all their success, Robert and Myra understand that real success is giving back. Philanthropy is their middle name."
Among the speakers at the dinner were Dianne Murphy, Columbia's new director of athletics, and Charlotte Jacobs '05, who provided a student perspective on College life.
Alex Sachare '71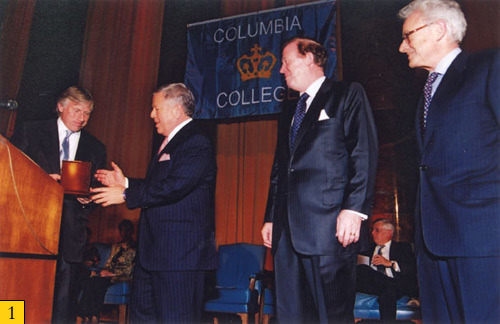 1. President Lee C. Bollinger presents the Alexander Hamilton Medal to Robert K. Kraft '63 as Dean Austin Quigley (second from right) and Bob Berne '60, president of the Alumni Association, look on.
2. Kraft chats with Marty Kaplan '61 (left), former president of the Alumni Association, and Richard Witten '75, chair of the Board of Visitors, before the dinner.
3. Charlotte Jacobs '05 spoke on students' behalf.
4. Kraft offers words of advice to new Athletics Director Dianne Murphy.
5. Kraft shares a lighter moment with David Stern (right), chair of the Board of Trustees, and Bollinger.
6. Kraft and his wife, Myra, enter Low Library Rotunda.
7. Joining Kraft are NFL Commissioner Paul
Tagliabue (left) and
Columbia head football coach Bob Shoop.
8. Quigley visits with College students and alumni during the dinner.

| | | | | | | |
| --- | --- | --- | --- | --- | --- | --- |
| | | || | | || | | |


CCT Home


This Issue


Previous Issue

CCT Masthead