BOOKSHELF
Steve Gottlieb's Life's Work
By Timothy P. Cross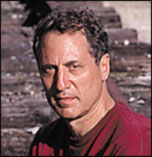 Steve Gottlieb '68


Related Stories

Many would say that Steve Gottlieb '68 had it made. After graduation, he went on to the Law School, practicing corporate law for a decade on Wall Street and then in Washington, D.C. He later became director of environment of the U.S. Synthetic Fuels Corporation, a Washington-based government firm.
"It was a good job," Gottlieb says, "but not a life's work."
One day, Gottlieb, an avid amateur photographer, took a collection of his photographs of Washington, D.C., to the owner of a local publishing house, who looked at the photos for just five minutes before agreeing to publish them. Images from that first book, Washington: Portrait of a City (1985), are now on permanent display at the National Building Museum in Washington, D.C.
"When the book came out, I decided to quit my job," Gottlieb says. He embarked on a highly successful second career as a commercial photographer, traveling to all 50 states and around the world on assignments. His fans range from noted architect I.M. Pei to corporate clients such as NASDAQ and Pfizer Chemical.
Gottlieb got the idea for his second book, the just-published American Icons: Photographs, 10 years ago, though some of the photographs in it go back to his amateur days. The book is a panorama of photographs, taken across 40 states, of the country's most powerful and enduring emblems, ranging from Mom's apple pie to the Grand Canyon to the Statue of Liberty. His first publisher had gone out of business, so Gottlieb had to shop American Icons around for several years, accumulating "a hefty rejection file" before he found a publisher willing to take the chance on an expensive book of photographs.



American Icons, which contains three photos of the World Trade Center, was published on September 10, 2001. Reflecting on the terrorist attacks, Gottlieb says that before September 11, he would have said, "The things that icons have in common is their permanence." Now, he says, "We realize that the most iconic and permanent thing can be taken away."
When it comes to his books, Gottlieb, who lives and works in his midtown Manhattan loft, clearly likes to present a unified vision. He not only took all the photos for American Icons, but also designed the layout and cover and wrote all the captions and text. Gottlieb takes considerable pride in the highly personalized text that accompanies his photos.
While 16 years separated his first two books, readers will only need to wait a few more months for his third collection, Abandoned America. Gottlieb describes this book as "a collection of pictures of abandoned things — cars, trucks, buildings." In many ways, this work, which he also designed and wrote the text for, is closest to his heart, capturing, he says, "things of incredible emotional power" through photographs taken in 42 states. Sleeping Bear Press is scheduled to publish Abandoned America in September.
American Icons is published by Roberts Rhinehart and sells for $40. To see Gottlieb's photographs, or read about any of his books, visit his Web site: www.gottliebphoto.com.