FEATURE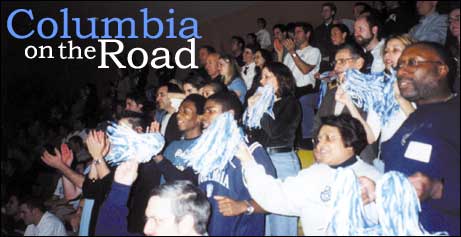 Three recent alumni events in Los Angeles, Atlanta and Singapore brought together graduates, current students and several early decision members of the Class of 2006. These events were part of the College's long-term participation plan to engage more alumni throughout the country and internationally.
By Lisa Palladino
In Los Angeles, about 200 alumni, students, parents and guests watched Columbia battle UCLA's nationally ranked basketball team on December 27 (the Lions gave the Bruins a scare before losing 55-64). The game was the centerpiece of a weekend that also included a pre-game barbecue on the UCLA campus, a young alumni networking night in nearby Santa Monica and a meeting of the Latino Alumni Association of Columbia University.
Gerald Sherwin '55, president of the CC Alumni Association, was on hand for the weekend, and men's basketball coach Armond Hill greeted fans at the pre-game barbecue.
Two weeks later, on January 12, 2002, The Columbia Club of Atlanta sponsored the first Atlanta Columbia College Day, modeled after the traditional Dean's Day activities on Morningside Heights each spring. About 80 members of the Columbia community were greeted by Dean Austin Quigley and heard talks by Professors Michael Seidel and Virginia Cornish '91, Dean of Student Affairs Chris Colombo and Executive Director of Admissions Eric Furda.
Assistant Dean of Student Affairs Kathryn Wittner made a special presentation geared toward the seven attending Class of 2006 early decision students and their parents. The students were presented with The Iliad by Dean Quigley during a reception held in their honor. Incoming students are required to read the first six books of The Iliad before arriving on campus, and the translation that the College requires sometimes is difficult to find.
Also attending the Atlanta events were Janet Frankston '95, president of The Columbia Club of Atlanta, and Stuart Berkman '66, who heads the Columbia Alumni Representative Committee in Atlanta and is the past president of the Atlanta club. Both were instrumental in organizing the day's activities. Other events held in Atlanta were a special Friday night dinner for invited guests and a Sunday brunch to thank southeastern region ARC members.
Last June, the Columbia Club of Singapore, at its annual dinner at the Hyatt, hosted a presentation by Derek Wittner '65, executive director of Alumni Affairs and Development, about current issues facing the College. The event was preceded by advising sessions led by Kathryn Wittner for the 18 College and SEAS students from Singapore who entered with the Class of '05, as well as receptions for parents of incoming students hosted by Conrad Lung '72, P'01E, P'04, who accompanied the Wittners on the trip.
The Alumni Office is working to expand its program of national and global events. An informational session was held with alumni in Washington, D.C., in the fall, and another is planned for Boston. Also on the immediate agenda are March and June events in the San Francisco area and Los Angeles.
Click on the thumbnails for a larger version.