ALUMNI PROFILE
My Three Sons, Dot-Com Style
By Shira J. Boss '93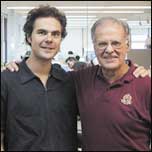 John Cervieri '51 (right) with his son, Michael '94. Two other sons, Stephen and Peter, also have been involved with DLI.

Probably the last thing that members of the Class of 1951 expected to hear at their golden reunion last June was that one of their classmates was toiling away at a dot-com. But that's what John Cervieri '51 is doing. After decades as a real estate investor and adviser, including time as an asset manager of real estate for Columbia's endowment, Cervieri came out of semi-retirement in 1999 to head up Distance Learning Inc. (www.dli.com), a company that provides English as a Second Language classes online.
"They said, 'Wow, when all of us are thinking about retirement, you're going into the new technology,'" Cervieri recalls his classmates saying at reunion. Then, as Columbians do, they shared insights that Cervieri might find useful for his company.
In the Flatiron district of New York City, in a Spartan but airy office space sliced up into work stations — a typical nest for a dot-com — Cervieri has worked alongside his three sons: Stephen, a Brown grad who followed in his father's footsteps to Harvard Business School; Peter, a Brown grad who will redeem himself by attending Columbia Business School in the fall; and Michael '94, who left the company to attend the Journalism School, where he will graduate in May.
The elder Cervieri became involved with the company in 1998 as an investor. Frustrated with its slow growth, he took over as chairman and CEO the following year.
"When John came on, he realized the company was headed for the dot-com trap: a lot of free stuff, and when your capital runs out, you're bankrupt," Stephen says. The company has since grown to 25 employees and is preparing to go after its first round of institutional investment.
Michael started at the company in 1999 for what he thought was going to be a few months. That turned into two years before he left to pursue graduate studies. At DLI, creatively inclined Michael was director of Web design and development, whereas more business-oriented Stephen and Peter work in sales and marketing.
After graduating from the College, Michael headed to South and Central America for a year to travel, learn Spanish, teach English and gain inspiration for creative writing. When he got back, he worked as an editor at an adventure travel start-up magazine, Blue, and then freelanced before joining DLI.
"I was fascinated by multimedia," he says. "I had an inner geek, and I'd always played around with computers, but I had never worked in the industry."
DLI focuses on providing online ESL programs to existing communities such as brick-and-mortar language schools, community colleges, businesses and governments rather than targeting individuals who want to learn or polish their English. John Cervieri's main responsibility is mapping the business strategy of the company, but he also is involved in tactical decisions, such as the company now leaning toward developing software and technology rather than acting as a coursework provider.
DLI has worked with teachers and techies to develop course content with neat features such as an audio dictionary and a digital proofreader, an aspect of teacher interaction, message boards, job listings and immigration information. "We create communities, so if you come here, it's not just an online course," John says. DLI formed relationships with institutions such as Boston Language Institute, advertising agency Ogilvy Mather, the New York Immigrant Association and Columbia's commercial venture, Fathom.com, where it offers a business English course.
Regarding what it was like to work with family at the office, Michael says: "It was surprisingly good. My father is much more business- and bottom-line oriented, and I'm more on the creative side of things. We had a professional relationship at the office, and then out of the office it was father-son again."