OBITUARIES
Ed Rice '40: A tribute by Jim Knight '40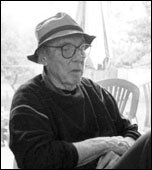 Ed Rice '40


Related Stories

Friends and family buried Ed Rice on August 21 at the little cemetery of St. Andrews, near Sag Harbor. Tom Flynn, our classmate, drove out to Eastern Long Island from New York City for the burial; he and I were pallbearers.
Ed died in the early morning of August 18 at Southampton Hospital of complications from pneumonia and from Parkinson's. I was with him daily during the last week, along with my wife, Pamela; his wonderful housekeeper, Dolly Jagdeo; and his good friend, Mary Cummings, who had written at length about him in the May 2001 issue of CCT.
Ed and I were fast friends from the day we met in John Jay in 1938, 63 years ago. He was generous in his friendship, and loyal and supportive. He was the best editor I ever had, at his magazine Jubilee, and I've had lots of editors. He published a dozen books, among them the substantial Captain Sir Francis Richard Burton: The Secret Agent Who Made the Pilgrimage to Mecca, Discovered the Kama Sutra and Brought the Arabian Nights to the West (Da Capo Press, 1990) after a lifelong passion for the explorer, and The Man in the Sycamore Tree: The Good Times and Hard Life of Thomas Merton ['38] (Harcourt, 1985), about his great pal and mine.
After the burial, we gathered with Dolly as hostess in Ed's garden-orchard at Sagaponack for food and stories. The place came alive with color and spirit. Nearby, in a small grove now overgrown with weeds, is Sag-henge, which, Ed always said, arrived from outer space during one stormy night, but in truth was planted there back-breakingly by Ed — a magnificent piece of sea-soaked and shaped timber from the Atlantic. It was a memorable occasion for all of us.
Parkinson's stopped Ed from typing, writing by hand, painting — all the things he had lived for throughout his life. So to help fill in the gaps, he and I talked at great length on many occasions into a tape recorder, setting down thoughts about Merton, religion, the church, and people and nations. Ed believed in bringing together religions, people and nations, and worked hard at it all his life. Sag-henge is still there as a monument."Goodbye, sport; oh, how I will miss you!"