AROUND THE QUADS
Campus Bulletins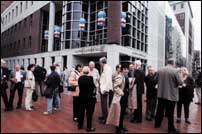 Neither gray skies nor occasional showers could dampen spirits of reunion-goers last year, and Reunion 2002 promises to be even bigger and better.
PHOTO: EILEEN BARROSO


Related Stories


REUNION 2002: Alumni from classes ending in 2 and 7 are already getting ready for the College's annual reunion weekend, which will take place from Thursday, May 30 to Sunday, June 2, 2002. Following the successful model of last year's reunion, one of the best attended in memory, this year's reunion weekend will take advantage of New York City culture and nightlife in addition to offering traditional on-campus festivities.
Featured events in the gala weekend include Broadway shows, a Friday night spectacular at the Hammerstein Ballroom that includes Casino Royale and an alumni dance party, dancing under the stars on Low Plaza, talks by David Denby '65, Professor Kenneth Jackson and Ric Burns '78, and tours of Kykuit, Radio City Music Hall, Central Park, Harlem and the Cathedral Church of St. John the Divine as well as the Morningside Heights campus. Of course, there will be many class-specific events as well.
Reunion begins on Thursday night, when reunion-goers can purchase discount tickets (first come, first served) to a selection of Broadway shows; after the performances, the College will host a reception at Sardi's, the famous theater-district restaurant. On Friday, alumni can choose from a series of tours, speeches and presentations during the day, followed by Casino Royale and an alumni dance party at the Hammerstein Ballroom on West 34th Street.
Saturday starts with Dean Austin Quigley addressing alumni and presenting dean's pins at convocation, followed by a day of activities that includes Jackson and Burns, director of New York: A Documentary Film, discussing post-September 11 New York City; class panels and discussions; a presentation on college admissions; and jazz, volleyball and a barbeque on South Field and Low Plaza. Individual classes will host receptions, dinners and class photos, with all reunion-goers invited to join in the Starlight Reception on Low Plaza in the evening.
Information on reunion events and registration materials, including registration for on-campus accommodations, were sent to alumni in reunion classes in February. If you are a member of a reunion class and did not receive these materials, please contact the Alumni Office at (212) 870-2288, or e-mail ccreunion@columbia.edu.
For a complete program of events, general information, and online registration, please visit the Reunion website: www.college.columbia.edu/alumni/reunion.

DEAN'S DAY: In a sure sign that it's spring at Columbia, alumni, parents and faculty will gather on the Morningside Heights campus on Saturday, April 13, for Dean's Day. This annual day-long symposium gives participants a chance to experience firsthand a Columbia College education as distinguished faculty present a day of lectures, speeches and discussions.
This year, the Dean's Day talks will center on the themes of religion, the arts and the aftermath of September 11. As of press time, faculty members scheduled to speak include Lisa Anderson, dean of the School of International and Public Affairs; Arnold Aronson, professor of theater arts; Roger Bagnall, professor of classics; Marina Cords, chair of the Department of Ecology, Evolution and Environmental Biology; Donald Davis, professor of economics; Robert Harrist, the Jane and Leo Sergold Professor of Chinese Art History; Archie Rand, professor of visual arts; Paul Richards, the Mellon Professor of Natural Sciences; and Robert Somerville, the Ada Byron Bampton Tremaine Professor of Religion.
Dean's Day registration materials, including a detailed program of events, were mailed in February. If you have not received a packet, please contact Heather Applewhite in the Alumni Office at (212) 870-2757, e-mail hh15@columbia.edu. Information also is available on the College's alumni Web site: www.college.columbia.edu/alumni.

ENDOWMENT: Columbia's endowment had a market value of $4.29 billion as of June 30, 2001, according to figures for more than 600 colleges and universities published January 25 in The Chronicle of Higher Education. Columbia, which ranked ninth overall, enjoyed an increase of 0.7 percent in its endowment since June 30, 2000. That bucked the national trend, which saw an average decrease of 3.6 percent during that period — the first decrease in a decade.
Harvard topped the list at $17.95 billion, down 4.7 percent. Yale, at $10.7 billion, was second, followed by Texas, Princeton, Stanford, MIT, California, Emory, Columbia and Texas A&M.

GRANTED: The Bert W. Martin Foundation has awarded $800,000 to Biosphere 2 to support college undergraduates interested in attending the center's Earth Semester program. Launched in fall 1996, Earth Semester is a series of studies in earth systems and policy designed to foster an understanding of critical global issues. The program is designed to help students understand the connections among the physical, biological and social components of the environment. Since its inception, more than 1,000 undergraduate students have completed a semester or summer program in Biosphere 2 Center's unique education environment. The Martin Foundation is named for Chicago industrialist and philanthropist Bert W. Martin, who was an early advocate of sustainable forestry practices and also was responsible for implementing reforestation programs to support his lumbering and printing interests.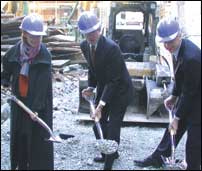 From left, Executive Vice President for Administration Emily Lloyd, President George Rupp and Provost Jonathan Cole '64 dig in for a ceremonial scoop of earth Broadway and 100th Street, the site of the new school and faculty residence.


110TH STREET: Construction has begun on a 12-story building at the southeast corner of Broadway and 110th Street, where the University plans to provide housing for faculty members and create a private school for 650 kindergarten through eighth-grade students.
The size of the building has been reduced from 20 stories, as originally announced 18 months ago. Also, to address concerns that the building might not blend with the neighborhood, the University commissioned a design "that is not egocentric, not trying to jump out," according to Karen Thomas of the architectural firm Beyer Binder Belle.
The site was formerly occupied by a two-story commercial building owned by the University that housed a supermarket, a dry cleaner and Mike's Papaya. Tenants for the new building's ground floor are expected to include a supermarket and a bank. With the school occupying the second through sixth floors, the building's top six floors will include 27 three- and four-bedroom apartments for faculty. The total cost of the project is $73 million.
Provost Jonathan Cole '64 says that about half of the school's 650 students would be children of Columbia faculty members and the other half unaffiliated with the university. Community students will be admitted by lottery and will be eligible for need-based financial aid. Faculty members will receive a discount on tuition and also may apply for financial aid. The residence is scheduled for occupancy in summer 2003, and the school is to open that fall.

CORRECTION: Abigail Franklin's new title is senior development officer in the Office of University Development and Alumni Relations, and she is responsible for securing major gifts from College alumni in support of College priorities. Her title was reported incorrectly in the January issue. In addition, she had served as director of the Columbia College Fund since April 1998, not 1988.

Related Stories