ALUMNI CORNER
Stand Columbia! Alma Mater!
By Gerald Sherwin '55
President, Columbia College Alumni Association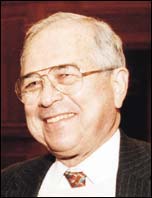 Gerald Sherwin '55
PHOTO: MICHAEL DAMES

As we near the end of the school year, with the news that 2001/2002 will be the final year for George Rupp as President of the University and that Henry King '48 will be leading the Search Committee for the new President, some major events will be held on our bustling campus. Class Day will take place on May 15 on South Field, where all the seniors will get their just desserts and class pins, and University Commencement will be held May 16 on Low Plaza and South Field, when all degrees will be handed out in a magnificent spectacle. Remember when we were all graduating-a truly nostalgic moment.
The Commencement exercises will be followed by the Alumni Federation Luncheon and medal presentation in Low Library Rotunda. Three graduates of the College will be among those receiving the coveted Federation medal for exemplary service to Columbia: Bob Berne '60, Stuart Kricun '78 and Charles O'Byrne '81. Congratulations, gentlemen.
The final major happening of the year is Reunion 2001. This annual gathering has been expanded, taking into account comments and suggestions by alumni and college administrators, and will begin on Thursday, May 31 and run through Sunday, June 3. All classes ending in 1 and 6 will be doing their celebrating with the exception of 1951, which will hold its 50th festivities in September at Arden House. For those who haven't signed up for Reunion, it's still not too late. The class committees, in conjunction with the Alumni Office, have been working too hard for their classmates not to show up. Don't be shut out! Be part of it!
There's something for everybody. You'll be able to see all the improvements on the campus and in the neighborhood. Everyone will be greeted by Dean Austin Quigley and his senior staff. You'll hear first hand why Columbia College has become the school high schoolers have been applying to in record numbers. (Yes, applications are up once again.) Other projects which will be discussed include the Hamilton Hall renovations; the goals and timing for the school and faculty residence on 110th Street and Broadway; the 113th Street dorm; and the significant changes in Butler Library, thanks in large part to Phil Milstein '71 (including a coffee bar, computers, and more). V&T's and the West End are still around amidst the many new restaurants, coffee shops, and stores. Don't look for Mama Joy's, however; it has closed, but in its place is a promising newcomer, the Milano Market.
For those Columbians who graduated in classes ending in 2 and 7, planning is under way for reunions the last weekend in May 2002. (See how fast the time goes...)
A word about this year's John Jay Awards Dinner held back in March - it was the most successful John Jay event in history. Over 650 people jammed the Grand Ballroom of the Plaza Hotel to see and hear the honorees, Messrs. Glocer, Gould and Munoz, and Ms. Teuscher. The Dinner co-chairs deserve applause as well: Joe Cabrera '82, Ed Weinstein '57 and Jerry Chazen '50B. The bar has been raised. The big question is: how can we top this next year?
When people talk about success in athletics, the Rose Bowl team led by Cliff Montgomery '34 comes to mind. However, an equally memorable team - the 1950-51 basketball squad - stands tall as well. They celebrated the 50th Anniversary of their undefeated season this past February in Levien Gym (not the old University Hall court, now known as the Blue Gym). The coach, Lou Rossini '46, and nine players came to New York from around the country to be there - Bob Reiss '52 and Stan Maratos '53 (Florida), Dave Love '56 (New Jersey), Frank Lewis '51 (Arizona), Tom Powers '51 and Ben Cappadora '53 (Ohio), Bernie Jansson '52 (New Hampshire), Bob Sullivan '51 (Indiana) and Alan Stein '52 (Northern California). We don't mean to slight some of the great men's and women's fencing squads, soccer teams and crews of the distant and recent past. More about them and other outstanding individuals will be forthcoming another time.
The annual Alumna Achievement Award was given by the Columbia College Women to Dr. Stephanie Falcone Bernik '89 in March. Bernik is a breast cancer surgeon at St. Vincent's Comprehensive Cancer Center in New York. Well over 150 people (the most ever) attended this event in Lerner Hall.
In late March, Dean Austin Quigley and members of the Alumni Office and leadership of the CCAA brought Columbia to Los Angeles, where the Dean updated local alums on the College. Among the attendees were recent graduates Alicia Pentz-Lopez '00, Joaquin Tamayo '98, Bobby Thomason '98, Sonata Coulter '98, Leslie Hough '98, Jason Hallock '93, Ed Hoffman '87, Tosh Forde '99 and Valencia Gayle '88. At other events were Eric Garcetti '92, Jonathan Haft '78, David Stern '63, David Stern '72 and Michael Gat '86. A dinner was hosted by Robby Klapper '79 and his wife, Ellen. We saw Eric Eisner '70, Howard Matz '65, Steve Ross '70, Alan Myerson '70, David Braun '52 and Al Michaelson '60, among others. Gary Rachelefsky '63 helped pull everything together.
As you can see, there's much to celebrate and much to talk about. Columbia is, as the saying goes, "on a roll." If you have any thoughts and suggestions on how we, as alumni, can help continue the school's momentum, feel free to contact me at: gsherwin@newyork.bozell.com. You are Columbia. Columbia is you.