ROAR, LION ROAR
Merley Ends Career on a High Note
Despite limited playing time, senior leaves Columbia with good memories
By E.J. Crawford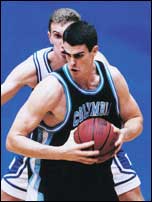 Mike Merley '01 posts up against Duke during the 1999-2000 season.
PHOTO: JEFFREY A. CAMARATI



Related Stories

In the waning moments of the final basketball game of the season, Columbia center Mike McBrien '02's free throw rimmed out and fell to the right side of the floor. Bouncing through the hands of three Dartmouth players, the ball found its way to Mike Merley '01, Columbia's lone senior, waiting behind the three-point arc. With the clock clicking toward 0:00 on the game and on his career, Merley instinctively spun and heaved up the trey. At first he thought it was headed left, then he thought it was too strong. It was both, but the angle sent the ball high off the backboard, clanging off the rim, back off the backboard and finally through the waiting net for the final points in a 71-64 victory.
The moment of euphoria that followed as his teammates mobbed him in celebration whisked Merley back through a basketball career with more ups and downs, more caroms and odd bounces than the last-second shot he had just watched fall through the hoop.
Merley, whom teammates call Merles, played every sport as a youngster in Tuscon, Ariz., but his athletic fate was sealed when he grew 11 inches between fifth and sixth grade. "He grew so fast his bones were always aching," recalls his mother, Vicki.
By the time he was a freshman at Canyon Del Oro High School, Merley stood 6-7. After splitting time as a star on the junior varsity and a reserve on the varsity during his freshman year, he moved up to the varsity full-time as a sophomore and led Canyon Del Oro to the regional finals in each of the next three years. "He was a player from the past," Canyon Del Oro Coach Daniel Huff says, referring to Merley's work habits. "He was a good solid player with tremendous character, a tremendous young man. The last thing you'd ever have out of Mike Merley is a bad attitude."
Merley survived a spate of injuries early in his high school career to draw the attention of college recruiters from schools like Massachusetts, Oklahoma and New Mexico. "It's definitely cool when you're sitting in class and get a hand-written note from John Calipari," Merley says five years later, looking at his hands as if the note from the former UMass and current Memphis coach were there. Laughing, he answered Calipari's message, "I will have a Merry Christmas, man!"
But on Jan. 5, 1996, Merley's plans began to unravel when he hurt his left knee. He continued to play on it despite persistent soreness before reinjuring it in early February. This time he took a week off but returned while the knee still was unstable, and it finally broke down during warm-ups before a late-season game.
Merley, who wears a neoprene brace on the knee to this day, remembers when the doctor called with the results of his MRI. The doctor asked to speak to his mother, but Merley secretly picked up the phone and eavesdropped, eager to hear his fate. The prognosis wasn't good. Not only had he torn his anterior cruciate ligament, he also had worn down all the fibers inside the knee, unusual for an ACL tear.
The surgical procedure usually requires six to eight months for the knee to heal, but Merley made it back in just over four. "I worked my ass off," he says. Nonetheless, the injury scared away most of the recruiters.
Columbia coach Armond Hill saw Merley play in his first AAU tournament after he returned from the injury. Merley says he was rusty, but Hill saw something else, a fire and competitive energy that would become Merley's trademark with the Lions. "The other team was up 40 and trying to rub it in," Hill remembers. "With time running out, the other team went up for a dunk and Merles went up and blocked the shot. That was all I needed to see."
Merley has short hair and sharp features, a quiet demeanor and a self-deprecating wit. An environmental science major with a 3.2 GPA, Merley plans to look for a job in the information technology field after this month's graduation, with an eye toward law school down the road. He carries himself with no sense of pretentiousness or entitlement, and might go unnoticed were it not for his 6-7, 225-pound frame. As his mother says, "He's a shy guy, but he always stuck out."
Unfortunately for Merley, he did anything but stick out during his junior year at Columbia. After starting 19 games for the Lions during his first two years while totaling 107 points and 97 rebounds, he played only 91 minutes as a junior, when he was lost amid an influx of talented newcomers and fell to third on the depth chart at center behind McBrien and 6-9 Chris Wiedemann '03. Merley ended the season with totals of just 15 points and nine rebounds.
"It was really hard on him," says his mother, who remembers travelling to a tournament in Nebraska that year in which her son did not even play. "He didn't talk about it much."
However, unlike the 11 others recruited along with him in what some thought was the class that would turn Columbia's basketball fortunes around, Merley stuck it out. He learned the position of power forward while continuing to work with Wiedemann, who credits Merley for teaching him Hill's offense and easing his transition into college basketball.
As a senior, Merley assumed the mantles of co-captain and emotional leader. He played 200 minutes in Columbia's 27 games, scoring 39 points, grabbing 33 rebounds and collecting five blocks. More importantly, for the first time in 15 years, the Lions beat Princeton and Penn on consecutive days, a sweep Merley calls "a stepping stone" toward becoming a true title contender.
Merley takes pride in the progress the program has made during his four years. "I've become quite an advocate of Columbia," he says. "There are a lot of good memories."
Merley even got one final start, against Brown on Senior Day. When his name was announced during the pre-game introductions, the crowed erupted in applause. "He jumped off the bench," Hill said. "Tears nearly came to my eyes."
Echoing the comments of his teammates, forward Marc Simon '02 says of Merley, "It's been such a backward ride for him, after getting major time as a freshman. But because of that he knows what it takes to get on the floor. That's where the leadership comes from. He knows what level we have to play at and brings that to practice every day."
For Merley, just being out on the court is its own reward. He tells a story of when his girlfriend took him to a New Jersey Nets game, where they had courtside seats. "I was thinking 'cool, great seats,'" he says. "But once the game started I was thinking, 'I'm never going to find a cooler seat than playing.'"
That is why he stayed. That is why Merley endured stress fractures, ACL tears, work-study programs and a season on the bench - that chance to play one more game, to take one last shot in his one last game, the one that dropped poetically through the hoop.
"The best thing about that last shot," Merley says, "was how everyone reacted. It was like we had won the national championship. It's too bad it has to be over, but if you're going to go out, that's how you do it."
E.J. Crawford, who expects to graduate from the Journalism School this month, is an aspiring sports journalist living in Hoboken, N.J.



Related Stories