FEATURE
George J. Ames '37: Financier and Philanthropist
By Timothy P. Cross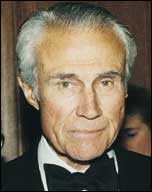 George Ames '37 at the 2000 John Jay Awards Dinner.
PHOTO: EILEEN BARROSO


For most New Yorkers, George J. Ames '37 was known for his long association with the investment firm of Lazard Frères & Company, where he worked for more than 60 years and for whom he engineered some of the most spectacular real estate deals in post-World War II New York. But for Columbians, Ames, who died in his home in Rye, N.Y., on February 2, 2001, at age 83, will always be remembered as a singularly respected and effective alumni leader and a tireless supporter of the College and University.
George Joseph Ames was born in 1917 in the Hell's Kitchen section of Manhattan's West Side. As an antidote to that tough environment, Ames's mother sent him to the nearby Hartley House, a settlement agency on West 46th Street, for violin lessons. Ames's time at Hartley House proved to be a pivotal experience, for the institution helped Ames land a scholarship to the Fieldston School in the Bronx, which in turn helped him land a scholarship to the College. (The violin lessons weren't wasted either: Ames became an accomplished amateur and later played with a local orchestra in Westchester County.)
Like many other Columbia students of that period, Ames commuted to the Morningside Heights campus. He majored in economics, a central concern during the Great Depression, but also made a point to study with what he later described as a "generation of outstanding teachers" - notably Dwight Miner '26, Moses Hadas, Lionel Trilling '25 and Jacques Barzun '27 - and enrolled in the "Colloquium on Important Books." Ames, who earned both Gold and Silver Crowns, also was heavily involved in extracurricular activities, working on a series of student theater productions including the Varsity Show, and as production manager for the Columbia Theater Associates' performances in Earl Hall.
Ames's decision to join the investment firm of Lazard Frères in 1937 was largely pragmatic. "In the summer of 1937, getting a job doing anything was not so goddamn easy," he told CCT in 1991. "The truth of the matter is that this firm was one of the few which were in the process of hiring anybody at that point." His starting pay was $80 per month.
While learning his trade in Lazard's new corporate finance division, Ames enrolled at Fordham Law School, because Columbia didn't offer night courses. In 1941, he married the former Marion Patterson (Barnard '37), who he met while they were both studying law at Fordham. Ames graduated in 1942 and passed the bar, but never actually practiced law. After Fordham, he spent four years in the Navy on a destroyer escort in the South Pacific, returning to Lazard after the end of World War II.
Although he worked in the firm's corporate finance and mergers and acquisitions divisions, Ames made his mark in the rough and tumble New York real estate market under the tutelage of Andre Meyer, who is credited with moving Lazard Frères into the field after World War II. Ames played a key role in Lazard's 1951 purchase of the 850,000 acre Matador Ranch in Texas, the firm's first significant real estate transaction. He was part of groups that owned such landmarks as the Chrysler and Graybar Buildings in Manhattan and L'Enfant Plaza in Washington, D.C., and was a participant in several complicated real estate transactions that Lazard undertook with noted Manhattan developer William Zeckendorf.
John O'Herron, a general partner at Lazard, told CCT that Ames was "a quintessential investment banker. He has just enough ego to be confident of his judgment, but not so much that he has to see his name in the paper." Ames needed that confidence in his work with Meyer, who once brusquely fired him via telephone because Ames wouldn't cut short a family vacation. Ames, who recounted the story in Cary Reich's biography of Meyer, Financier (1983), simply returned to work after his trip. Meyer "chewed me out for various things I hadn't done" but never mentioned the firing, he told Reich. Ames said he "never paid any attention to it."
In 1957, Ames became a general partner at Lazard, a position he kept for 30 years. In 1988, at age 70, he withdrew much of his capital from the firm and cut back on his duties, becoming a limited managing director. He was still working at the firm as recently as October.
Ames's moral authority within the firm was unique. According to William Loomis, Lazard's CEO, Ames was "a student of the discipline of investment banking" and became "an adviser to advisers" within the firm. Ames, Loomis said, possessed a "self-sufficiency fueled by generosity" and an unyielding commitment to high standards. "He would not bend except to the considerations of good judgment."
Ames's success as a financier gave him the opportunity to become a philanthropist, and Columbia was a major beneficiary of his wisdom and support. He served on the University Alumni Advisory Board and received the Alumni Federation Medal in 1990. He also was a longtime member and chair emeritus of the College's Board of Visitors. As chairman of the board from 1989 to 1996, Ames worked to ensure the College's unique position within the University, leading the board to insist that the University preserve the College's distinctive structure and education, especially the Core Curriculum.
Martin Kaplan '61, who was president of the Columbia College Alumni Association while Ames headed the Board of Visitors, remembered Ames as being "a major force in unifying alumni leadership" around issues of importance to the College.
Dean Austin Quigley has praised Ames as one of the alumni who helped lead the fight to preserve need-blind admissions and full-need support for promising students at a time when both policies were under increasing financial strain. "The College is a much better place for students and faculty alike as a consequence of his efforts," Quigley said when the College honored Ames with the Alexander Hamilton Medal in 1996. At a campus memorial service held on March 22, Quigley said Ames possessed "a moral authority based on principled behavior and active idealism."
Ames's many other services to the College included chairing the 1988 Alexander Hamilton Award Dinner, co-chairing the 2000 John Jay Awards Dinner, leading his class's 50th reunion fund drive, and his longtime participation in the John Jay Associates program. A devout Roman Catholic, Ames received the Father Ford Award of Distinction from Columbia's Catholic Campus Ministry in April 1995.
Remembering his Fieldston days, Ames was a staunch supporter of the Ethical Culture Schools. He was president of the Andre and Bella Meyer Foundation, served on the Citizens' Housing and Planning Council, and chaired the Louis August Jonas Foundation. He also was a trustee of New York Medical College, a member of the advisory board of St. Vincent's Hospital in Westchester, a director of the Lila Acheson and DeWitt Wallace Fund, and a trustee and treasurer of the Hartley House, which had been so important to him in his youth.
His first wife, Marion Ames, who had become well known as a lawyer and advocate for court reform in New York State, died in 1992. Ames is survived by his second wife, the former Bess Sammons, as well as four children, two stepchildren, and seven grandchildren.