ALUMNI PROFILE
Herbert Receives Black Heritage Award
By Timothy P. Cross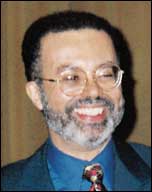 John T. Herbert '69
PHOTO: TIMOTHY P. CROSS


John T. Herbert '69, '73 P&S received a 2001 Black Heritage Award at the 16th Annual Black Alumni Reception, held in the Low Rotunda on Thursday, February 22. "I'm very pleased and proud to be recognized for some of the little things I have done," said Herbert, who is director of anesthesiology at Harlem Hospital and a clinical professor of anesthesiology at P&S, in accepting his award.
Herbert, whose father was a member of the Class of 1932 and whose daughter is a member of the Class of 1998, thanked Columbia for being "very supportive" and said he was glad that he had "the opportunity to make a difference, an opportunity to serve, an opportunity to give something back." He also urged his audience to stay involved. "We have to make a conscious effort to be involved in the betterment of society," he said.
Herbert used his remarks to highlight the high rates of asthma and other health concerns facing the people of color who populate northern Manhattan because of the high density of bus terminals and garages as well as the widespread use of diesel rather than environmentally friendly alternative fuel buses. He also worried about the "therapeutic racism" implicit in the lack of adequate health care in Harlem and other Manhattan neighborhoods.
The reception was the high point of the University's annual Black Heritage Month celebration, which was coordinated this year by Fallon Scoggins '03. Other activities ranged from serious discussions of Haitian culture, Caribbean religion, the impact of technology on minorities and issues facing black professionals to a variety of social gatherings, including a bachelor/bachelorette auction, comedy night, talent showcase and fashion show.
The Black Heritage Award is presented each year by the Alumni of Color Outreach Program for "invaluable service and commitment to the Columbia community." Previous winners include former Assistant U.S. Attorney General Eric Holder '73 and Federal judge Joseph Greenaway '78, who hosted this year's reception.