PHOTO ESSAY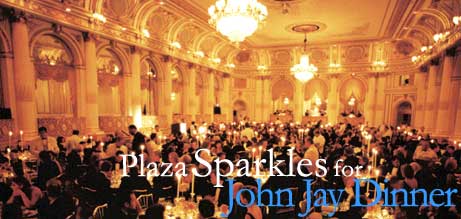 Photos by Eileen Barroso
By all measures, the 2001 John Jay Awards dinner at the Plaza Hotel was one of the most successful events the College has seen. More than 650 people filled the ballroom to honor four alumni for distinguished professional achievement: Thomas H. Glocer '81, CEO of Reuters; Michael A. Gould '66, chairman of Bloomingdale's; Carlos R. Muñoz '57, retired bank executive and alumni leader; and Cristina Teuscher '00, two-time Olympic medal-winner in swimming.
The dinner, which previously was held on campus in Low Library Rotunda, was moved to midtown Manhattan in an effort to boost its profile and its profitability, and succeeded on both counts. The black-tie gala raised upwards of $1.3 million, roughly tripling the amount raised in recent years. And the event was covered by The New York Times, which printed several photographs taken at the dinner in its Sunday Style section.
Click on the thumbnail for a larger image.